Manolo Blahnik J.Crew Collaboration Halted
Manolo Blahnik Won't Collaborate With J.Crew, Nowness Translates to Chinese, and Christian Louboutin's Cinderella Shoe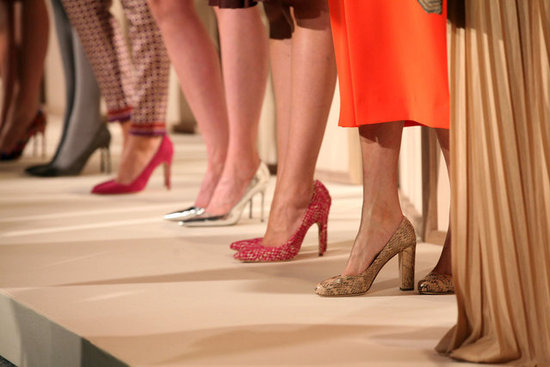 </ br>
>> Those stories and more in our daily news roundup.
</ br>

<ul> <li>Turns out that much-rumored collaboration between Manolo Blahnik and J.Crew isn't going to happen — or at least not this Fall. "Although we were looking forward to the potential collaboration between our two brands, we both came to the conclusion that fall wasn't the right time," a rep for Manolo Blahnik said in an email. "We hope to do something together in the future." [Elle]
</ br></p> <li>Nowness, the online fashion and culture showcase owned by LVMH, debuted a Chinese version yesterday. In a statement, the site's editors said they made the move to capitalize "on China's significant position as a growing luxury market and the importance of digital and social media in the region." [The Wall Street Journal]
</ br></p> <li>Heidi Klum partnered with Babies "R" Us on a line of baby products called Truly Scrumptious. The line includes infant-sized clothing and accessories, but it also extends to furniture, home decor, and bedding for the under-5 set. [LilSugar]
</ br></p> <li>Christian Louboutin will collaborate with Disney when he creates a real-life version of Cinderella's famous glass slippers this Summer, commemorating the release of Cinderella on DVD this Fall. "I have been so lucky to have crossed paths with Cinderella, an icon who is so emblematic to the shoe world as well as the dream world," Louboutin said. [The Huffington Post]
</ br></p> <li>Calvin Klein's on-and-off boyfriend Nick Gruber reportedly left his New York penthouse for a stint at an undisclosed rehabilitation clinic on Wednesday. Sources saw Gruber, who was arrested for cocaine possession earlier this week, leaving his apartment with a wheelie suitcase and overheard him talking about the trip. [The Cut]

Photo: Models wearing Manolo Blahnik shoes during J.Crew's Fall 2012 presentation.