This Means War Costume Designer
This Means War's Costume Designer Spills All About Reese Witherspoon's Onscreen Style!
Reese Witherspoon's new flick, This Means War, hits the big screen on Feb. 17, in just a week. And while it's hard to deny the beauty of the two lead male characters — Chris Pine and Tom Hardy — it's even harder to resist her character Lauren's fabulous onscreen wardrobe. Costume designer Sophie De Rakoff describes Lauren's style as "sexy, chic, modern, and confident."
This isn't the first time Sophie and Reese have worked together. In fact, Sophie also styled Reese in Legally Blonde 2, Sweet Home Alabama, and Four Christmases. So how did she get the opportunity to work with Reese again on This Means War? "I was pretty much the only person on the list who didn't have an Oscar nomination, so I knew I would have to work my ass off to get the job," Sophie told us. To find out more about Sophie's styling experience, Reese's onscreen fashions, and how to get her character's look, read on.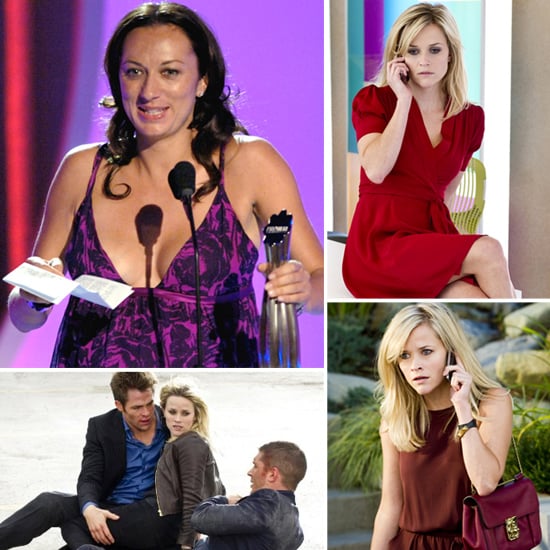 CelebStyle: How did you get involved with This Means War?
Sophie De Rakoff: I was given the opportunity to interview with McG, the director of This Means War, because of my prior professional relationship with Reese. He knew that we work well and happily together, and so agreed to meet with me. However, having said that, I "won" the job by traditional means. I read the script, loved it, put together a killer presentation, and went to the meeting and presented my vision for the movie. There is an energy in the room when you have a really good meeting, and this was one of those times.
To hear more from the movie's costume designer, read more.
CS: How did you go about picking Reese's looks for the flick?
SDR: McG's directive for Reese's character Lauren in the movie was color, variety, and style. This made perfect sense for Lauren as she is a high-end consumer product analyst, with a big job in a cutting-edge firm. She also needed to be sexy and stylish and current. She drives two gorgeous men crazy and had to be equally as gorgeous as them. I kept this in mind when putting the looks together, working with the big picture in mind, which included palette and context, and of course the other actors.
CS: What stores did you visit and which designers did you work with on her look?
SDR: I ran the gamut on Reese's wardrobe. We prepped in LA, so I shopped at all the no-brainers, all the Beverly Hills biggies, but then I also scoured the smaller, edgier boutiques. Confederacy, Opening Ceremony, Savannah, Creatures of Comfort all had great pieces. Lauren's wardrobe includes Dolce & Gabbana, Theory, Ports 1961, Isabel Marant, The Row, Parker, Burberry, Marc Jacobs . . . the list is endless.
CS: For those who want to re-create the character's style, what are some essential pieces you would recommend they buy?
SDR: I would say that Lauren's casual look of skinny jeans, ankle books, and a cropped leather jacket is a good look to re-create. For us that was Black Orchid, Prada, and The Row, but you can re-create the same silhouette with pieces from any store, high or low, vintage, or thrift store even. It's a sexy, modern look, just keep the pieces dark and sleek.
Lauren's office looks are softer and more feminine. A high-waisted miniskirt, maybe a Banana Republic skirt with the hem raised, and a 3/4-sleeve cropped blazer layered with a washed silk tank will do it. And of course the classic Christian Louboutin pump. Crew Cuts little boy blazers are the perfect jacket, and Joie often makes a cool silk tank. And if the Louboutins aren't in your budget, just paint the soles red!
CS: How did you get into costume designing and what was it about it that drew you in?
SDR: I fell into costume designing by accident. In my early 20s, I was living in New York and worked for Paper Magazine and various other publications doing entertainment journalism, and I considered myself a writer. I also worked in a seminal New York nightclub called Nell's to make money, as writing was basically a passion and not an income. When I moved to LA a few years later I needed a job, and ended up randomly assisting a music video stylist. It was the '90s and the apex of music video, so we worked all the time on huge creative jobs, and eventually I stopped writing and moved into styling.
Shortly after that I tricked someone into giving me the job as a the costume designer on a tiny movie, and from my first day on set I knew that was it, I had found my home. With hindsight I know that it was the opportunity to paint a picture, propel a narrative with color, silhouette, and texture that drew me to costume designing. It was not working with clothes, it was and is working with filmmakers that is the draw for me.
CS: Are there any upcoming projects you're working on that you can talk about?
SDR: I just wrapped a surf movie called Of Men and Mavericks with Gerry Butler and directed by Curtis Hanson. It is a beautiful, charming film based on events in 1994 when an older Santa Cruz surfer teaches a young local surfer to conquer the epic waves of Mavericks, a treacherous Northern California surf break. I loved everything about it: the script, the crew, the actors, and it was a real treat to be able to revisit my own youth and dig deep into '90s youth culture.