Michelle Obama Fashion Quotes
Michelle Obama's Most Memorable Quotes on Fashion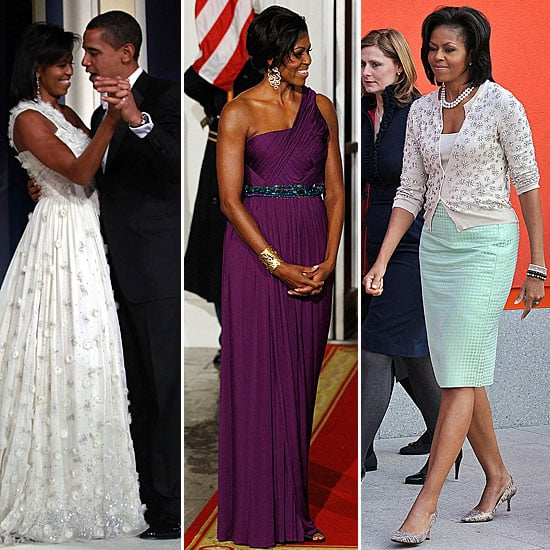 From left: In Jason Wu at the inaugural ball, in Doo.Ri at a state dinner, in J.Crew.
Not since Jackie O. has a first lady's fashion sense captivated us like Michelle Obama's. She's famously supported young American designers like Jason Wu (remember that ethereal gown from the inauguration?), but has as much of a penchant for J.Crew and Target as she does for the high-fashion labels she sports at state dinners and fundraisers (and, she's just as likely to wear a dress from Ann Taylor on the campaign trail). At the end of the day, this first lady's sense of style has to do with her sense of practicality. She knows what works, like highlighting her famously toned arms and dressing for her body: "I have hips, and I have them covered up with these pleats," she revealed in a 2009 interview. It's her awareness of style, in all senses of the word. From her interest in the ingenuity of young designers to maintaining the balance in her own wardrobe, her grasp of it all points to a woman who doesn't just take note of the style world, but a woman who truly loves fashion, has fun with it, and most importantly, makes it relatable. It only follows that Mrs. Obama would have some pretty wise words about style — and we've culled some of our favorites pearls of wisdom right here. Read on for the first lady's take on fashion.
On the value of personal style: "Style helps distinguish you . . . It's a great potential opportunity that people tend to leave by the wayside" — Michelle Obama, Harper's Bazaar, February 2011
On women and fashion: "First and foremost, I wear what I love. That's what women have to focus on: what makes them happy and what makes them feel comfortable and beautiful. If I can have any impact, I want women to feel good about themselves and have fun with fashion." — Michelle Obama, Vogue, February 2009
For more style advice from the first lady, keep reading.


A few of our favorite FLOTUS fashion moments, clockwise from left: In a Michael Kors top and J.Crew skirt on The Tonight Show, in Boy by Band of Outsiders, in Michael Kors at the Time 100 gala in 2009, in Helmut Lang bottoms and a Wes Gordon jacket at the 2012 Kids' Choice Awards, in a one-of-a-kind Peter Soronen creation, in a colorful Chris Benz sheath, in a J.Crew argyle cardigan and Lanvin sneakers, in a one-shoulder Peter Soronen gown for a presidential event.
On supporting young designers: "I try to be thoughtful about spreading the wealth: young designers. Mixing things up is important to me." — Michelle Obama, White House Roundtable, October 2011
On Jason Wu and her inaugural gown: "And Jason's dress, as you can see — this gown is a masterpiece. It is simple, it's elegant, and it comes from this brilliant young mind, someone who is living the American Dream. The countless hours that you can see that he spent sewing this piece made my night even more special, and now I am proud that millions of visitors will be able to see just how talented this young man is." — Michelle Obama, September 2010
On designer innovation: "What I love about design is the artistic and scientific complexity that also becomes useful . . . Great designers also pursue a mission. Great designers design with mankind in mind . . . The crossroads of science and art, innovation and inspiration are what I love about design." — Michelle Obama, 2009
On first ladies' style: "The detail of each gown [in the collection of inaugural gowns at the Smithsonian] — the fabric, the cut, the color — tells us something much more about each single first lady. It's a visual reminder that we each come from such different backgrounds, from different generations, and from different walks of life." — Michelle Obama, September 2010
On enjoying fashion: "Barack puts on his suit and tie [and] he's out the door — I'm getting my hair, makeup, the kids, I gotta brush their hair. You know, he's always looking like 'where are you? where are you going?' But yeah, you know — it's fun to look pretty." — Michelle Obama on The View, 2008
On her approach to fashion: "It's like my music. Everything in my closet is something that I love, so that I can make choices based on what makes sense, knowing that I'm going to love whatever it is. I think that tends to be my philosophy." — Michelle Obama, White House Roundtable, October 2011
On her husband's fashion sense: "Barack calls it my 'Star Trek' belt [referring to a metallic belt in her closet]. He doesn't understand fashion. He's always asking, 'Is that new? I haven't seen that before.' It's like, 'Why don't you mind your own business? Solve world hunger. Get out of my closet.'" — Michelle Obama, White House Roundtable, October 2011
On staying true to her style: "People are always going to have opinions, and people have a right to their opinions, particularly when you're the first lady; you're representing the nation. So I can't be surprised that people are interested. But I've tried to be at peace with the choices that I make first, and then be open to everyone else's reflection." — Michelle Obama, Glamour, 2009