Miley Cyrus Dress | Teen Choice Awards 2013
Miley Went Sexy Last Night . . . Do You Approve?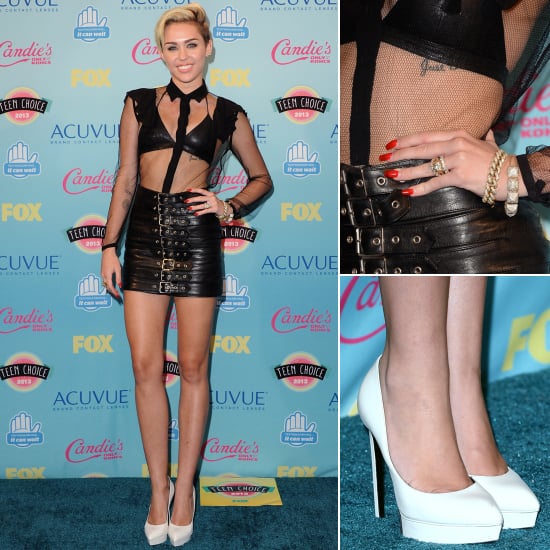 Miley Cyrus foretold it in her latest single — she won't stop being sexy. For the Teen Choice Awards, where she picked up the Candie's Fashion Trendsetter Award, the singer picked a black leather miniskirt and sheer blouse worn over a triangle-top bra (both from Saint Laurent). She accessorized it with white platform pumps, jewelry from Lorraine Schwartz, and her engagement ring. The blouse's sweet collar didn't keep the entire look out of va-va-voom sexy territory: Miley's skirt took a walk on the bondage side thanks to nine buckles across the front (we counted!).
Lest you need reminding, this look is just the latest to add to her stable of signatures. From a Chicago Bulls jersey to the patchwork Proenza Schouler of last week, Miley officially, completely adores some red, white, and black.