Miley Cyrus Wearing Short Shorts
The Shorts Evolution of Miley Cyrus
Miley Cyrus made us blush last weekend when she appeared to step out sans shorts. Since then, we've kept a close eye on Miss Miley to see whether her hemline goes down, up, or disappears altogether.
And she threw us a style curveball earlier this morning when she went back to shorts! She stepped out after her Good Morning America appearance in a fuzzy white pair of hot pants, worn with a sequined crop top, proving she loves the ultrashort, extraleggy look — and her signature black and white color combo (with just a touch of red).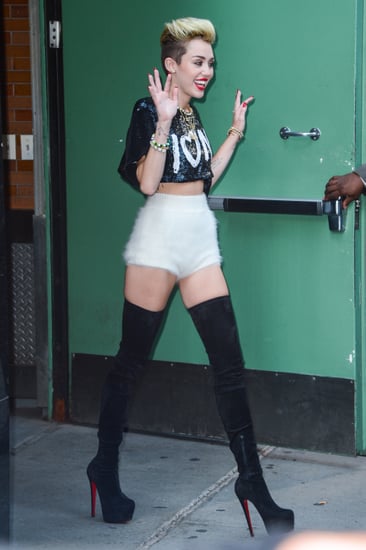 See more of Miley's short-shorts style, here.
Prior to her New York shorts-capade, Miley tried the disappearing shorts look again, this time in Los Angeles. She wore a roomy Tupac t-shirt with white sandals and thigh-flashing bottoms.
And the look that first grabbed our attention? The Chicago Bulls jersey she mixed with tiny shorts and Saint Laurent sandals.
What do you think we'll spot next? More covered-up cutoffs, or a tiny pair proudly on display?