Miranda Kerr White Crochet Coverup
Miranda Kerr Chats Bikinis and Fashion at VS's 2012 Swim Collection Launch
Victoria's Secret launched its new swim collection today, fittingly by the rooftop pool at the Thompson Beverly Hills. The always-gorgeous Miranda Kerr was in tow wearing a bright pink bikini with nude Jimmy Choo sandals topped with a white crochet coverup. We got a chance to catch up with the Aussie model about her swimsuit personality, her favorite bikini from the collection, her personal style, and the color combo she's feeling at the moment. Find out what she had to say now!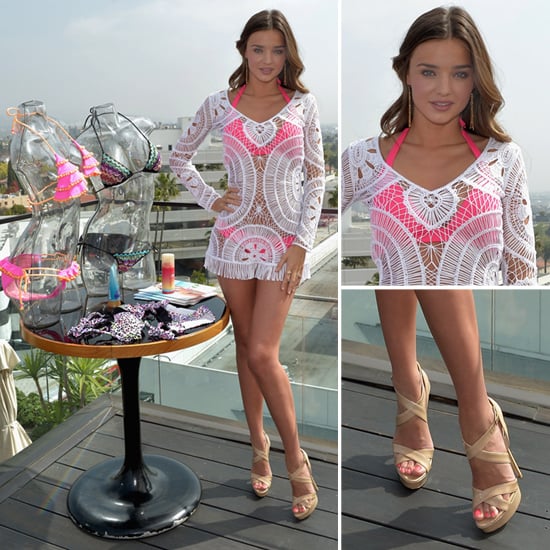 CelebStyle: How would you describe your swimsuit personality?
Miranda Kerr: I used to be more classic and chic, and now I'm getting more flirty and fun.
CS: Do you have a favorite bikini from this new collection?
MK: I'm loving the new Gorgeous pushups because it comes in so many different colors and prints, and it gives you a little lift. And now that I've stopped breastfeeding it's nice to get a little lift. I got used to having a fuller bust!
To hear more from Miranda, read more.
CS: How would you describe your personal style?
MK: I like to be comfortable, but it also depends on my mood. So I think style can be a reflection of how you're feeling. Some days I might be feeling flirty, other days I might be feeling a little boho. But generally I like to make sure I'm comfortable. Sometimes it's nice to wear a heel and feel like a woman and embrace that feminine aspect of yourself. But not always. If I'm working it's a different story, like it depends what the event is for and I'll kind of dress for that, like almost playing the role. But if I'm at home I'll just be lounging around in sweatpants and no shoes.
CS: Any color combos you're loving right now?
MK: I'm loving the bright fuchsia pink with the orange. It's very young and fresh.