My So-Called Life Style Inspiration
Tap Into My So-Called Life's Grunge Appeal For a Funkier Fall Refresh
It's not our fault we can still recall with remarkable clarity the angst, awesomeness, and all-out grunge sensibility of cult show My So-Called Life — we blame it on its lead stars Claire Danes and Jordan Catalano, er, Jared Leto. And while the series only lasted for one epic season, its short-lived run continues to inspire our styling whimsy by way of its spot-on encapsulation of early '90s fashion. We're talking serious Kurt Cobain flannel, punk-inspired Doc Martens and Converse, vintage floral prints, and a whole lot of retro denim looks. On any given episode, you'd be guaranteed to spot Danes's character Angela Chase in a cool mix of layered patterns, jean overalls, and a knitted vest. It may not be an ensemble worth emulating to a T, but listen: the styling cues found within are perfect for a funkier Fall wardrobe refresh. We've culled the most important ones to note and outfitted the best ways to achieve the look below.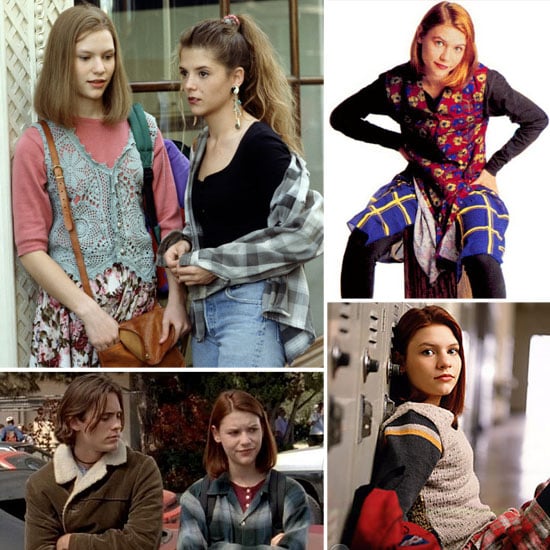 Like Angela Chase, it's OK to stick to a denim diet, but like any good diet, better to keep all jean-wearing to a healthier level of moderation. Whether you favor a pair of long overalls or a slouchy boyfriend jean, be mindful of the way in which you layer. Sure, you can add a denim jacket — in a complementary tone, preferably — but also know when enough is enough.
You may not be wearing flannel outerwear tied around your waist á la the days of Nirvana yore, but a great cozy print or updated plaid iteration can give your Fall look just the right amount of cold-weather cool. We're loving the darker tartan variations for blouses and a wider wool flannel design for slim-cut pencil skirts.
Good news: your floral-infused pieces, favorite pair of Doc Martens, and knitted crochet sweaters have a place in your closet this season. With My So-Called Life providing the fashion fuel, we're taking initiative with our opaque tights and lace-up boot combos, chunkier knits layered over softer henley tops (or for a more polished effect, a button-up blouse), and midi-length floral printed skirts to complement our blazers. Feel free to keep your '90s-inspired wares in full rotation — just don't get lost in one too many trends.