NSF Creative Director Jamie Haller Interview
Get to Know Jamie Haller — the Woman Behind Cool-Girl Label NSF
If you know NSF, then you know this: the label's a go-to for easy knits, polished but not overly complicated separates, and a cool, tomboy aesthetic. Its evolution from menswear brand to a women's line with an independent SoCal spirit that draws closely on its menswear roots is now a mission that creative director Jamie Haller will confidently expand. With more than 10 years of experience as a designer in LA, plus a memorable run at the helm of Ever, a brand she relaunched as an instant success (with a major celebrity following) in 2008, Jamie has big plans for taking NSF into even more awesome territory. For starters, she's expanded the collection's base of knits to include a selection of soft, drapy sportswear, Italian leather finishes, and Japanese hand-processed denim — and it's only been about a year since Jamie took the reins. Keep reading to learn more about the very talented Miss Haller and just why we're crushing on the creative director and her very cool-girl collection.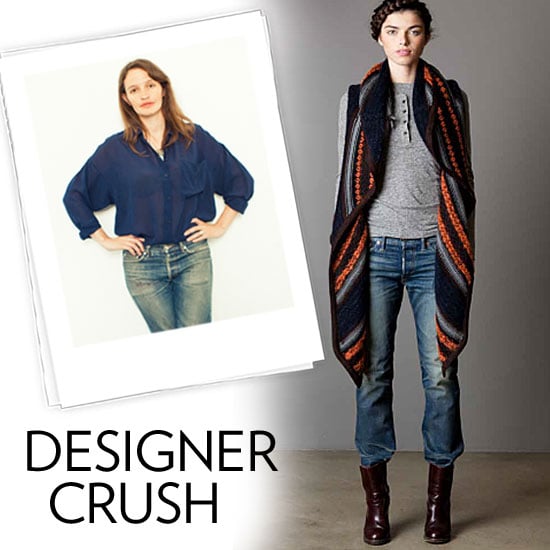 On the NSF girl: "Relaxed, casual, and cool are words that best describe the NSF girl. She is free spirited, easygoing, [and] timeless, but with a forward sensibility. Our customer wants to be both laid back and yet look pulled together, to be styled, and yet understated."
On what inspires the collection: "Everything. I try not to be too rigid about how the collection comes together. It is a very organic process. I look at a lot of different fabrics, silhouette inspirations, vintage. I go flea market hunting, we scour our own closets for old favorites, and I borrow from the boys. We sit around and daydream about good ideas and what we would be really excited to design or wear. Sometimes something as simple as a distressed old tee can be really inspirational. Pulling the collection together is an evolution. I trust that sometimes what we do at the last minute is often the best thing in the line."
Read on for Jamie's fashion icons, Fall dressing tips, and a look at our favorite NSF Fall pieces.
On fashion icons: "I don't really have fashion icons. I might have an image that inspires a look, but a lot of times, those are street shots of real people, not necessarily someone I would call an icon. We are more true to what we want to own or wear, rather than trying to copy a look or vibe from a trendsetter."
On Fall and Winter dressing: "I am in a very comfort-driven mode right now. I am wanting to wear a lot of knits, layered, and even head to toe. I get excited every year by Fall because I love to wear sweaters. I love sweater coats, you don't feel like you have to take them off when you settle in."
On Fall and Winter essentials: "[You need] an amazing jean — fashion forward but comfortable — not something you need to peel off the moment you walk through the door. You want something to live in. A sheer thermal to layer under a tee or a sweater, a perfectly worn-in loose basic tee, a soft plaid shirt — plaids feel so Fall — and a statement sweater or cozy sweater coat."
On what she'd be doing if she wasn't a designer: "I am really passionate about yoga and ayurveda. I think I would be doing something that relates to that."