Nanette Lepore Interview Summer 2013
Nanette Lepore on Dressing For the Heat, Her Dream Vacay, and More
With a celebrity clientele that includes Michelle Obama, Scarlett Johansson, Taylor Swift, and Blake Lively, it's safe to say Nanette Lepore has garnered quite a following with her colorful, ladylike designs. But it's not just the A-list that's enamored with her collection. We're also big fans of Lepore's knack for mixing bold, exotic patterns with flattering silhouettes. With the dog days of Summer on our mind, we picked the designer's brain on how to dress for the heat, heard about her dream vacation, and even got the 411 on her upcoming Spring '14 collection set to debut at New York Fashion Week in September.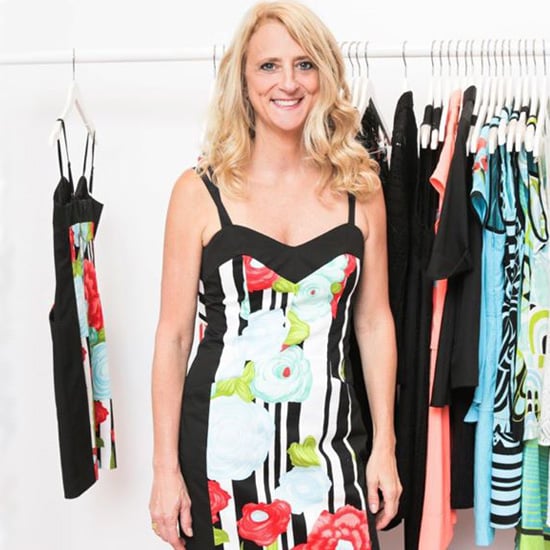 POPSUGAR Fashion: Did you take any vacations this Summer?
Nanette Lepore: I did a little trip to Nantucket for a wedding, and that was really sweet. I'd never been there, so my daughter and I rented bikes, and we rode bikes and it was really fun to do. That was lovely. I want to go back because I really like the bicycle culture there. I did a little trip to Tulum with my daughter too, which was really lovely. That was just with the girls, and it was really fun. I've done all of my Summer trips, but I have a fantasy Summer plan.
PS: What is your fantasy Summer vacation?
NL: I would love to be on the beach in Panarea, Sicily. Dance all night at my favorite club. I'm blanking [on the name].
PS: Since you've been traveling all Summer long, what would you say were your top Summer essentials?
NL: I'm madly in love with my Chi Chi sandal. I never take it off my feet, because it's comfortable like Birkenstocks. It's glamorous with its woven top and a little bit ethnic, a little bit preppy. It's got everything going for it.
PS: What else?
NL: For evening, I want any one of my maxi dresses in my suitcase. I think that the lightweight silky maxis this time of year, pulled up so small and you can fit them in a carry-on — which I love to move around with carry-ons.
Find out Nanette's take on why you should own a leopard skort skirt, what to expect at NYFW, and more when you read more.
PS: If [our budget-savvy reader] only had the budget to invest in one item from your collection, which item would that be?
NL: I would buy probably one of the maxis. Or the Mediterranean dress, which is kind of nice because it's cottony — it's eyelet — and it has these cutout sides but in a very discrete way. You're getting a nice trend. You can get it in black and wear it all the way through the end of Summer when you start feeling like you've got your Summer body tan.
PS: What would your advice be for dressing for an outdoor wedding in this heat?
NL: First of all, you need a practical shoe. You don't want to be that person in your spikes sinking into the grass. I like our Absolute Wonder Wedge because it's really nice and you have a little bit of a lift. It's supercomfortable, and you can wear it all day. For a day outdoor wedding, I like short even though for night I like long. I say the Mambo Dress, which is a great lace dress that has a little bit of a flip on the bottom. It's in a beautiful shade of blue, and I think in a wedding it's nice to wear pretty color.
PS: Do you have any hair or beauty tips to go with that?
NL: I personally use lots and lots of hair oil. My hair's very dry, so for me it's lots of Moroccan oil.
PS: Which item in your closet are you loving right now?
NL: We love the little leopard skort skirt because it's a tiny little mini but there are shorts under it so you can get away with it. You don't feel exposed. It's great with a white t-shirt, it's great with a cotton men's-ish shirt, it's great with a cami. There's an olive colorway, which will take you into Fall, and then there's a black and white colorway. It'd be really cute with tights in the Fall in the darker colorway. It's great because you really feel like it's just the right length, and with the shorts under it, it's perfect.
PS: Can you give us any hints on what to expect from your new collection?
NL: We're going with beautiful colors, again, but more subtle, more faded-out colors. Red as a base color and then shades of pale, pale, pale blacks, pale beige, and then we're going to put hits of aqua against it. It's going to be a really pretty palette, and the prints are all a little bit distressed. Our working theme right now is Super Nature.