Naomi Campbell on the Runway Diversity Push
Naomi Campbell: There's Been a "Big Improvement" in Runway Diversity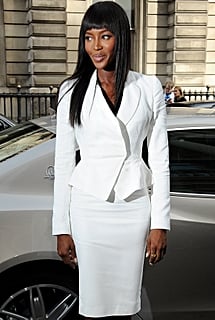 Naomi Campbell, who's been one of the biggest proponents of the push for more diverse runways, said she's happy with the progress that she's seen so far.
"I've seen a huge change this season already," Campbell told Vogue UK. "Giorgio Armani used four models of color in his show, and a model of color opened his show, which is something that I haven't seen in a very long time. Jil Sander did; I'm naming names because this is a big improvement."
Campbell has been an outspoken member of The Diversity Coalition, a group formed by former model and activist Bethann Hardison and also includes Iman. Last month, Iman famously declared, "If you don't use black models, then we boycott."
Stateside, things are making progress, too. Diane von Furstenberg and the CFDA's Steven Kolb have agreed to sit down with Hardison after the shows in Europe wrap up.
"There were more black models working [in the '70s] than it is happening in 2013," Iman said in an interview earlier this month. "There is a time when silence is not acceptable at all. And if the conversation cannot be had publicly in our industry, then inherently there is something wrong with the industry."