Natasha Poly Is Pregnant
Natasha Poly Announces Pregnancy With "Baby on Board" Photo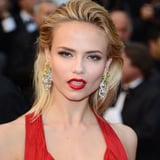 Congratulations are in order for model Natasha Poly, who just announced that she's expecting a child.
On Thursday, Poly posted a photo of herself clutching the midsection of a blue-and-white patterned maxi dress to her Instagram account with the caption "Baby on board."
The 27-year-old, who just appeared on the May 2013 cover of Vogue Russia, has been married to the Dutch businessman Peter Bakker for just over two years. This baby will be their first child.
A look at Poly showing off her growing belly, here.
Source: Instagram User NatashaPoly