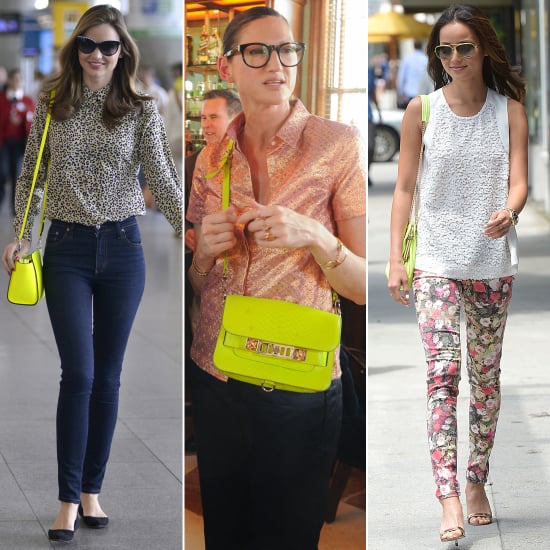 We couldn't help but notice the flashy arm candy in each of these casual celebrity style moments. No, not a single one of these style setters' looks screams "look at me!" — and yet we can't seem to avert our eyes from the bright pop of neon accompanying each otherwise-understated outfit.
It seems Miranda Kerr, Jenna Lyons, and Jamie Chung are on to a very clever bit of styling (go figure!). Miranda kept it simple in denim and a button-down, but added a brilliant citron Michael by Michael Kors bag, for a trip to the airport. Jenna added life to a button-up and trousers with a bold Proenza Schouler PS11 bag (note the perfectly nonchalant crossbody styling), and Jamie Chung furthered her street-style prowess with a neon chain-strap bag in tow. After reviewing all three brightly accessorized ensembles, we're left with one thought: all it takes is a great bit of citron arm candy to liven up a whole look. Shop below and prepare to transform your Summer style with a single accessory.
As POPSUGAR editors, we write about stuff we love and we think you'll like too. POPSUGAR often has affiliate partnerships, so we may get a share of the revenue from your purchase.