New York Fashion Week, Fall 2010: What Did Fab Pack?
I'm ready to go. Unfortunately, a powerful lady called Mother Nature is hanging up my New York Fashion Week. Flights are delayed, shows postponed, due to a big Winter storm happening right now. But I'm all packed! I'm based out of San Francisco and therefore travel to NYC every Fashion Week. Packing has always been a challenge. Isn't it the worst when you really want to wear something on a trip and you didn't bring it? That used to happen to me all the time at Fashion Week — and when what you wear is imperative to making an impression, it blows. I also used to bring too much. For some reason I didn't feel like I could wear something twice . . .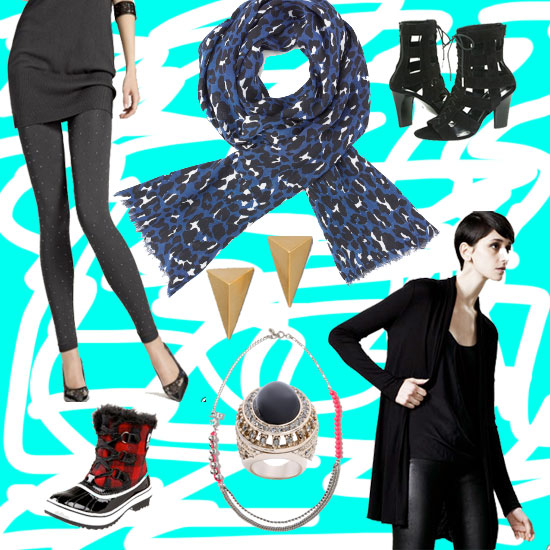 Reality check: I've got tons of great clothes, laundry is possible, and no one is really looking at me; it's all about who's in the front row. Plus, I like to be comfortable and am constantly in motion. I went from bringing three pairs of heels to one — strictly for parties. These days, February Fashion Week is all about vintage coats, cashmere, black, blue, cool layers, sequins and embroidery, exotic prints, flirty skirts, flats boots, favorite jewelry, and fresh hats. One large suitcase and one small, which carries my outerwear and trusty laptop. Want to see exactly what I packed?
To see what Fab packed for New York Fashion Week,
.
Notes: I didn't list out all my jewels; I can't divulge all my secrets! You'll notice an abundance of Zara, J. Crew, Paige Denim, Theory, H&M, Gap, Banana Republic, and Rebecca Taylor — all Fab classics. Some of these items are available for purchase, so notice the live links. All items work day to night, interview to runway-side. Tried and true.
Shoes:

Sam Edelman black suede fringe bootie
Zara moto bootie

Bags:

Black leather Dior bag
Foley + Corinna gunmetal bag

Skirts:

Forever 21 green print miniskirt
Rachel Rachel Roy red tweed miniskirt

Pants/Tights:

Gap blue jeans
Hue heather gray tights
Donna Karan black tights
Zara black legging pants

Dresses:

Topshop knit dress
Volcom black sweater dress

Tops:

H&M denim vest
Zara gray and white striped long sleeve
Zara black and white striped long sleeve
J. Crew navy and ivory strip ¾ sleeve
J. Crew zebra knit sweater
Madewell hot pink v-neck sweater
J. Crew black cashmere sweater
Chaiken heather gray cashmere long cardi
J. Crew white, silver, gold tee
Joseph black cashmere sweater
Madewell beaded tiger tee
Chicos exotic print caftan
Rebecca Taylor floral print blouse
Gap red and white stripe long sleeve
J. Crew embroidered tee
J. Crew silk snow leopard blouse
Rebecca Taylor white top with rhinestone cascade
Vince purple print long silk top
Theory navy sequin tee

Outerwear:

Deep blue vintage coat (with polka dot lining!)
Camel vintage coat with fur collar
Black London Fog puffer coat with fur hood

Scarves:

White + Warren gray black leopard scarf
Thailand red and black skull scarf
Banana Republic black cashmere scarf

Hotel room cozies:

Theory black tank
Quiksilver tee
Betsey Johnson hot pink long sleeve tee
Adam blue tank
Forever 21 zebra pjs
Gap gray velour pants

Hats:

Banana Republic men's beanie cap
Mommie black knit cashmere beanie
H&M gray slouchy beanie
Peru rainbow beanie