New York Fashion Week Layering Trends Spring 2014
5 Genius Layering Tricks We Learned at NYFW
We may not be able to shop the looks off the Spring '14 runways just yet, but we can certainly follow their styling lessons, for free! Every Fashion Week, designers employ a whole new set of styling strategies so cool (and so easy!), they make us wonder: why didn't I think of that? So while we may not exactly be the brains behind the looks, we wholeheartedly plan to use the pretty genius layering tricks we saw at a few of our favorite shows.
1. Wear a Crop Top Covered Up
For the crop-top skeptics, this one's for you. Rebecca Taylor sent models down the runway with cropped sleeveless shells layered over full-coverage t-shirts and blouses, making the trend a whole lot less intimidating for those of us needing a few more ab workouts, not to mention more work-appropriate options for a place where you can't exactly bare your midriff. Don't wait till Spring to wear this one — try a white tee under a leather crop top to take the look to Fall.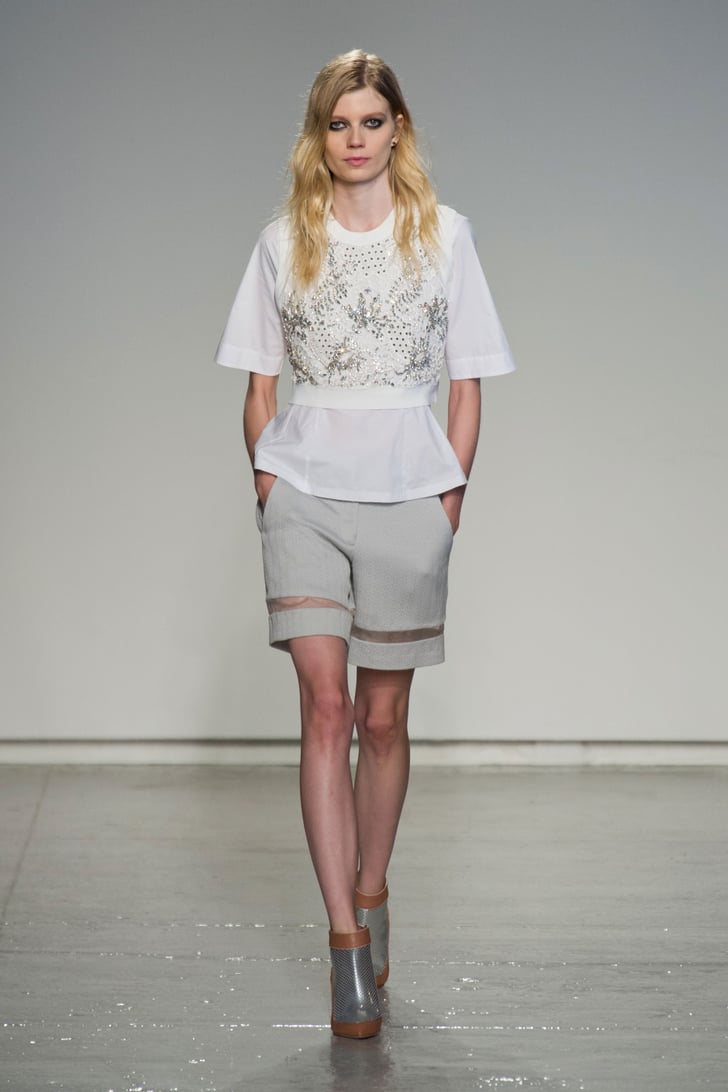 2. Temper a Sexy Dress
Another lesson in making the sexy more approachable, Hervé Léger served up its bandage dresses with a tee layered up underneath. The effect? Less vixen, more cool girl, and a look that — unlike that sexy little dress on its own — we can totally sport at cocktails, dinner, and beyond.

That's not all we learned — for more creative layers you'll want to use right now, keep reading.
3. Break Up a Suit With a Dress
Throw all the rules out the window — who says you have to wear a suit with a shirt? Steven Alan defied our definition of suiting up by adding an easy dress to top trousers and accompany a suit jacket. The effect is just as polished, but a little more inventive and artsy. It's a totally unexpected way to dress up for work or show up to a formal event, no?

4. Don't Tuck In Your Tunic
Why let your skirts have all the fun? Adding a tunic to a fitted pencil skirt, like we saw at Tibi, creates a fluid silhouette. Suddenly our structured pencil skirts are a little less corporate and our beautiful tops get a little more attention, too.

5. Give a Little Dress a Preppy Twist
Sure, you could throw a blazer over a dress for more coverage, but we like Rachel Zoe's method of layering up a little better. By throwing an oxford shirt under a minidress, she added sophistication to something that doesn't seem at all preppy to begin with. Isn't that the fun of fashion? To reinvent and restyle again and again. This just makes it really easy.