New York Fashion Week Spring 2014 Changes
Oscar de la Renta to Cut Guest List of New York Fashion Week Show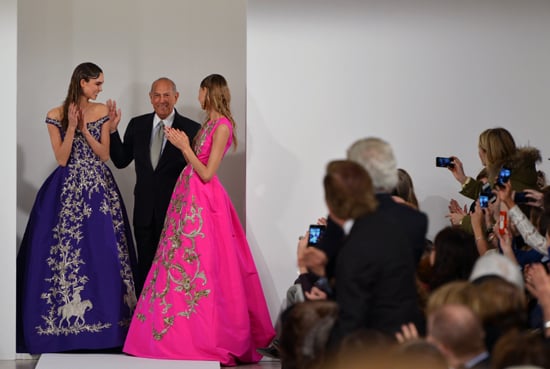 For Spring 2014, Oscar de la Renta is cutting back the two runway shows he usually stages to just one.
De la Renta told WWD that he doesn't want to overfill his New York showroom, where he stages his seasonal shows, with "huge crowds of people with no direct connection to the clothes." Instead, he'll be more selective about who gets invited to create a more intimate and comfortable environment. It'll also give Narciso Rodriguez, who overlaps with de la Renta's second showing, a little wiggle room.
Opening Ceremony will celebrate its New York Fashion Week runway debut, with a pop-up market hosted at Pier 57. The market will play host to fashion vendors like Rihanna for River Island and food vendors like cronut maker Dominique Ansel. There will even be a pop-up salon from Estée Lauder.
"It's our version of giving guests the experience not only the day of the show," said the retailer's cofounder Carol Lim. "They can see curated fashion products and food. We thought, 'Why not extend it for the entire Fashion Week?'"
But Oscar and Opening Ceremony aren't the only brands shaking things up this Fashion Week. Read on to see which of our other favorite fashion brands are doing things differently for Spring 2014.
Another big twist to this September's Spring 2014 New York Fashion Week calendar: Tommy Hilfiger has not only canceled his men's show, he's also moved the time and location of his women's show.
Hilfiger usually stages his women's shows on Sunday evening, but this season he'll move it to 11 a.m. on Monday — right after Carolina Herrera's show. WWD reports that Hilfiger will stage that show not far from Lincoln Center, at Pier 94.
"We've made a strategic decision to focus our attention during New York Fashion Week on our women's business," said Avery Baker, the brand's chief marketing officer. "Menswear remains at the heart of the Tommy Hilfiger brand, and we will continue to develop ways to present our men's collections through channels that speak directly to customers."
After years of hosting New York Fashion Week shows at its corporate offices, Calvin Klein plans to move its Spring 2014 show to a new location. It'll also scale back from two shows in a day to just one.
The brand announced Tuesday that it will stage a single Calvin Klein Collection show (2 p.m. local time on Sept. 12) at Spring Studios, an as-of-yet unopened outpost for the British creative agency of the same name. In addition to office space, Spring Studios includes event space and a fully functioning photo studio. Calvin Klein will be the only brand to show its wares there for Spring 2014, and the office will officially open later this Fall.
Calvin Klein will also host an afterparty on another floor of Spring Studios that serves two purposes: it will celebrate Francisco Costa's 10 years as the brand's creative director, and it will also officially introduce the brand's latest fragrance Downtown to the global market. In May it was announced that Rooney Mara was the face of the new scent.
Meanwhile, Proenza Schouler has changed its time slot for Spring 2014. WWD reported that the 10-year-old line will move from its customary 8 p.m. Wednesday showing to noon on Wednesday. Its founders, Jack McCollough and Lazaro Hernandez, made the switch to accommodate a party they're planning that evening but will return to their traditional time next season.