Nicola Formichetti Named Diesel Artistic Director
Nicola Formichetti "Ripping Everything Apart" at Diesel Now That He's the Creative Director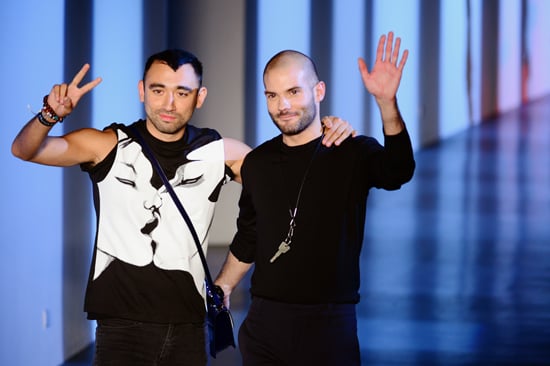 Turns out those rumors about Nicola Formichetti working with Diesel were true. On Thursday morning, the brand confirmed that the former Mugler creative director has been named Diesel's artistic director.
More on Formichetti's new job, here.
"When Renzo asked me I remembered that Diesel and I are all about the same things," Formichetti said in a statement. "No rules! It's about being empowered, it's about being free. It's a positive revolution. We're going to reboot! Hit refresh. That's our first project: we're ripping apart everything to re-build something bigger. I want to get the creative young people around the world to be part of the process."
To that end, Formichetti — ever the fan of social media — has started a Tumblr page for what he's calling the Diesel Reboot project. At press time, the page featured a countdown clock with 27 days to go before the big reveal.
Formichetti's duties at Diesel will include overseeing products, communications, and interior design. His new boss, Diesel founder Renzo Rosso, told WWD, "I want him to do bigger things, different things. This is the right man to take the next step for a young company and a brand for people who are young of mind."
On Thursday, a variety of sources reported that Formichetti, who helmed Mugler for two years, would soon work with Diesel in some capacity, but there was some disagreement as to how he would partner with the brand. WWD had it that Formichetti would design a collaboration with the Italian company, while Page Six reported he'd be be named its creative director.
Neither Diesel nor Formichetti himself commented on those rumors Thursday, but the designer shed some light on why he decided to leave Mugler.
"I wanted to do something else, even bigger, more global," he told WWD, adding that "I really hope the audience has enjoyed what we have done and appreciated our push to democratize high fashion, not only through the enjoyment of clothing but also through a total, inclusive fashion experience."
To mark his new beginning, Formichetti posted a pure white square to his Instagram account Wednesday morning with the caption, "Shut it down and restart again. Ready for this?"
Photo: Formichetti with Mugler women's designer Romain Kremer at their Spring 2013 show in Paris.