Nicolas Ghesquiere 032c Interview
Ghesquière Talks to Another Independent Magazine About Life After Balenciaga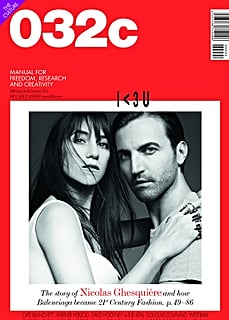 Hot on the heels of his silence-breaking interview about leaving Balenciaga in System magazine, Nicolas Ghesquière has spoken with 032c magazine about his plans now that he no longer works at the fashion house.
Ghesquière and his muse Charlotte Gainsbourg appear on the cover of 032c's Summer 2013 issue, which is due out next Tuesday. Inside the issue, 38 pages are dedicated to his final collection for Balenciaga, and there's a coordinating 14,000-word article on the designer written by Pierre Alexandre de Looz that goes along with it.
While Ghesquière doesn't specify exactly what his next steps will be, he does admit that "some interesting projects are on the horizon." Whether those project involve launching his own line or working with LVMH — both rumored possibilities for the designer — remains to be seen. But whatever he does next, Ghesquière says he has two clear choices to make.
"Now is my time to question interseasonality — it's always the opposite season somewhere in the world — and fashion's need to be global while respecting the environment and local cultures and of course the usual six-month cycle for collections," he says. "I may decide to fulfill that mission again, and I'll enjoy it as I always have."
"Another part of me absolutely wants to break these rules," Ghesquière continues. "I may be putting myself in danger, but that's what I want these days. I enjoyed years of extreme comfort at Balenciaga. It's fantastic to harvest that status to explore in new ways, rather than sticking to a routine, even if it was the most comfortable and incredible, I couldn't be in a better position."