Nicolas Ghesquiere on Leaving Balenciaga
Nicolas Ghesquière on Why Balenciaga "Just Wasn't Fulfilling Anymore"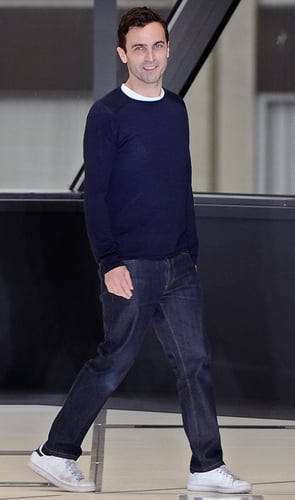 Nicolas Ghesquière's departure from Balenciaga was one of the biggest fashion stories of 2012. After keeping mum on the topic for several months, the designer has opened up to System Magazine — a new glossy whose first issue was guest-edited by his friend, stylist Marie-Amélie-Sauvé — about what made him leave.
In an excerpt of the interview published by The Business of Fashion, Ghesquière told journalist Jonathan Wingfield that clashing with the business side on what kind of products to make and where to sell them contributed to his unhappiness there.
"They wanted to open up a load of stores but in really mediocre spaces, where people weren't aware of the brand. It was a strategy that I just couldn't relate to," he said in the interview. "It was just so frustrating. Everything was like that."
More on why Ghesquière left the brand, here.
Ghesquière said he always positioned Balenciaga "as a little Chanel or Prada," but was never given the kind of control that the creative directors at those brands enjoy.
"I think with Karl and Miuccia, you can feel that it's the creative people who have the power," he said, adding that he knew he was ready to leave "around that time that I heard people saying, 'Your style is so Balenciaga now, it's no longer Nicolas Ghesquière, it's Balenciaga's style.' It all became so dehumanised. Everything became an asset for the brand, trying to make it ever more corporate — it was all about branding."
Not that Ghesquière is antibranding. "Actually, the thing that I'm most proud of is that Balenciaga has become a big financial entity and will continue to exist," he said. "But I began to feel as though I was being sucked dry, like they wanted to steal my identity while trying to homogenise things. It just wasn't fulfilling anymore."
As for his next move, Ghesquière wouldn't get specific. But he did say, "The best way to move forward is to go back to work."
Julian Mackler /BFANYC.com.