Nina Dobrev Wearing Floral Top and White Skirt 2012
Nina Dobrev Shows Us the Perks of Being a Prints (and Texture) Master
We may not all be blessed with Los Angeles's sunny temps (as evidenced by the kind of outdoor ensemble being worn here), but that's not the point. Nina Dobrev — spotted on the Extra set to promote her recently released film The Perks of Being a Wallflower — took a sexy twofold approach to floral prints and texture, inspiring us to pick apart our own closets in search of an equally perfect juxtaposition. Her head-to-toe Dolce & Gabbana look paired a semisheer black daisy-printed top with a sweet white guipure lace skirt, which maintained the integrity of the floral motif while doubling up on the textural intrigue. Because the outfit's palette was understated, you don't feel overwhelmed by its contrast in patterns. In short, Nina prompted us to rethink how we match up our own printed and lace pieces, so much so that we've mapped out our three favorite ways to take on this textural trend with a seasonal twist.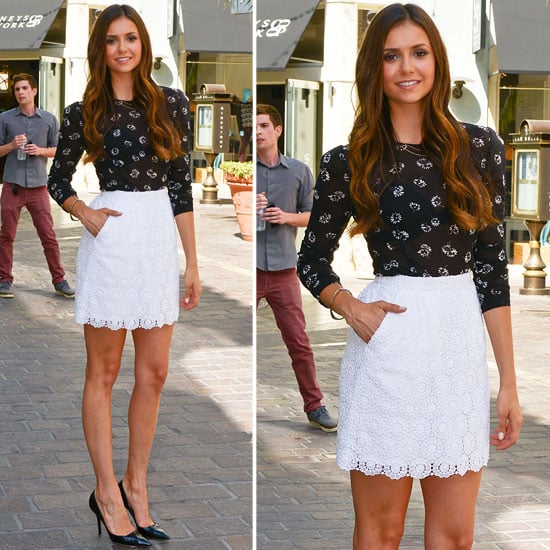 Follow suit on Nina's floral print vs. guipure lace look, but put a more autumnal spin on it. We're thinking a floral printed blouse topped with a navy crewneck sweater, then finished with a midi-length guipure lace skirt (preferably in a moody shade of oxblood red).
If you're feeling a bit daring (and want to take a lace-infused break), try a Dries Van Noten Spring 2013-inspired take on print power. By this, we mean a bold floral pattern styled up against a grunge-meets-polished plaid print. A lighter plaid iteration will draw the eye into a louder floral design.
For the stripes loyalist, we've got something for you, too. Opt for a Fall-appropriate leaf print and contrast it with a wide stripe à la Dolce & Gabbana's Spring '13 collection. A vertically striped skinny jean would look perfect with a darker-hued embroidered topper — it's funky, seasonal, and versatile.