Olivia Palermo's Leather Skirt by Reiss
Get One Step Closer to Nailing Olivia Palermo's Insanely Chic Style
With nearly every Fashion Week appearance, Olivia Palermo incites outfit awe — then, consequently, envy. Her latest look in London was no different, a perfect mix of Fall staples, like her snug knit top styled up with a ladylike, leather midi skirt that caught our eye with its effortless balance of easy proportions and on-trend style. Fortunately, we're getting one step closer to fashioning our own Olivia-inspired ensemble with the same Reiss Leather Midi Skirt ($425) and our tips on how to style it up right: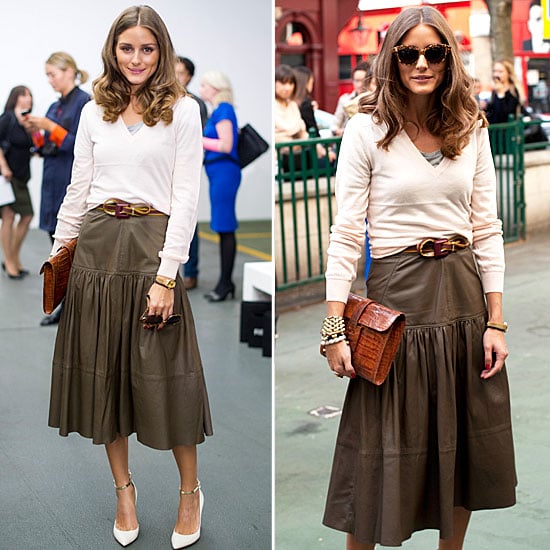 Keep it simple à la Olivia by opting for a classic knit pullover. The key is to keep proportions more closely fit on top to balance out the fuller skirt.
You can wear flats, like ballet slippers, with this skirt, but ladylike heels like Olivia's elevate the ensemble. Look to pointed-toe pumps with a little modern edge (like an ankle-strap or cap-toe) to give the midi length a fresh twist.
Olivia is notorious for adding a loopy, tied belt to her waist, which is a smart styling add-on. Not only does it work to further the interest of the outfit, but it also draws attention to her tiny waist. If you're straighter up and down like Olivia, choose the same slimmer-style belt; if you're fuller, choose a wider belt, which will help to more concretely define your waist.