Olivia Palermo in St. Barts | Jan. 2013
Take Two! — Olivia's Beachwear Actually Doubles as Streetwear
As POPSUGAR editors, we independently select and write about stuff we love and think you'll like too. POPSUGAR has affiliate and advertising partnerships so we get revenue from sharing this content and from your purchase.
If you're anything like us, then you've probably been wondering: where has Olivia Palermo been? Not to worry, we're making up for lost time with a double dose of the style star's sartorial prowess — her latest, perfect-for-resort looks. While vacationing with beau Johannes Huebl in St. Barts, Miss Palermo showed off two unexpectedly chic beach ensembles, making use of a day-to-night maxi, a staple white blouse, and a ladylike pleated skirt. Consider this the most versatile of vacation style, the kind that makes use of pieces that you could wear at home (and practically year-round) as well. Rather than spend on paisley tunics or sarongs that have that beach-exclusive feel, Olivia's pieces go from the sand to the city without a lot of hard work — we're breaking it all down (and giving you the key pieces) right here: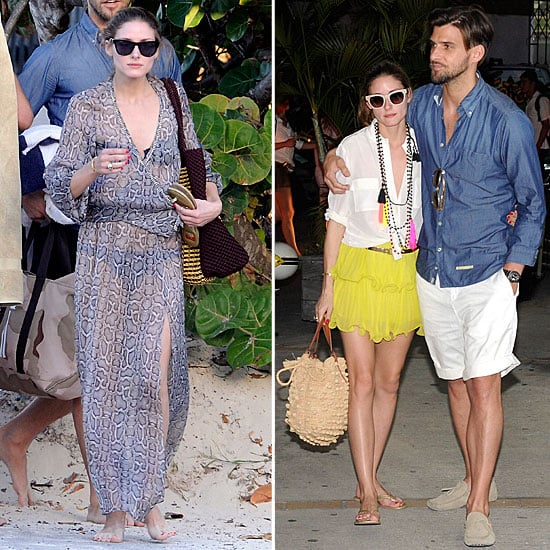 The chiffon maxi: Believe it or not, Olivia's luxe-looking snake-print maxi is also a wise investment. This piece looks breezy layered up over a bikini and finished with sandals (as Miss Palermo clearly proves), but the length and fabric are also begging to be layered with more substantive pieces. Add a black slip underneath, black tights, ankle boots, and a furry vest and you've got a glam look you could wear right now (and not at the beach).
The easy button-down and skirt: We probably don't have to tell you why these pieces are so versatile on the main land — each of these is a closet staple that's easy to dress up or down, and warm up with jeans or tights. Olivia's take shows us the other side: how these wardrobe mainstays double as beachy cover-ups. Because of their lightweight fabrics and bright hues, they're easy to transform with other, more Resort-feeling accents. Want to take your button-down and mini to the beach? Just do as Olivia does and add in a pair of shades, a raffia tote, and metallic flip-flops to give them a laid-back feel that will match your vacation destination.
Make use of the same key pieces and shop our editors' picks below.