Olivia Palermo Wearing Blue Pumps
Olivia Palermo Reminds Us: It's All in the Details
While we firmly believe that there is such a thing as accessory-overload, we also know that a few eclectic add-ons can reshape our classics into something totally new again. Evidently, Olivia Palermo knows it too. For the second time this week, Olivia caught our attention — this time for her expert use of a few eye-catching additions to her polished skinny pants and military jacket while out in London. See how the brilliant pops of color and luxe texture up the ante on her outfit's darker palette? It really is the little things. For a quick how-to in styling the same chic mix, keeping reading.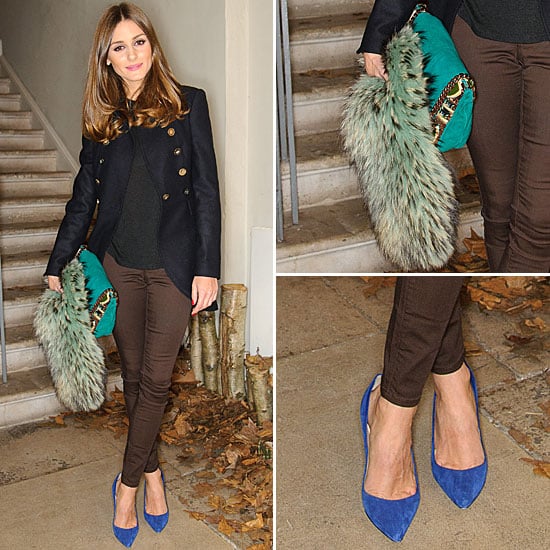 Like Olivia, start simple. The understated vibe of both her t-shirt and trousers, plus a neutral palette, leaves ample room to play up her accessories in a bold way.
Once you have the foundation of your look, start to play with texture and color. Olivia makes use of both a little luxe texture with her fur stole, as well as color with a bright pop of green on her Matthew Williamson clutch and her blue suede pumps. Just be sure not to overdo it with a bevy of bright colors. Olivia wisely limits her accessories to just two different colors; a rainbow of colors is likely to look more costumey than cool.
If you'll notice, Olivia doesn't overdo the jewels. With bold accents like her bag and shoes, Olivia has little reason to drum up any more interest with oversize baubles. Instead, she opts for a pair of classic pearls and little else, while letting her high-impact accessories do the talking.