Olivia Palermo Wearing Fur Vest in NYC
Olivia Palermo Perfects Fall Layering — Here's How
Olivia Palermo always looks styled to perfection, but her Fall wares just might be her best yet. While walking the streets of NYC with her beau, Johannes Huebl, the beauty kept warm in cold-weather basics — with the addition of a luxe fur vest — without looking like an overstuffed marshmallow. See, it's all about smart layering, and the best part? You most likely have similar pieces in your wardrobe right now. Get her exact boots here and keep reading for our styling tips below.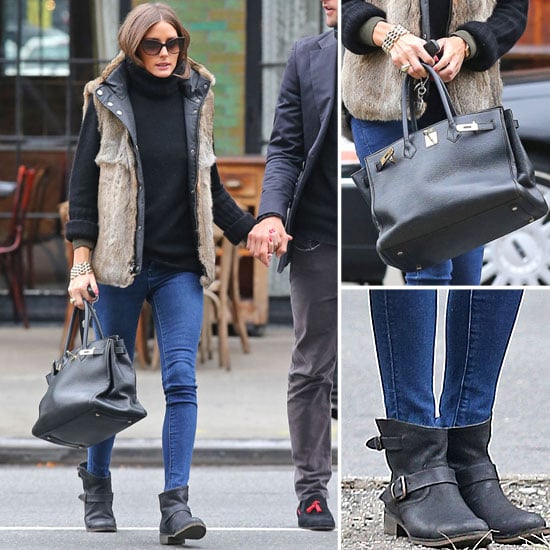 Start with great basics. Make it your mission this season to find one amazing pair of dark denim jeans, the perfect-fitting black turtleneck, and comfy yet chic leather boots.
Invest in a faux (or real) fur vest. As Olivia exemplified, it can add a dose of glamour to your Fall basics, and if you want to amp up your edgy appeal, swap the dark jeans for skinny black leather pants.
Don't forget to accessorize. One might think that jewels stay hidden when you're so layered up, but notice how Olivia rolled her sleeves up just enough to reveal a bold gold cuff bracelet. Finish off with a ladylike bag, statement ring, cat-eye sunglasses, and you'll emote the same classic-cum-cool look in no time at all.