Olivia Palermo Wearing Leather Pants | September 2012
Olivia Gives Us Outfit Envy (Again), This Time in Denim + Leather
Here's the thing about Olivia Palermo: one minute she's giving you Valentino, and the next she's out walking her dog in the coolest take on Fall-casual, in leather pants and a denim button-down. She's fashionable, but doesn't subscribe to designer-only shopping or couture-exclusive style, which makes her all the more fun to watch — and makes her looks all the more accessible. With just a few new Fall essentials, Olivia throws on a pulled-together play on everyday dressing, and with her styling finesse, she gives this denim-and-leather combo a chicer edge. Here's how it's done: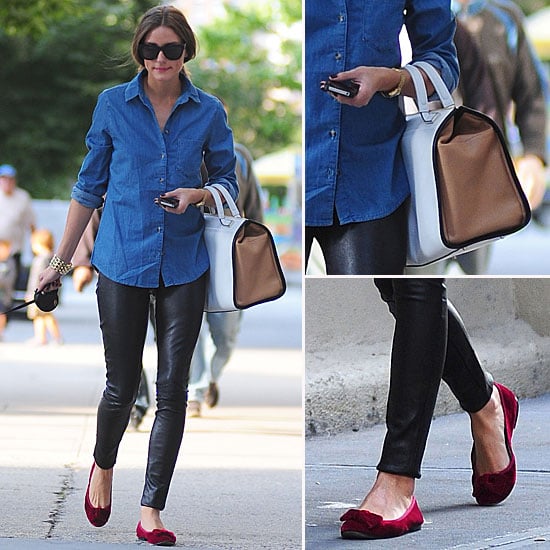 It's all about smart proportions. Olivia balances a pair of slim-fit leather pants with an oversize denim button-down. You don't want to be swimming in your shirt or the look will end up feeling sloppy, but do opt for a longer-cut topper, which can help to conceal areas you may be less excited about showing off, like upper thighs and your derrière.
Punch up your look with accessories. The denim button-down can have a really casual effect, so if you're looking to dial it up, do as Olivia does and opt for luxe add-ons that can give your look a lift. A pair of flats in a rich Fall hue and velvet finish can give your look a warm, seasonal feel, while a contrasting color on your bag, like Olivia's, furthers outfit interest.
Take this look from day to night. Olivia wears the look well for daytime, but if you're hoping to give it an after-hours twist, just switch it up with more glamorous accessories, like a statement necklace, a sleek clutch, and a pair of pointed-toe heels.