Olivia Palermo Wears a Plaid Blazer and Dior Bag in Paris
A Plaid Blazer Sounds Suspect — Until Olivia Palermo Wears One
We used to associate plaid jackets with stuffy Christmas-party looks — leave it to Olivia Palermo to change that with one look. Equal parts downtown-cool and classically seasonal, Olivia outfitted Tibi's more contemporary plaid topper with biker boots and her burgundy Dior bag — how gorgeous is that color?! — while sightseeing with beau Johannes Huebl in Paris. It's a more dressed-down look than we're used to seeing from Miss Palermo, but that just makes it easier to outfit in our own day to day. Feeling inspired? Our tips to pulling off plaid like a pro are all right here: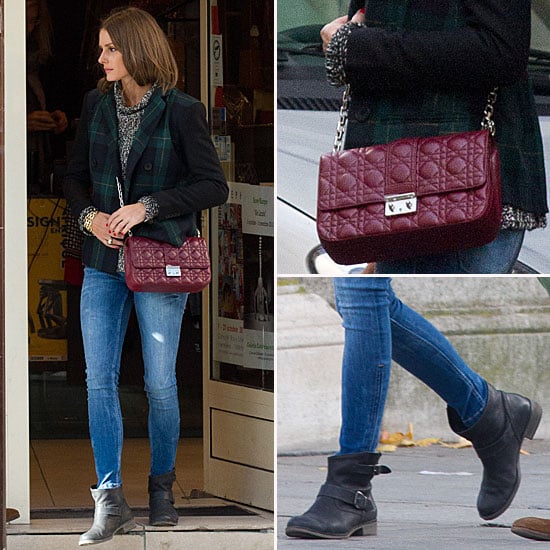 The plaid jacket has an inherently preppy, classic feel, so playing it with a pleated skirt and heels is only going to further that more conservative vibe. If you want to give it a cooler makeover, start, like Olivia did, with a pair of dressed-down bottoms like jeans or leather skinnies.
Play with textures to further the outfit intrigue and break up the plaid print. Olivia added a marbled knit layer underneath her jacket to lend a cozier, easier feel to the whole ensemble. Likewise, look to a warm pullover in a thick wool or cashmere.
Accessories are really important here. Olivia plays both ends of the high-low spectrum, looking to a posh Dior bag for a hint of polish and seasonal color, but it's her biker boots that put the finishing touch on her look. With a little more toughness than riding boots or ankle boots, we love how her footwear counters her more sophisticated jacket and luxe handbag.