Oscar de la Renta on the 2013 CFDA Awards
Why Oscar de la Renta Has to Leave Tonight's CFDA Awards Early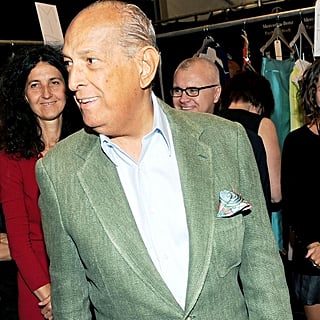 Once Oscar de la Renta has accepted the Founders Award at tonight's annual CFDA Awards, he and the trophy's presenter, Hillary Clinton, are leaving early to go to Henry Kissinger's 90th birthday party.
Kissinger, who served as secretary of state under President Richard Nixon and President Gerald Ford, is just one of the heavyweights the legendary designer has befriended over the years. But de la Renta told WWD's Bridget Foley that even though he's winning the prestigious Founders Award — which recognizes people who have made a "unique contribution" to the industry in their careers — he doesn't like looking back at his old work.
"I hate nostalgia," he said. "Fashion is about now. I hate to look back. You have to look a little bit back to look forward, but it's a business where the past doesn't count. You're as good as your last collection. You can do 25 great collections and if the last one was a rotten collection — you're going to be remembered for that rotten collection."
But that's not what keeps de la Renta moving forward. He said he still has more to learn about being a designer.
"The day I say, 'I know it all,' I should stop," he said. "I think that one of the most important qualities in a human being is curiosity. And competitiveness is part of that curiosity."