Oscar de la Renta: I Would Love to Dress Michelle Obama
Watch: Oscar de la Renta Still Waiting For His Chance to Dress Michelle Obama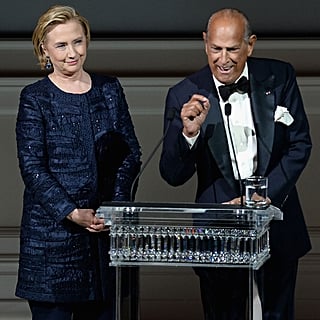 Oscar de la Renta has dressed every American first lady for the last 50 years (one of them even dedicated a museum exhibit to his work), except for Michelle Obama. And while he appreciates how much she supports young designers, he said in a recent interview that he still wishes he could dress her himself.
"I would love to dress Mrs. Obama," the designer told CBS This Morning hosts Charlie Rose and Norah O'Donnell on Friday. "You know, only in this country do we pay so much attention to what the first lady wears. Only in this country does the first lady have such a public image about what she does. It doesn't happen anywhere else in the world."
Theories as to why Obama won't wear de la Renta's clothing abound — could it stem from his criticism of the cardigan she wore to Buckingham Palace in 2009? (He later admitted that this was "a big mistake.") Does she want to distance herself from the first ladies of the 20th century stylistically? De la Renta doesn't ruminate on those ideas in the interview below, but he does talk about his relationship with John Galliano and his need for friendship.
More of Oscar de la Renta's interview with CBS This Morning, here.