Oscar de la Renta May Hire John Galliano
Oscar de la Renta Hasn't Hired John Galliano Yet, but He's Trying To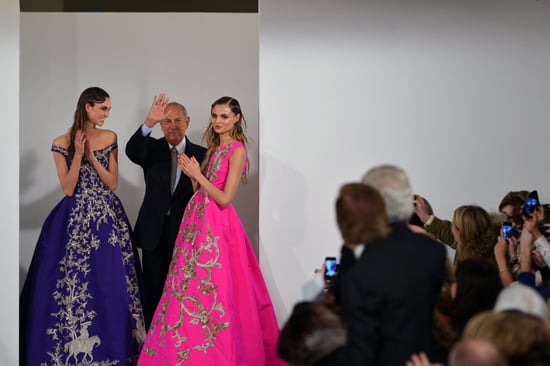 With less than a month to go before he presents his Spring 2014 collection, Oscar de la Renta has announced that he may soon be working with John Galliano again.
While Galliano hasn't joined the house in any official capacity yet, its CEO Alex Bolen said in a statement to WWD that the house is exploring ways to bring Galliano back into the fold.
"As we have said before, we are deeply impressed with John's talent and would love to find a way to work with him in the future," Bolen said. "To date, we have not found that way."
Thursday's news is almost like a replay of last Fashion Week. Just a month before showing his Fall 2013 collection, de la Renta told the press that Galliano — who at that point had been out of work for two years following his dismissal from Dior — would join his studio for three weeks as a designer in residence. In a poll at the time, 85 percent of POPSUGAR Fashion readers said they were ready to forgive the drunken, anti-Semitic rant that got Galliano fired and see him return to design.
And while de la Renta hasn't addressed rumors that Galliano will one day succeed him at the helm of the brand, he's always believed that Galliano should come back to fashion in a larger capacity.
"I strongly feel, regardless of what he did, that everyone in life does deserve a second chance, and I am happy that I was able to give John a second chance," he told Fern Mallis in an interview at 92Y earlier this year. "It would be a shame if the industry was deprived of such a talent."