Packing Light For Summer Travel
One Editor, Four Weeks of Travel, and Only One Carry-On — How to (Really) Pack Light
Let's be honest: packing is no fun, and no matter how many times we do it, we're always susceptible to overcompensating, or worse, forgetting something crucial, like underwear. So, when faced with packing for not one but three destinations — San Francisco, Bali, and New York City — over the course of the next four weeks, it wasn't the easiest task to take on. While we're at it, let's also throw in the fact that I want to steer clear of checking bags, baggage claims, and any sort of lost-and-found dilemmas. My packing conundrum was not something to be taken lightly — one Fab editor, four weeks of being on the road, three climate changes, and only one carry-on to work with? Sounded like an impossible feat. But here's the most amazing miracle of all — I did it; see the photographic evidence below! Now, before I head West, it's time to impart some quick, painless packing-light tips that should keep you on the carry-on straight and narrow. Ready? Happy trails.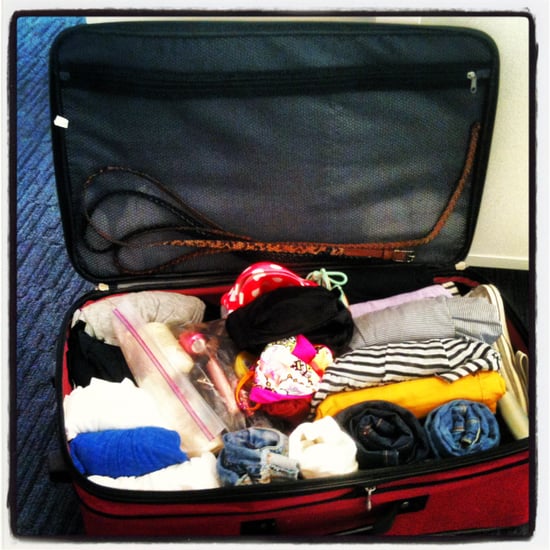 Don't underestimate the power of making a list. Write down the bare essentials of what you'll need for your trip, wherever the final destination may be. Keyword here is basic: bras, underwear, socks, a pair of jeans, a warmer layer for the evenings, a chic go-with-everything dress, and so on. Then, follow your list as a step-by-step process of how to not go overboard when you start digging into your wardrobe.
Do be reasonable. Override that voice in your head trying to convince you that you absolutely need six tops for a three-day trip. You don't . . . and the practical you knows that.
Don't skimp too much. If you know that you're going to a wedding with formal dinners planned every night, then yes pack a few extra dresses. The tradeoff? Include a slick pair of ankle-strap sandals that go with each outfit, so you don't have to overload on the shoe front.
Do roll your clothes instead of folding them. First of all, it minimizes wrinkles and therefore you don't have to worry about the quality of your hotel iron. Second of all, it frees up a lot of space for other traveling necessities.
Don't forget to pack a great belt, a pair of statement earrings, and classic ballet flats. When in doubt, these things will come in handy.