Pamela Love For Nine West Boots Collaboration (Pictures)
The Pamela Love x Nine West Boot Speaks to Our Inner Tough Girl
Sometimes finding the boot that fits — both in size and style — doesn't have to be so hard, especially when you have designers like Pamela Love handing you the perfect iteration on a platter. Or at least, that's how this collaboration feels to us right now. Let's rewind and give you the facts. Nine West is continuing its Shoelaborations initiative by teaming up with native New York designer Pamela Love (you may have seen her insanely cool jewelry wares before?). Come Oct. 30, the ankle boots you see below could be yours.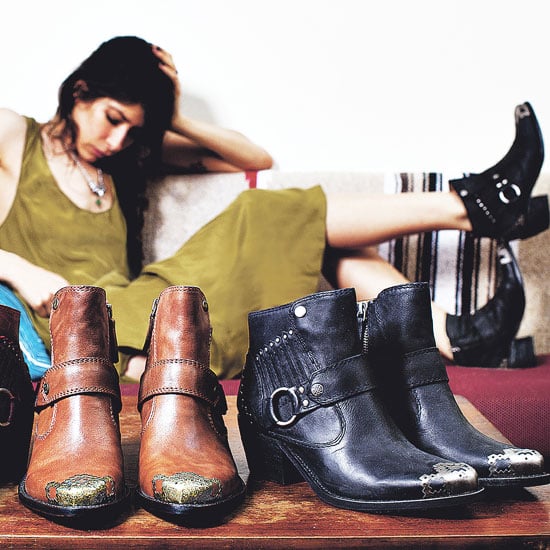 "I really felt the idea of the traveler riding on their motorcycle through the Southwest summed up my brand and my personality more than anything else. I wanted to design a boot that could have been from another time, and I wanted it to feel tough," she says of her inspiration. And it shows. Between the rustic metalwork, Southwestern influence, and distressed leather, it's not hard to pinpoint where Love's head was at. We love that this low-cut rendition is just a little bit cowgirl, a little bit downtown, and, just like Love hinted, a little bit rough around the edges. Thus, it lends itself to more than one styling scenario. Wear them with a great pair of denim, top off a flirty dress and sweater combo, or look to Love for straight-from-the-source outfit fodder. And if you're looking to punch up your Fall boot collection or simply have fallen for them like we have, then preorder the Pamela collaboration style here ($299).
Scope out the Pamela Love for Nine West boot from every angle now.