Photos of Donna Karan's Fall 2010 Collection
2010 Fall New York: Donna Karan
While Rebecca Taylor tailors her clothes toward PYTs, it's clear Donna Karan has the woman top of mind. With a royal front row of Marisa Berenson, Brooke Shields, Demi Moore, and Susan Sarandon, Donna titled her Fall collection "Forever Black." And while the designer payed a serious ode to the color of fashion, she rounded out her modern clothes with shots of teal and magenta.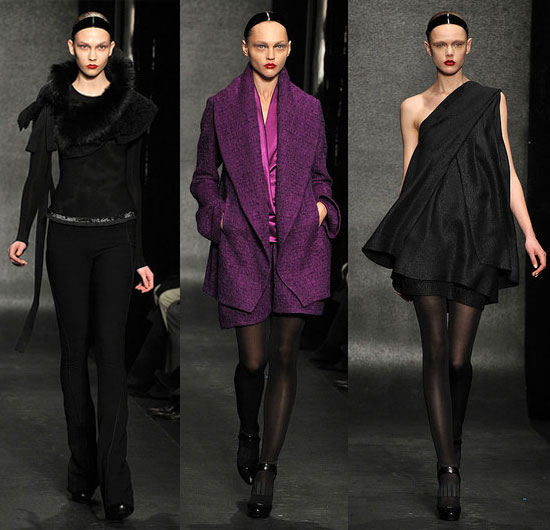 But it was the sculptured and textured black pieces that captured our attention; dramatic cashmere/wool coats, double organza skirts, cocoon coats, a laminated wool melton coat, a shearling cardigan coats — the outwear was mindblowing. Lacquered black headbands, dramatic bib necklaces, and ribbons served as romantically gothic accompaniments. The finale of black satin dresses, and ultra luxe wool blends, were definitely forever.
For the rest of the collection,
Don't forget to check out all of our New York Fashion Week coverage and follow my Fashion Week adventures on Twitter!