Photos of Marchesa's Fall 2010 Collection
2010 Fall New York: Marchesa
My slow, meticulous walk through the Marchesa presentation always transports me to a happy gorgeous place. For Fall, the designers were inspired by the performer and courtesan Lola Montez and her travels and quest for love. Can you imagine her life? If puffed tulle, razor sharp ruffles, baby pink feathers, grosgrain ribbons, and twinkling embroidery were her daily wears, Lola was quite the party girl. Once again hose emblazoned with tattoos and killer Louboutins deliver masterful drama. The Oscars are right around the corner. My picks? This romantically red frothy gown would make the ultimate statement. And I dare someone to wear this black and white shadow gown. However, my personal favorite is this swirly teal paisley mini — freakin' fantastic.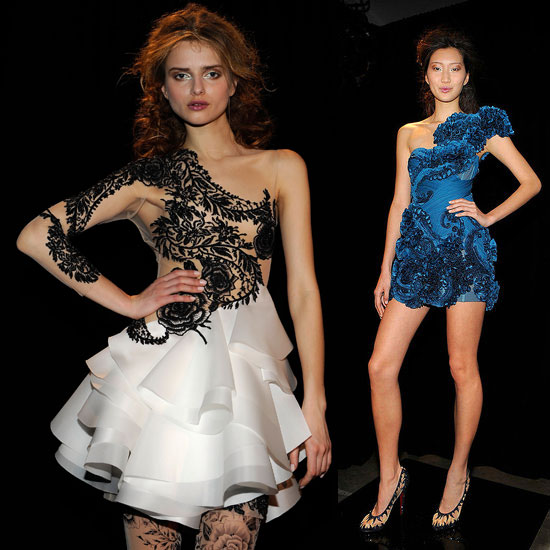 To see more mystical Marchesa,
Don't forget to check out all of our New York Fashion Week coverage and follow my Fashion Week adventures on Twitter!