Photos Nicky Hilton at Armani Exchange & 944 Coachella 2011 Neon Carnival 2011-04-17 10:59:13
Nicky Hilton Chats Coachella Essentials and Favorite Performances at Armani Exchange & 944 Neon Carnival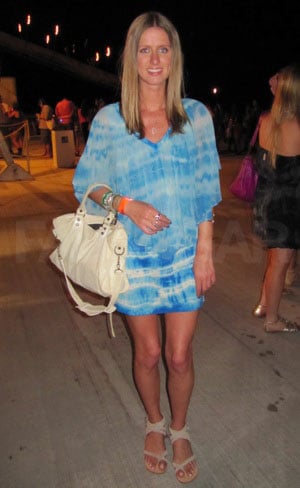 Last night, Armani Exchange and 944 magazine hosted an incredible neon carnival in Palm Springs for Coachella attendees complete with Ferris wheels, bumper cars, and fun carnival games. Somewhere between ring tosses and bolder rolls, we caught up with Nicky Hilton — sporting a super cute blue tie-dye dress and Balenciaga bag — during the festivities to talk to about her Coachella essentials, favorite performances, what she has in the hopper with her latest jewelry collection, and more. Listen up to what Nicky has to say:
FabSugar: What are your Coachella essentials?
Nicky Hilton: Definitely sunglasses, flat shoes, and a big purse.
FS: What have been your favorite performances so far?
NH: DJ Steve Angello and Arcade Fire.
FS: How would you describe your festival style?
NH: Colorful and comfy!
FS: What can you tell us about your latest jewelry collection?
NH: The new line will be very deco, Elizabeth Taylor-inspired.