Photos of Vera Wang's Fall 2010 Collection
2010 Fall New York: Vera Wang
Vera Wang's Fall collection perfectly transcribes youthful sophistication. The designer was inspired by film noir as "a contemporary metaphor for youth, romance, and sophistication." Black was the color du jour, no surprise there, but each look took black to new depths. Inspired tailoring gave way to sculptured silhouettes and disheveled glamor. Clustered pearls, worn on necks and arms, reminded us of Wang's ladylike tendencies. Sporty elements, a cargo pocket here, a zipped jacket there, injected coolness. Deep gray Mongolian fur fluffed around wrists, as a vest, and even pounced on one model's back. The party dresses — embellished with Swarovski crystals — were utterly enticing, while functional tuxedo leggings and paperbag pants brought things downtown.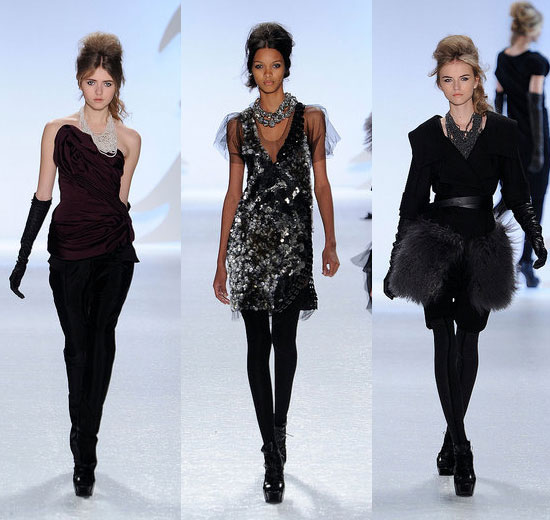 Don't forget to check out all of our New York Fashion Week coverage and follow my Fashion Week adventures on Twitter!
For more romantic Wang, read more.