Picture of Alexa Chung at Coachella Lacoste Party 2010-04-19 03:07:15
Fab Exclusive! Alexa Chung Reveals Her Coachella Must Haves!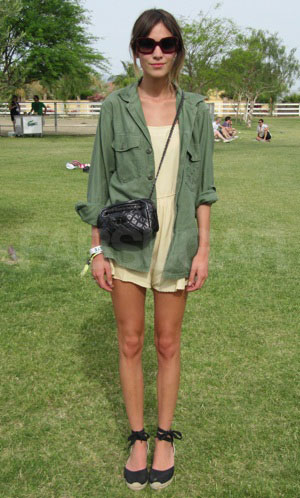 Alexa Chung was sweet enough to take time out between mixing tracks and hanging out with friends at the Coachella Lacoste party to talk to us about her ultimate Coachella must haves. You ready? Good underwear, because "everyone will see it," and a good bladder.
Indeed, we peeped some super short hemlines over the weekend — and plenty of accidental panty flashing. Since it was scorching hot, people were constantly replenishing with water. I can tell you from experience those port-a-potty lines were pretty insane. Thanks for the tips, Alexa! Check out these concert-approved panties below to better prepare yourself for the next Summer festival. Oh, did you notice she's wearing her favorite army shirt?
Be sure to see what H&M had to say about Coachella, too.