Pictures From the Spring 2011 Project Runway Show
2011 Spring New York: Project Runway
Heidi Klum was the mistress of ceremonies this morning as the remaining 10 designers from the eighth season of Project Runway showed complete collections during Fashion Week. It was a little hectic navigating the new space at Lincoln Center, but the show began close to the 9:45 scheduled start time — first, though, attendees were in for a surprise with special guest judge Jessica Simpson, who took a break from promoting her own new clothes to judge those of the contestants. Joining her were Heidi, Nina Garcia, Michael Kors, and special guests like Jordin Sparks and Harvey Weinstein.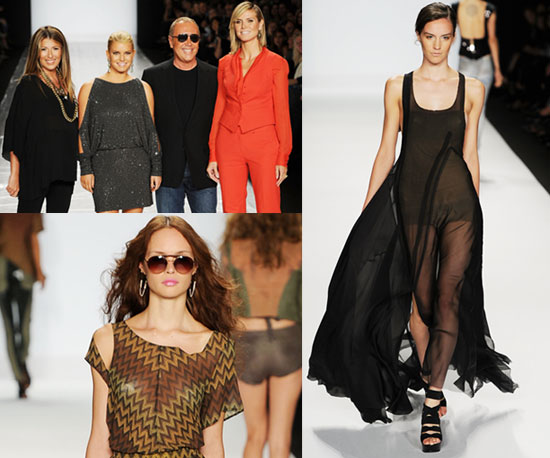 Only three of the 10 designers who showed today are still in the running, and I'd make an educated guess as to who they are. Ivy Higa, who showed a Hawaiian-inspired collection of beachy dresses, was among the best, as was Christopher Collins with his well-cut patterned separates. Finally, Michael Drummond presented a collection inspired by "Rothko, x-rays, and underwear" that managed to be edgy and sophisticated at the same. We won't know who wins until the finale later this year, but click through below to see the contestants' designs and make sure to stay tuned to Pop, Fab, and Bella for all the latest from NYC!
To see all of the pics from the Project Runway finale, read more.