Pictures From WWD's 100 Years, 100 Designers Book
Inside WWD: 100 Years, 100 Designers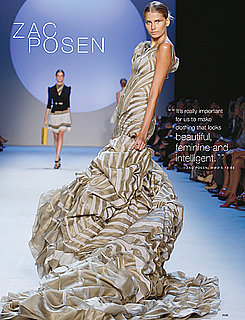 We're thrilled to present our favorite InStyle story here on Fab!
To fete the 100th anniversary of Women's Wear Daily, Fairchild Books has released WWD: 100 Years, 100 Designers, and we've got an inside look into the 312 pages of incredible fashion. The book spotlights ten of the most influential designers from each decade since 1910 and includes past interviews with fashion icons including: Alexander McQueen, Gianni Versace, Marc Jacobs, and Giorgio Armani. In a 1978 interview, for instance, Armani says, "I like basically no colors, sharp blacks. When I do a collection, my favorite part of the work is the research of the colors and the fabrics. The cut comes second." Click below to see more of the gorgeous pages!
Click here to see the rest of the photos.
— Kendall Herbst
For more fashion, beauty, and style buzz you need to know, read What's Right Now! at InStyle.com.