Pictures of Gemma Arterton, Alexa Chung, and Kirsten Dunst at Louis Vuitton Bond Street Opening in London
The New Hot Hemline
We're thrilled to present our favorite InStyle story here on Fab!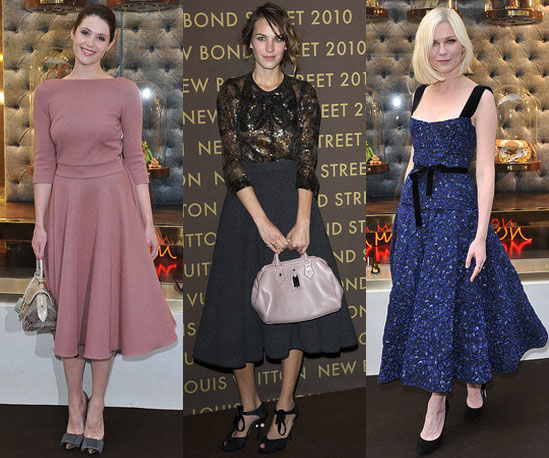 It's official: The formerly-dowdy tea-length dress is having a chic revival, thanks to Marc Jacobs' ladylike designs for Louis Vuitton and stylish celebrity fans such as Gemma Arterton, Alexa Chung, and Kirsten Dunst. All three stars chose skirts or dresses that hit their mid-calves, straight from the Fall 2010 Runway, for the launch of the Louis Vuitton Bond Street Maison in London last night, and on them the retro silhouette looked anything but old. They key to keeping this shape looking fresh and youthful rather than frumpy? Highlight a slim waist with a voluminous skirt that shows off dainty ankles . . . and a great pair of killer pumps.
— Joyann King
For more fashion, beauty, and style buzz you need to know, read What's Right Now! at InStyle.com.