Pictures of Leighton Meester and Jessica Alba
Stars Come Out for Chanel Haute Couture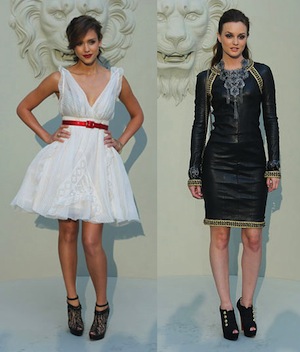 We're thrilled to present our favorite InStyle story here on Fab!
He is Karl Lagerfeld, hear him roar… or, at least, hear his Chanel Fall/Winter 2010 Haute Couture collection. In honor of Coco Chanel's astrological sign—the Leo—Lagerfeld debuted a lineup of gilded twenties-style cocktail dresses, classic tweed suits and lavish accessories (bedecked with fur, pearls, chains and embroideries) underneath a mammoth gold lion statue at Paris' Grand Palais. And plenty of Chanel-clad stars were on hand to take in the spectacular scene, including Jessica Alba (who's been making her way around Paris), Gossip Girl's Leighton Meester, Blake Lively and Clemence Poesy (they're currently filming in the City of Lights), and Milla Jovovich. Click through our gallery to see all the celebrities at the show, plus some of our favorite looks from the collection.
— Rachel Jacoby
For more fashion, beauty, and style buzz you need to know, read What's Right Now! at InStyle.com.