Pictures of Olivia Palermo For ASOS Magazine
Olivia Palermo Talks Shop About The City and Personal Style in ASOS Magazine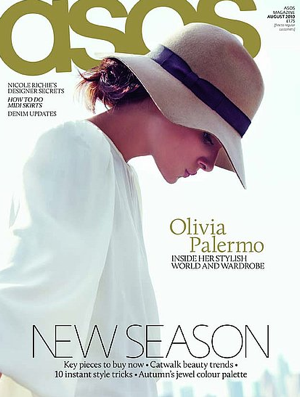 Whether you're a lover or hater of Olivia Palermo, you have to admit the girl has mad styling skills. That's why ASOS snatched up the PYT to pose for its August issue. During the photo shoot — which she also helped style — Olivia talked about her evil portrayal in The City, her drama with Whitney Port, beau Johannes Huebl, and what we love most of all: her incredible sense of fashion.
Olivia on the bad reputation The City has given her.
It's unfortunate. But I think that people understand that what they see on TV is not who I am. It's not accurate. I'm funny, I'm enthusiastic, and I'm not a negative person. I always try and look for the good in things.


More pictures and juicy quotes from Olivia Palermo.
Olivia on not supporting Whitney Port's clothing line.
I don't think I need to be forced to support anyone's collection through my production team. I'm my own brand, and I have my own opinion. It's unfortunate if someone doesn't appreciate or agree with my decision, but I'm entitled to an opinion. There are a lot of other designers I can work with and I'm happy doing that.
Olivia on fashion and her personal style.
I just really, really love clothes. I think it has evolved as I've gotten older. I understand the industry a little better and I know what works for me and my personal style. Recently, I've been taking dresses in my closet, vintage or from a previous season, and re-draping them, adding my own personal touch with a brooch or belt. A blazer is a staple in my closet, but I'm trying not to look 100 percent polished. Maybe have a bit more of an edgy look. I'm obsessed with leather, obsessed, and I'm always in my French Sole ballet flats too. People would never guess that. I'm inspired by the places I get to travel to — I think street chic is awesome.
Olivia on possibly creating her own fashion collection in the future.
[My collection] would probably be soft. And elegant — a really feminine collection. But I do love menswear, so I would probably throw in a few blazers and pant suits into the mix as well. It would have to be consistent though, that's something you have to keep in mind when you're designing.
Olivia on her boyfriend, Johannes Huebl.
Johannes travels a lot with modeling, but if he's gone for a long period of time, I'll go to Europe to see him. Or if we're both here, we'll just have dinner, maybe watch Family Guy or just enjoy each other's company. In five years time, I'd like to be living in London with Johannes. It really all depends on work.