Pictures of Sienna Miller Wearing Twenty8Twelve Leopard Print Mini
The Look For Less: Sienna Miller's Leopard Miniskirt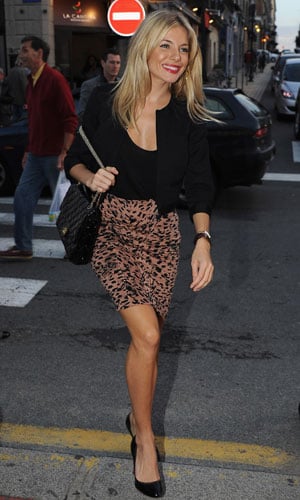 I've fallen hard for Fall's leopard trend. So when I spied Sienna Miller sporting her Twenty8Twelve leopard print mini, I wanted one, too. I couldn't help but start planning the outfit fun: pairing it with my military anorak, maybe an olive green tee — so many ways to wear it. Unfortunately, I let my mind wander before I thought through the cost, which is around $280 . . .
To see the look for less, just read more.
My search for something wallet-friendly led me to this perfectly-priced substitute: Topshop Leopard Print Mini ($44). It'll pair perfectly with the pieces I envisioned — namely the leopard and olive trend, with tights and booties, and just like Sienna, bare legs and heels — again, the possibilities are endless.