Poppy Delevingne's Valentine's Video For Agent Provocateur
Sister Act: Which Delevingne's New Video Is Most Outrageous?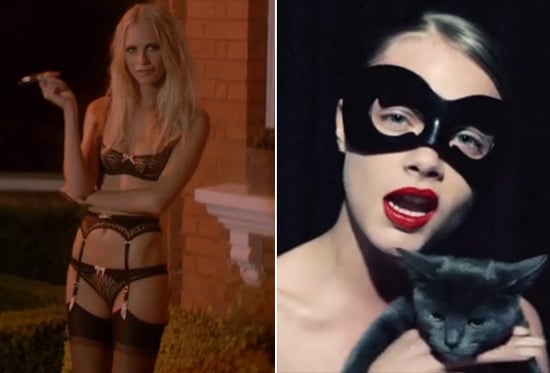 br>
Thank goodness Poppy and Cara Delevingne are so comfortable in front of the camera. Both sisters are the stars of new videos that might be the most provocative clips we've seen so far this year.
Poppy, the budding actress, is the protagonist in an ever-so-slightly NSFW short for Agent Provocateur called "Valentine's Night." She gets locked outside of her home in nothing but lingerie after her screeching cat sets off her car alarm. She then seductively asks a stranger for some assistance finding the poor lost feline.

Meanwhile, Cara seems to have found the cat Poppy was looking for and uses it as a prop while lip-synching Shania Twain's "That Don't Impress Me Much" in a bustier for Love magazine. She looks plenty confident, but would her occasional glances at cue cards be more endearing if she weren't wearing that black eye mask?