Popular Street Style Trends Fall 2013
You Voted! Street Style Trends You Love and Love to Hate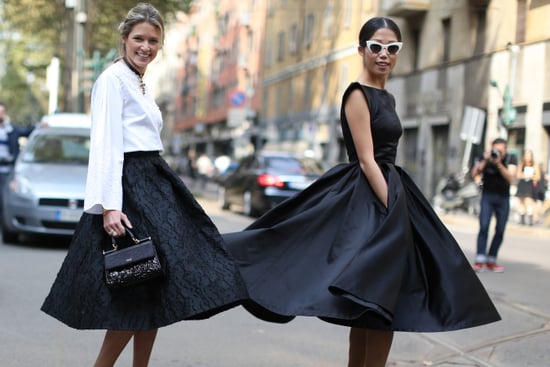 In the real world, street style trends don't always translate. What's fun at Fashion Week might not be appropriate for the office (Anna Dello Russo, we're looking at you!). Still, some of the stuff we love to wear now was inspired by some of our favorite street style stars and fashion insiders — think Jenna Lyons. So, where do we draw the line on what's wearable and which styling tricks you just won't try? We did our research and asked you, our readers, which looks you will and definitely won't try at home. Now, we've tallied the results — and they might just surprise you.
Metallics For Daytime
Yes: 85 percent of readers No: 15 percent of readers
Denim on Denim
Yes: 81 percent of readers No: 19 percent of readers
What about crop tops? Get all the results here.
Bustiers Over Tops
Yes: 57 percent readers No: 43 percent of readers
Full Skirts For Your Everyday
Yes: 50 percent of readers No: 50 percent of readers
Crop Tops
Yes: 48 percent of readers No: 52 percent of readers
Skirts and Dresses Over Pants
Yes: 33 percent of readers No: 67 percent of readers
Doubled-Up Belts
Yes: 25 percent of readers No: 75 percent of readers