Prabal Gurung For Target Interview | Nov. 6, 2012
All Prabal Gurung Wants For the Holidays Is "Love"
We're going to go out on a limb here and say that the Prabal Gurung for Target collection — slated to launch Feb. 10 — is one of our favorite designer collaborations come to life yet. Yesterday, we got our first in-person look at the collection, and while we can guarantee you'll want a piece, we had to promise not to take any photos (translation: our lips are sealed). On the bright side? Instead of Instagramming up a storm, we caught up with the designer himself. Gurung was on hand to speak candidly about this exciting new partnership, dish on what it was like to veer strongly (and if we might add, he nailed it) into the accessories category, and what he's giving and getting this holiday season. Hint: he's got love on the brain. Want to know Gurung a little better? Right this way.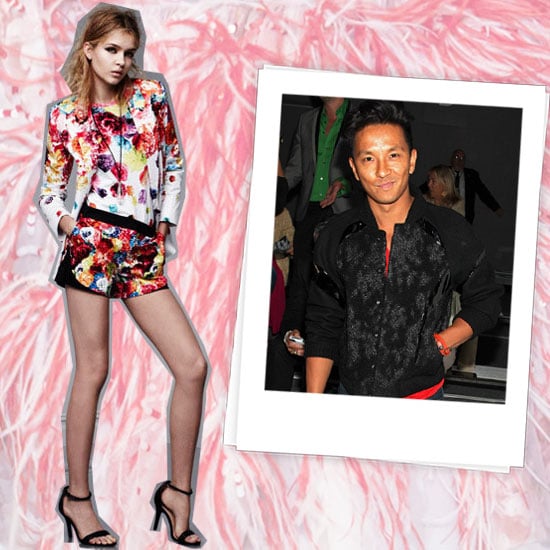 On the piece he loves most: It's really difficult to pick just one piece. For me, the essence of every look is to make my friends, the girls that I know, and the girls that I don't know feel beautiful. That's the idea behind it all, and for girls to feel and look their best possible. I'll say — in the most abstract way — that any piece that makes you feel great is the piece I love most in that moment.
On how a collaboration line is different: From a design perspective, there wasn't much of a difference between doing a collaboration line and working on my own line. I always approach designing from [the angle of] what makes a girl feel beautiful. Yes, the volume [of a collaboration line] is bigger, so from a logistics standpoint, it's a bit different. But the way I design is very similar.
On his (very cool) lineup of accessories for Target: I wanted this girl to have a head-to-toe look without looking too matchy-matchy. She should look very put together. With the accessories — shoes and handbags — you feel like you've got the complete wardrobe.
On holiday giving . . . and getting: I always give one thing — love — and I want love back. That's it.