Pretty Little Liars Style (Interview With Janel Parrish)
Pretty Little Liars' Janel Parrish Talks Must-Have Pieces For Any Fan
What's not to love about the trendy cute styles of the Pretty Little Liars cast? Whether you're clean and classic like Spencer, a risk-taker like Aria, sporty like Emily, or all about designer duds like Hanna, it's easy to see why loyal fans tune in each week to get a glimpse of their latest cool-girl fashions. Recently we chatted with actress Janel Parrish, who plays Mona, one of A's most stylish minions. Find out what she had to say about her personal and onscreen style, wardrobe fittings, and how to get the PLL look at home.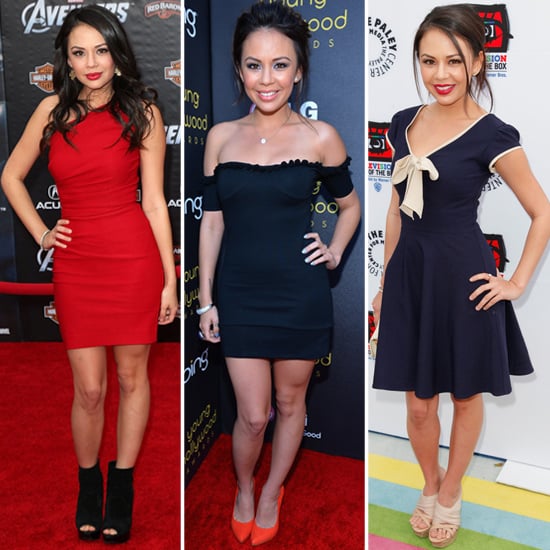 CelebStyle: How would you describe your personal style and how does it differ from Mona's look?
Janel Parrish: I would describe my style as funky chic. Not quite as glam as Mona. Mona is always super done up with tall heels and plenty of colorful accessories. I tend to be a little more grungy chic.
CS: Who is the show's wardrobe stylist and what does the wardrobe room look like?
JP: Our amazing stylist is Mandi Line. When you walk in the room, all you see are rows and rows of amazing clothes. We are so fortunate that our work is to play dress up all day. My favorite part of the day is seeing what Mandi has pulled. And since each of our characters have such unique style, she has her job cut out for her. I think without her even telling us we can predict which rack is for which character.

To hear more from Janel,
.
CS: How does a wardrobe fitting for the show go from start to finish?
JP: It's too fun. You feel like a doll. You just stand there and watch Mandi dress you up. She pulls the best outfits and dresses you in them, then decides how she wants to accessorize or tailor it so it fits just right. We start with going through the entire rack pulling looks we think work best. That narrows it down a bit. We then try things on. It is always best to use stuff that doesn't need a ton of alterations. From there we edit down even more and take photos so we can coordinate all the characters in each scene so we don't clash with each other. Once the outfit is selected it is time to accessorize.

CS: If a fan wanted to get the Pretty Little Liars look, what essential pieces would they need to buy?
JP: Definitely some killer heels, lots of jewelry, and a curling iron! If they start with some basics and play them up with accessories they will have a lot more to work with.
CS: Any funny wardrobe stories you can share from the set?
JP: There was definitely some tripping going on in the fashion show episode!