Project Runway Interview With Jay Nicolas Sario
Fab Exclusive! Project Runway's Jay Talks About Second Win and Why Nina's Opinion Matters Most
Jay Nicolas Sario is proving to be quite the competitor on Project Runway. Last night, San Francisco's own had his second victory for the Hard Wear challenge. Do you agree with the winner and loser? His first win proved he's legit, and now he's further solidified his place in the competition. We had a quick chat with the designer about why he chose a garbage bag, which judge's approval he seeks most, and who his biggest competition is.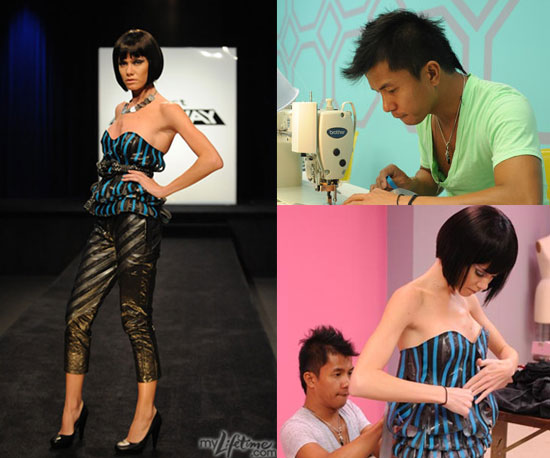 Why did you choose garbage bags over anything else?
I chose the garbage bags for no reason. All the designers were not able to sketch a design concept before going to the hardware store, so it was challenging to pick items that I had no idea what to make of. I was not in favor of the garbage bags in the beginning due to the fact that it can almost be used as a fabric, and this was a challenge that pertained to "innovation," but I still kept them just in case. My design organically came together as I worked with the materials I found and that includes a drywall self-adhesive mesh tape that I utilized to give the garbage bags structure and leather like texture. As a finishing touch, I used Gapers tape to add color onto the entire look.
To hear more from winner Jay, read more.
In your opinion, who are the strongest competitors?
Seth Aaron's ability to consistently convey his strong point of view is threatening. He came to compete knowing what he's made of, versus someone like me who's still trying to identity his aesthetic as a designer. But I do feel that I have an advantage due to the sense of surprise I bring to the table each week. There's also Emilio, who can construct a garment beautifully. But I do question his taste, and that's something I have already established and the judges recognize my sophisticated taste.
What did you think of Emilio's design?
Emilio's design looked like a $1.50 stripper outfit, and I thought he bought his materials from the adult store that's literally next to the hardware store. The concept was theatrical but it looked low budget. If he had more metal washers, he would have accomplished his original design intent.
Which has been the toughest challenge yet?
The red dress challenge kicked my ass. Not only was I limited to the color red but a woman with real vital statistics. I'm talking about 40-30-39. I had no choice but to fully embrace my model's figure. I was happy in the end and at the same time wondered why I was not in the top three.
And most exciting?
The Marie Claire challenge was the most coveted of all challenges. Everyone wanted to win this challenge due to the attached price. I made a dress that moved beautifully and a lot of women who are getting married have actually been asking me to remake the dress for their wedding so it's exciting!
Whose approval do you seek most from the judges?
Nina's approval matters the most out of all the judges. The more Nina likes me, the better chances I have of winning the competition because, at the end of the day, she gets to chose who she wants to feature in her magazine.