The Project Runway Season Five Finale Runway Show!
The grand finale of my Fashion Week was the Project Runway finale show. And what a show it was. Before the season five contestants showed their collections, it was a reunion among familiar faces. It's always a joy seeing Runway alumni gather and mingle. The recently booted Blayne and Terri were there — all smiles — and favorites like Jay, Rami, Jillian (wearing a familiar knit sweater from her collection), Chris March, and Jack Mackenroth (who I chatted with at the Jill Stuart show, he is so sweet) all made cameos. Enter Christian Siriano, who had his own Spring show the night before. Then, Michelle Tractenberg, Rachel Zoe, and Harvey Weinstein were chatting about. Quite the spectacle! Anticipation grew once Heidi, Nina, and Michael Kors all came out to welcoming applause. Side note: Are Heidi and Nina both wearing Roland Mouret dresses? They looked great, but I wonder if that was planned. At 9:30 a.m. the lights dimmed and Heidi appeared, microphone in hand. She said some heartfelt words to the people of Bravo and the Magic Elves (the show's producers) — saying goodbye and thanking them for five great seasons. To bring you up to speed, Runway is moving to Lifetime for their sixth season (and that will be interesting in itself).
The guest judge seat remained empty. All week long there had been rumblings about Jennifer Lopez being the guest judge, but it was anticlimactic when Heidi announced that Lopez was unable to due to "a foot injury." Boo. And so, Tim Gunn stepped in at the last minute to serve as guest judge. Don't get me wrong — I adore Gunn — but it was very exciting when Victoria Beckham graced us with her presence last time. Once all was said and done, the first collection, by Jerell, was unveiled . . .
To see the collections of Jerell, Suede, Joe, Korto, Kenley, and Leanne, and to read my reviews,
.
Jerell
Jerell has one of the most lovable personalities, but his collection wasn't so. He came out and thanked his parents, boyfriend, and bestie, and I was really looking forward to his final collection. Bustiers, ruffles, dramatic bodices, and black and gold comprised his aesthetic. There was a regal undertone, as well as a pirate feel, but the taste level just wasn't that high. His two gowns didn't fit so well, and there wasn't a strong point of view. My favorite look was the embellished cardigan over a striped dress with sheer overlay.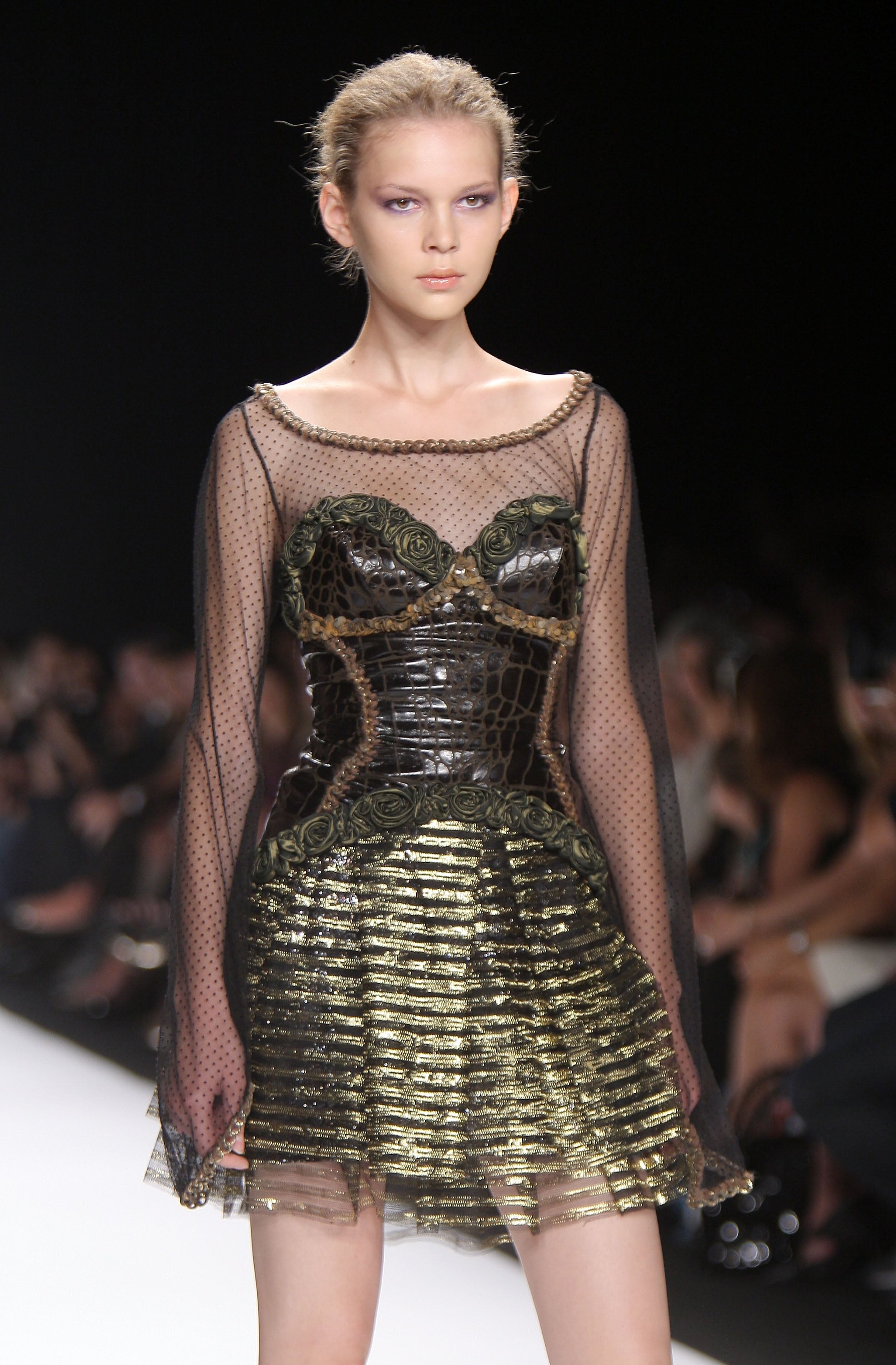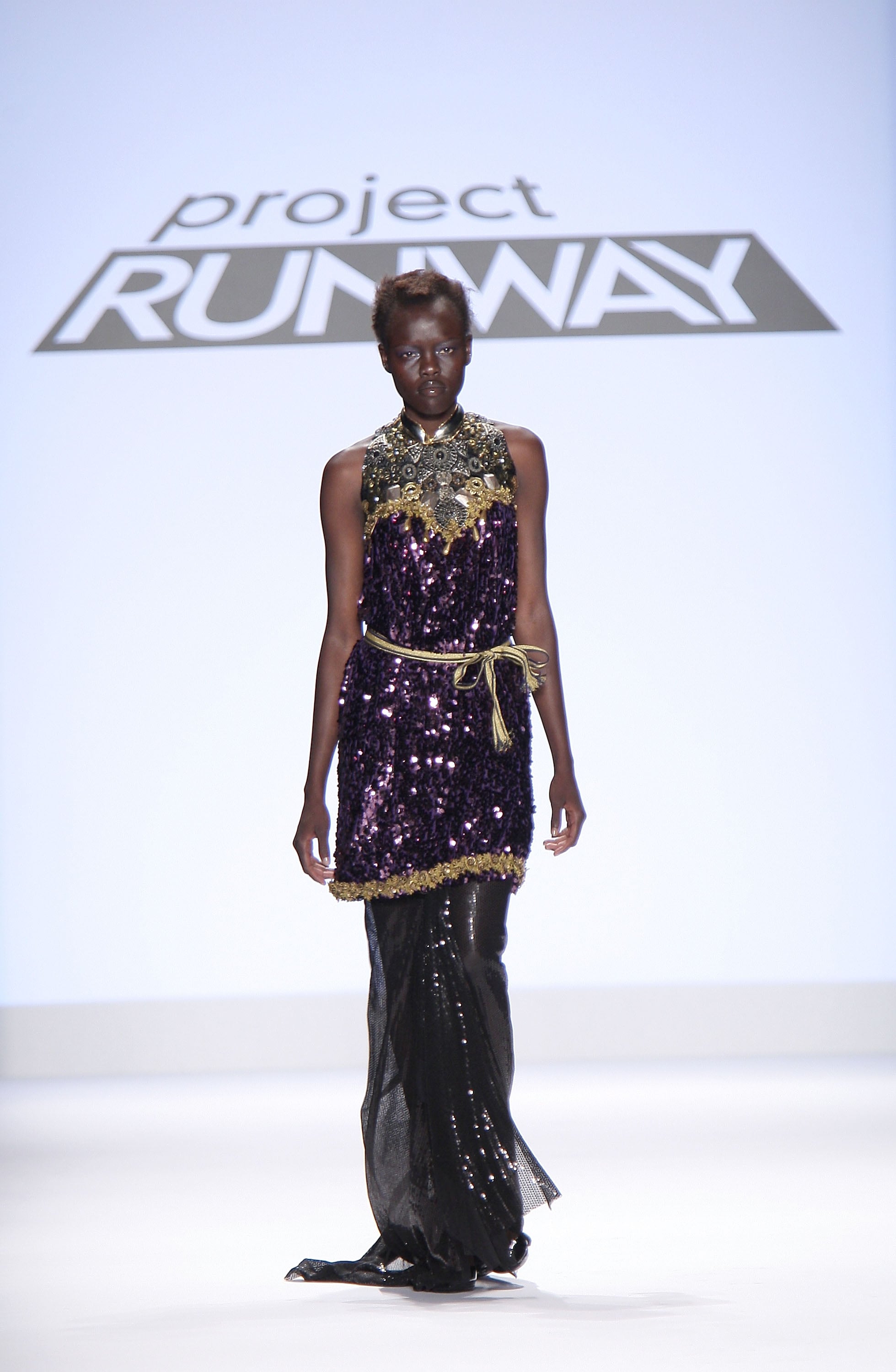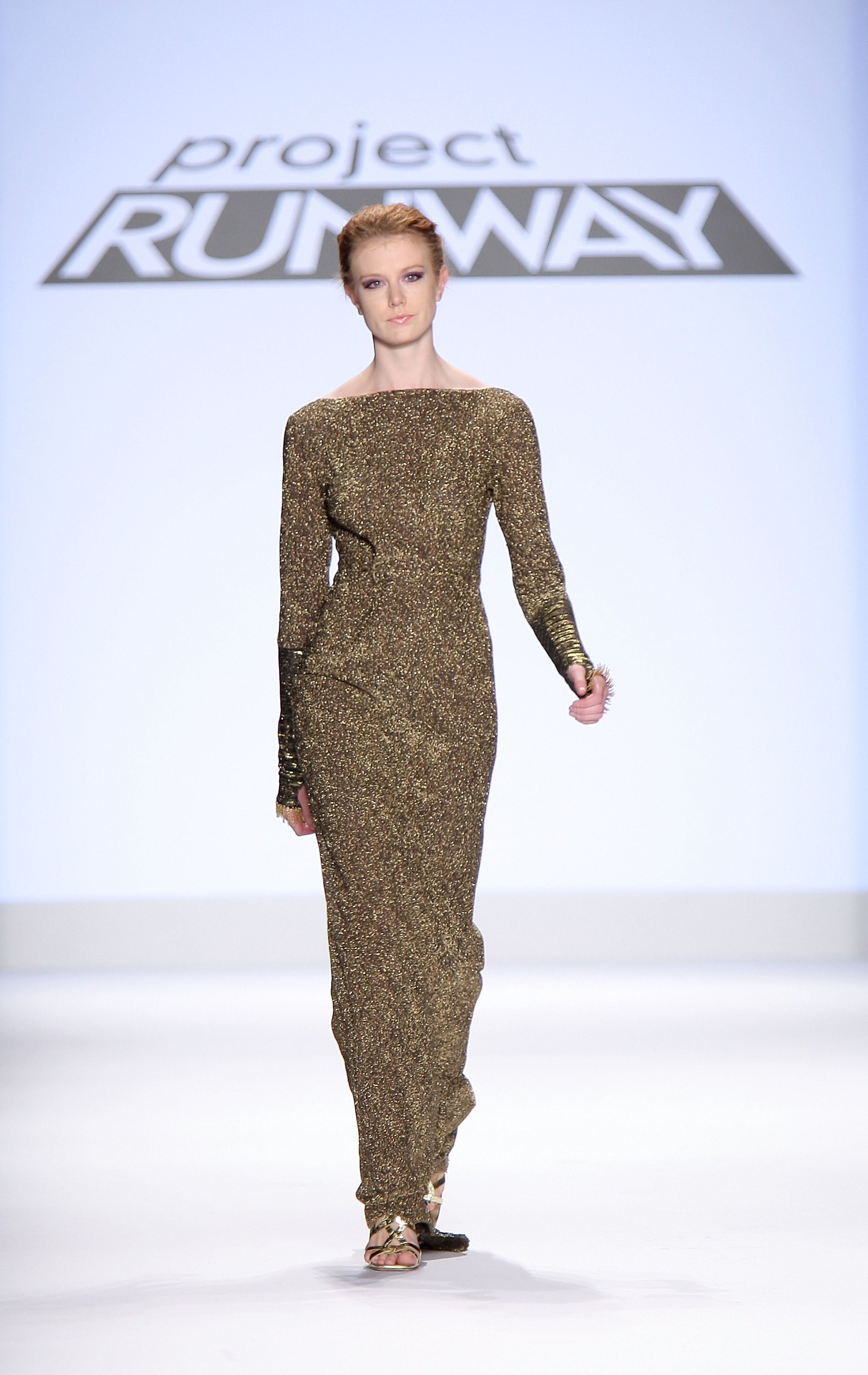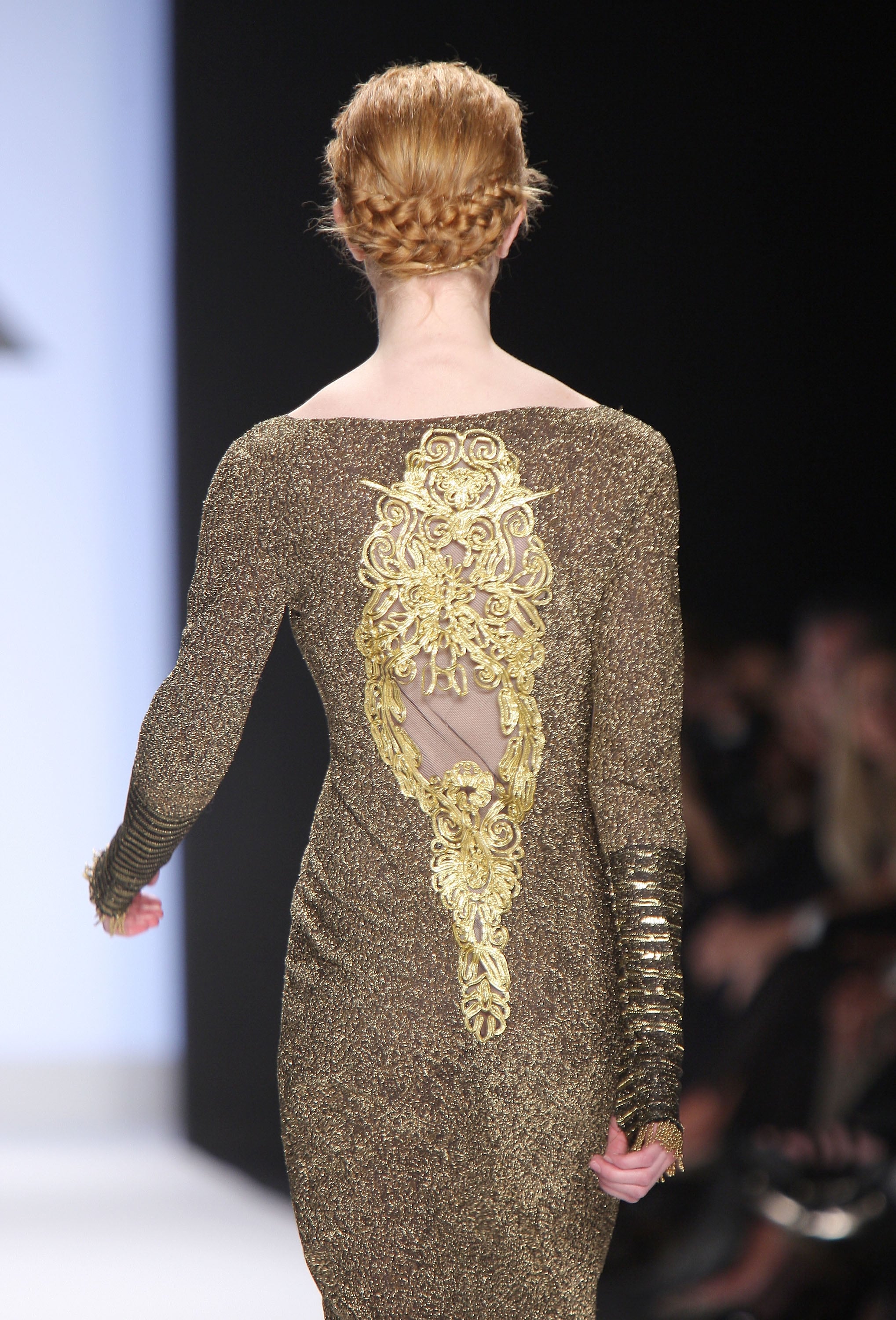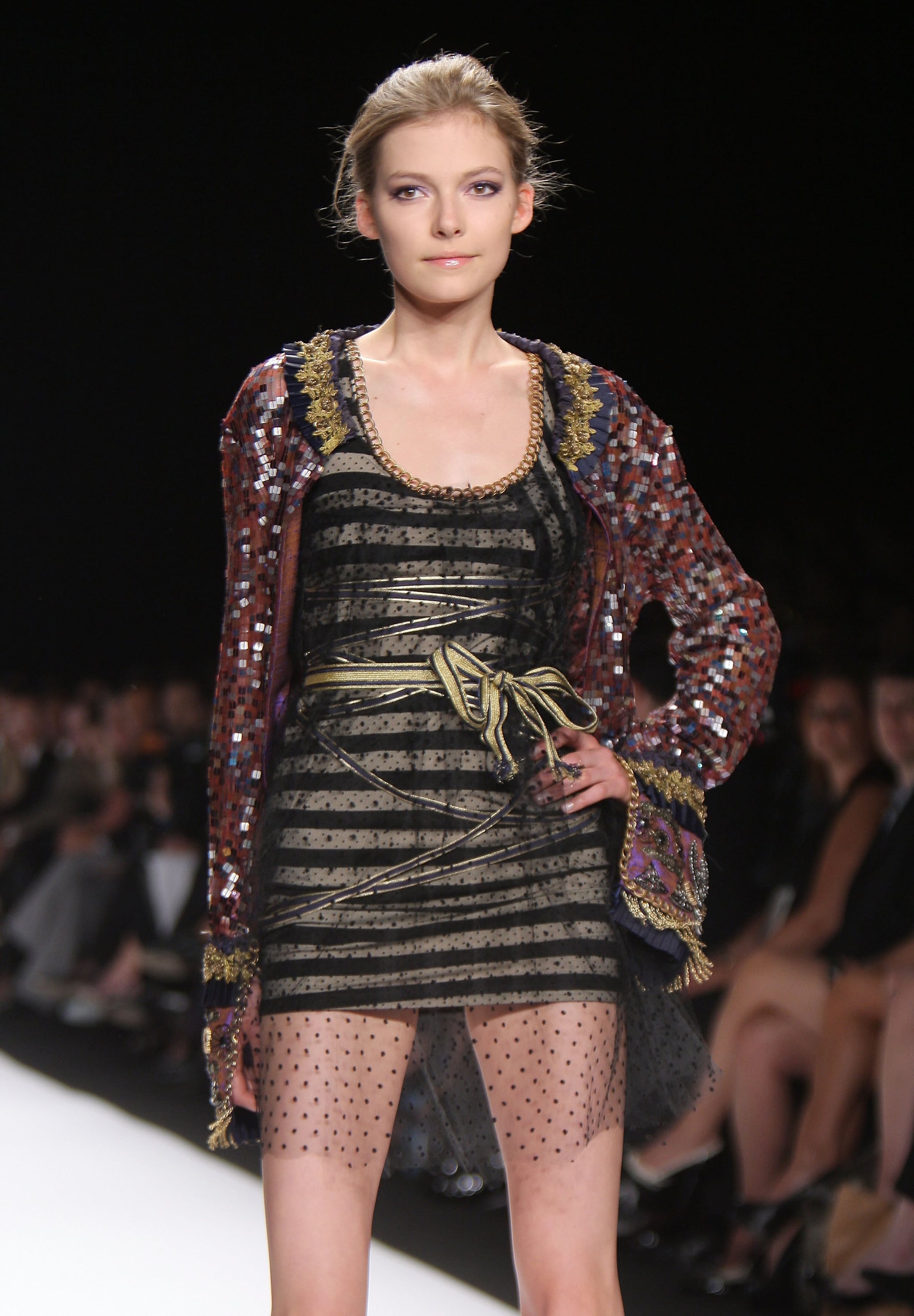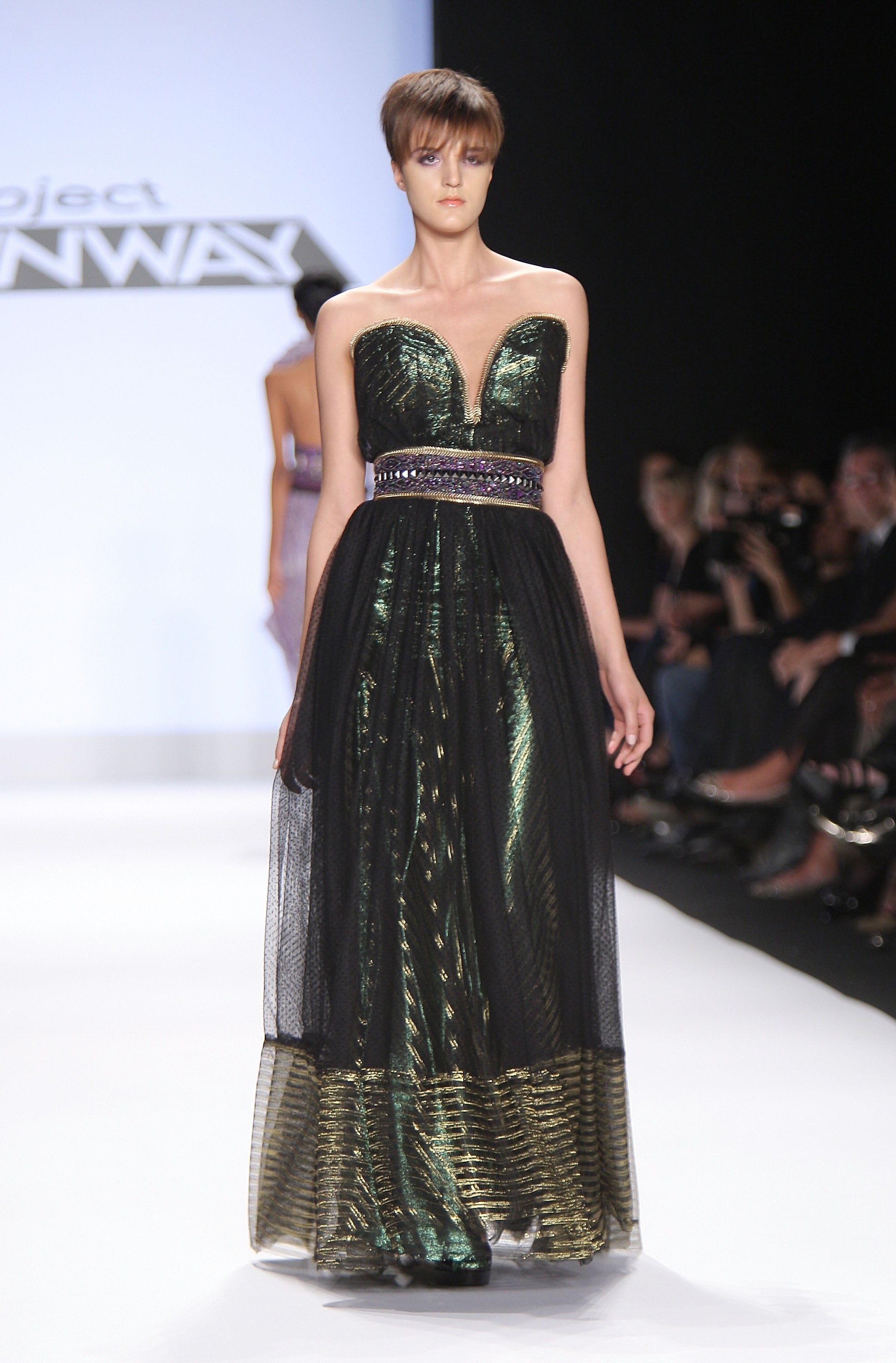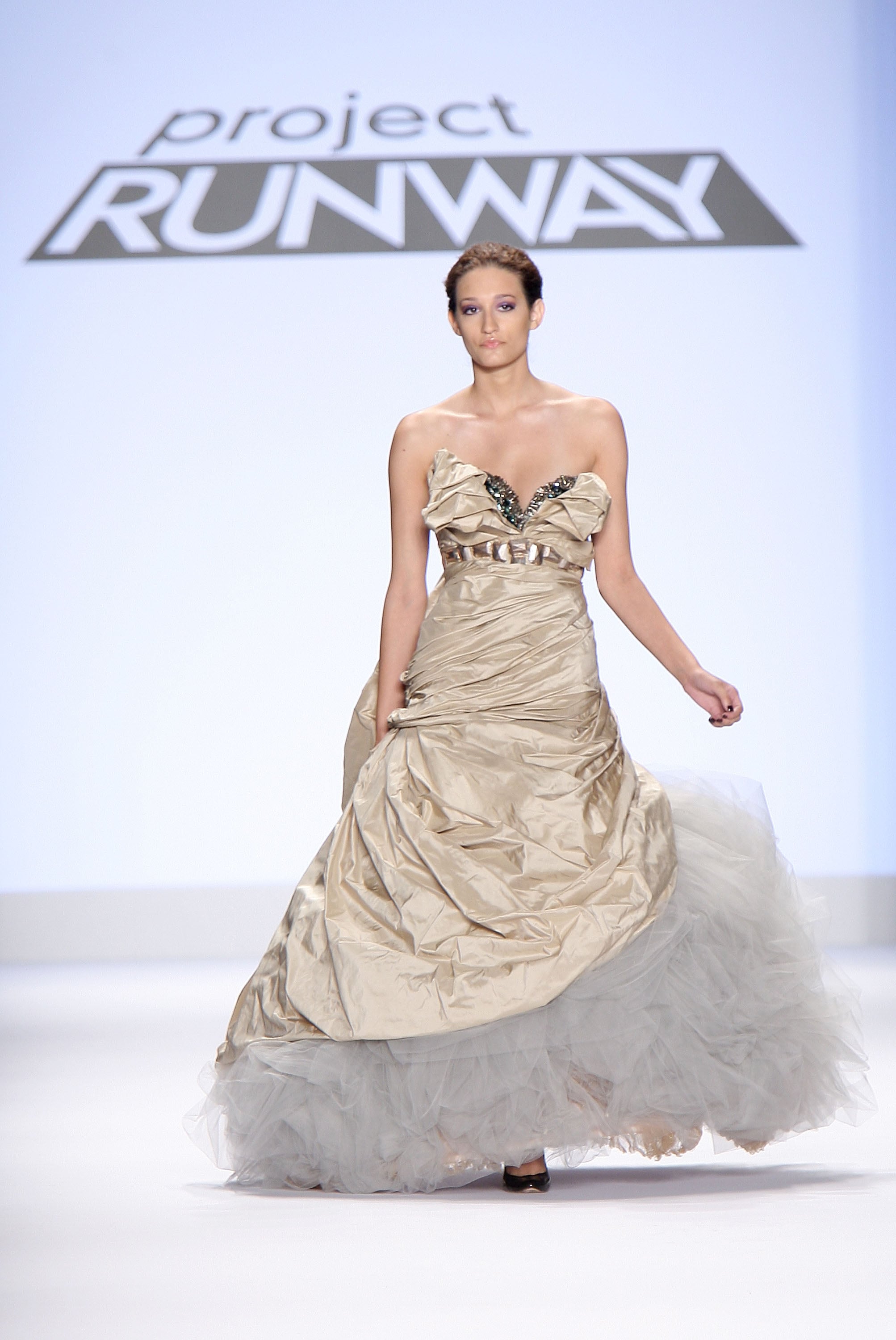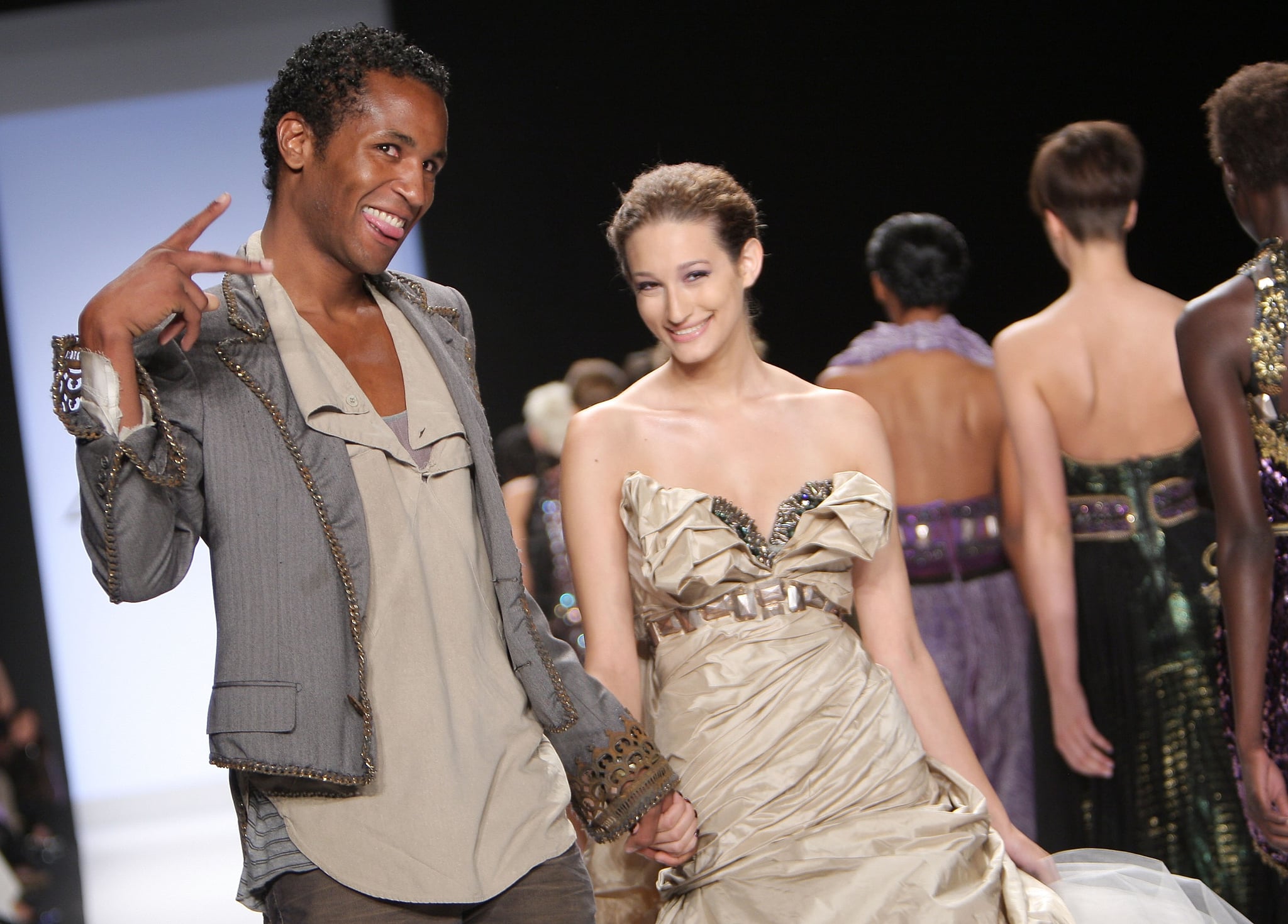 Suede
Oh gosh. I really didn't like this collection. It was immature and incohesive, and the Barbie girl color palette was ridiculous. Suede claimed "Suede's going to rock it" but he didn't. He mixed plaid with pastels, ruffles with one shoulder, and shredded and draped pieces; cotton candy fabrics were utterly unsophisticated. I didn't mind the wedding dress, but that was subpar.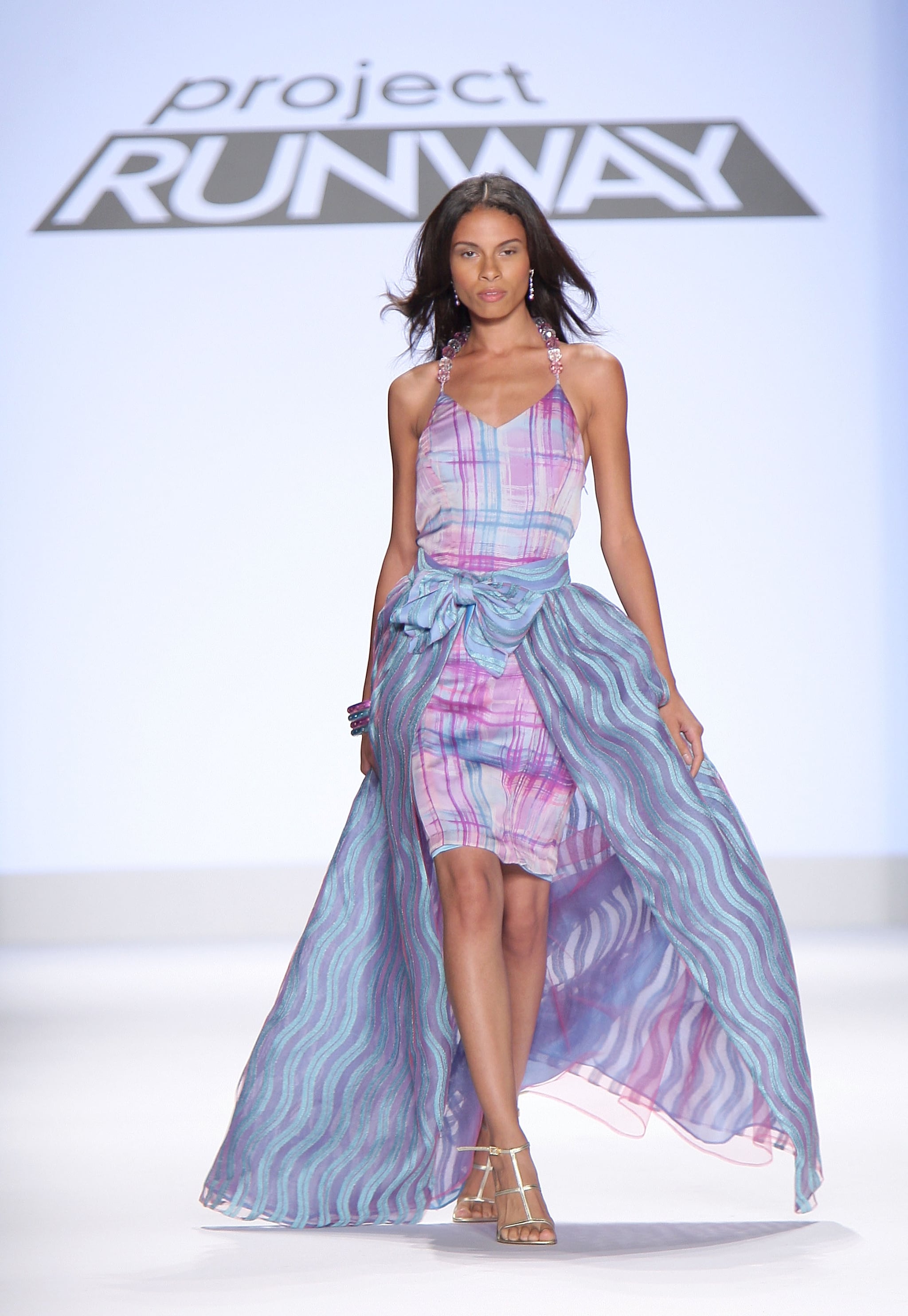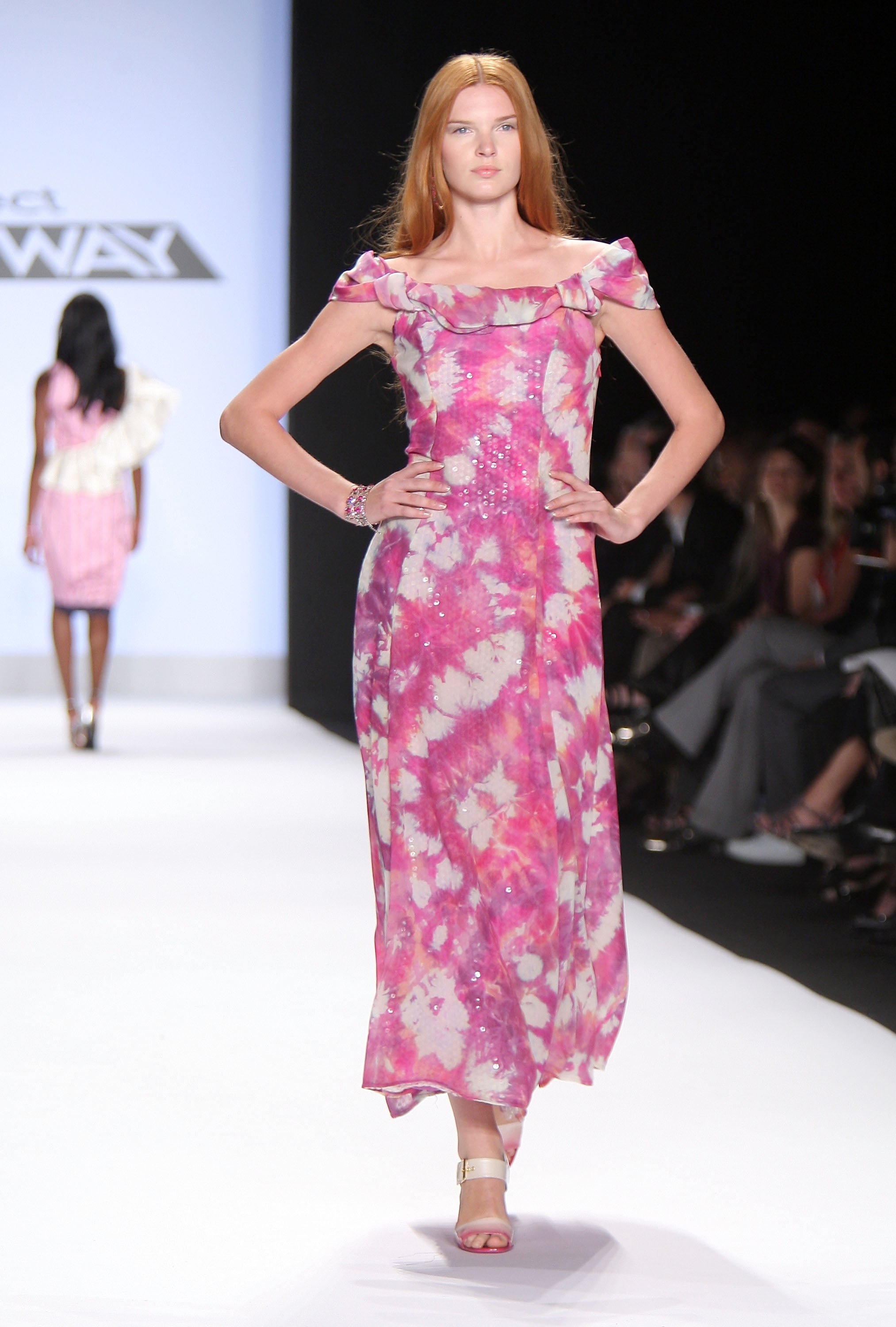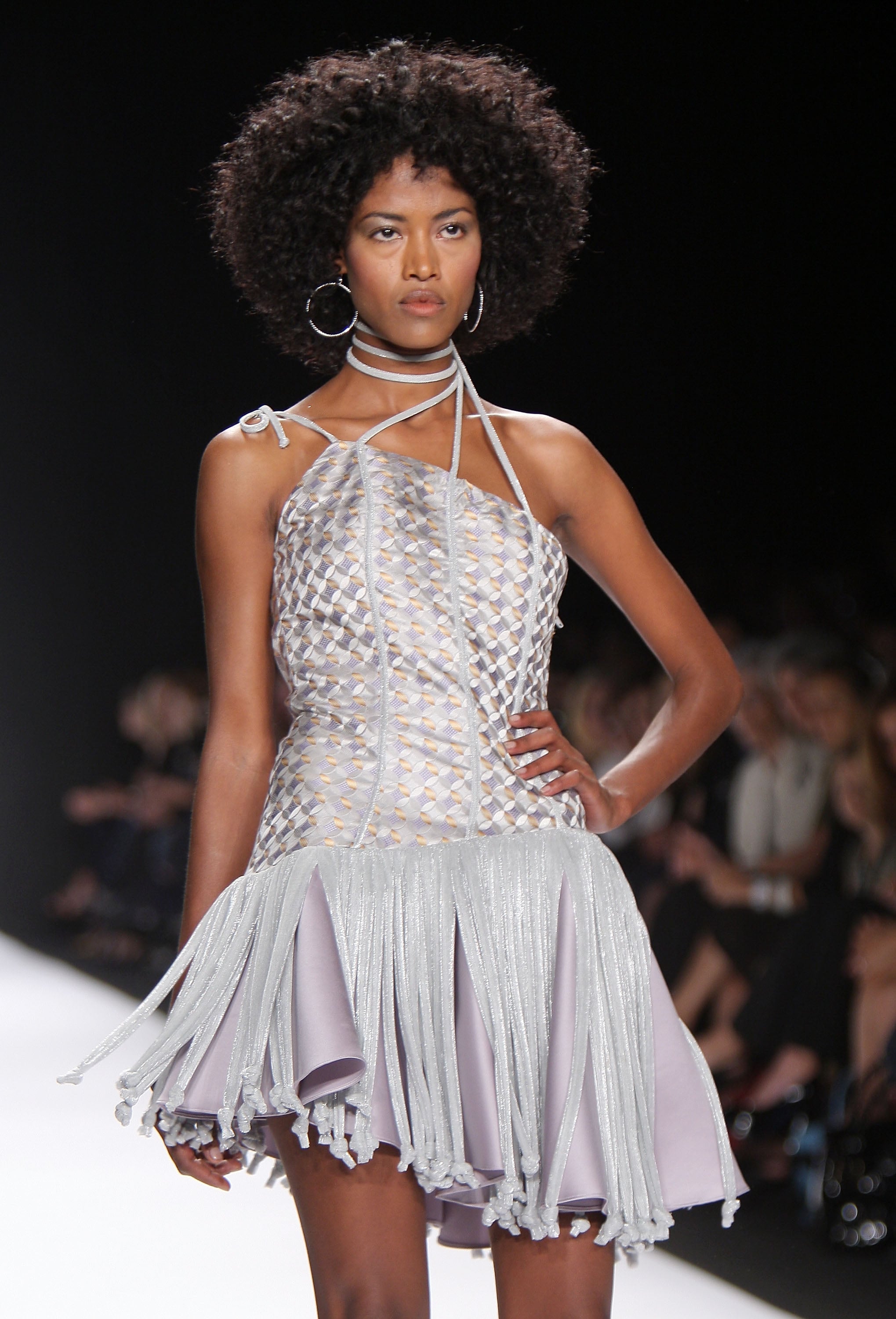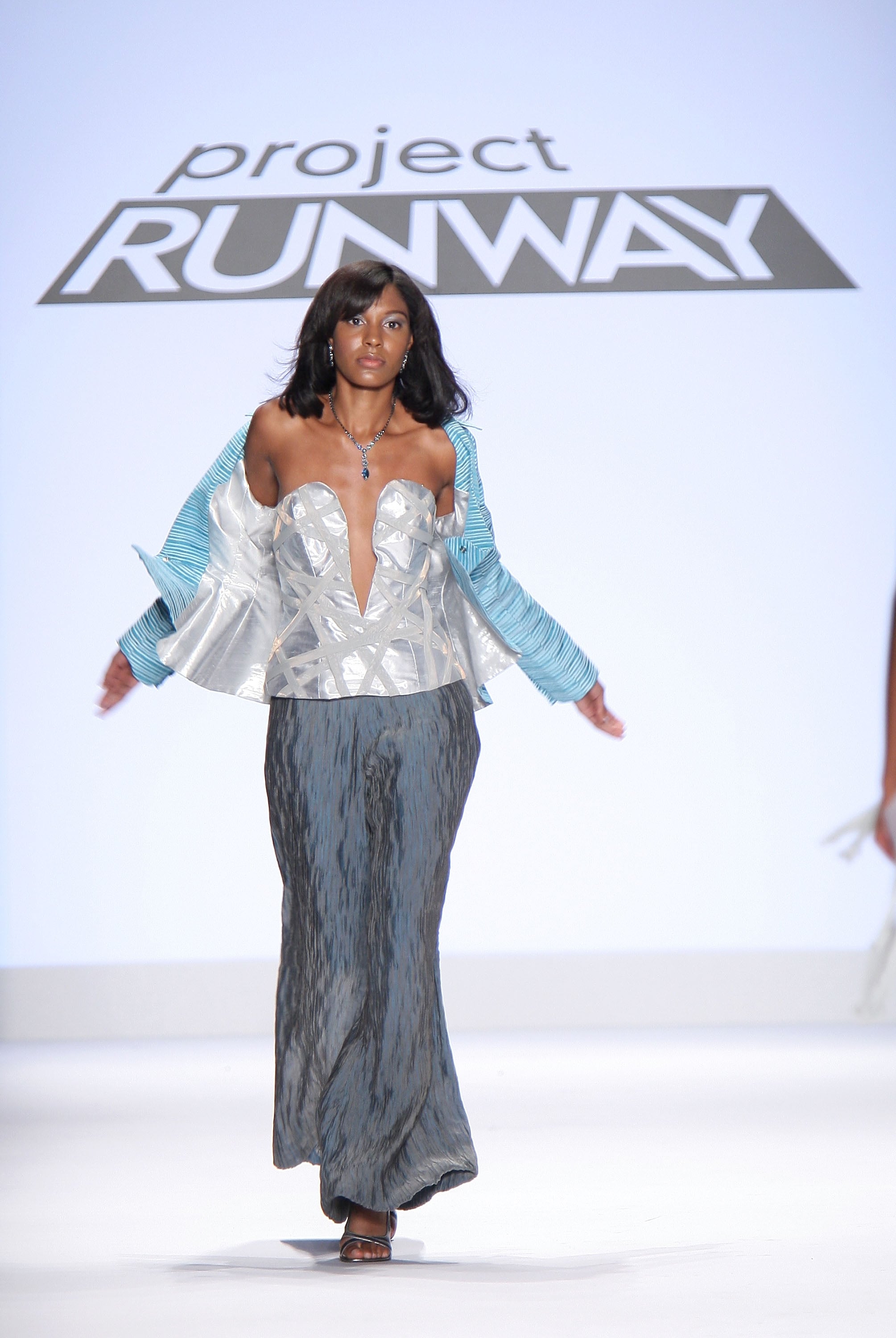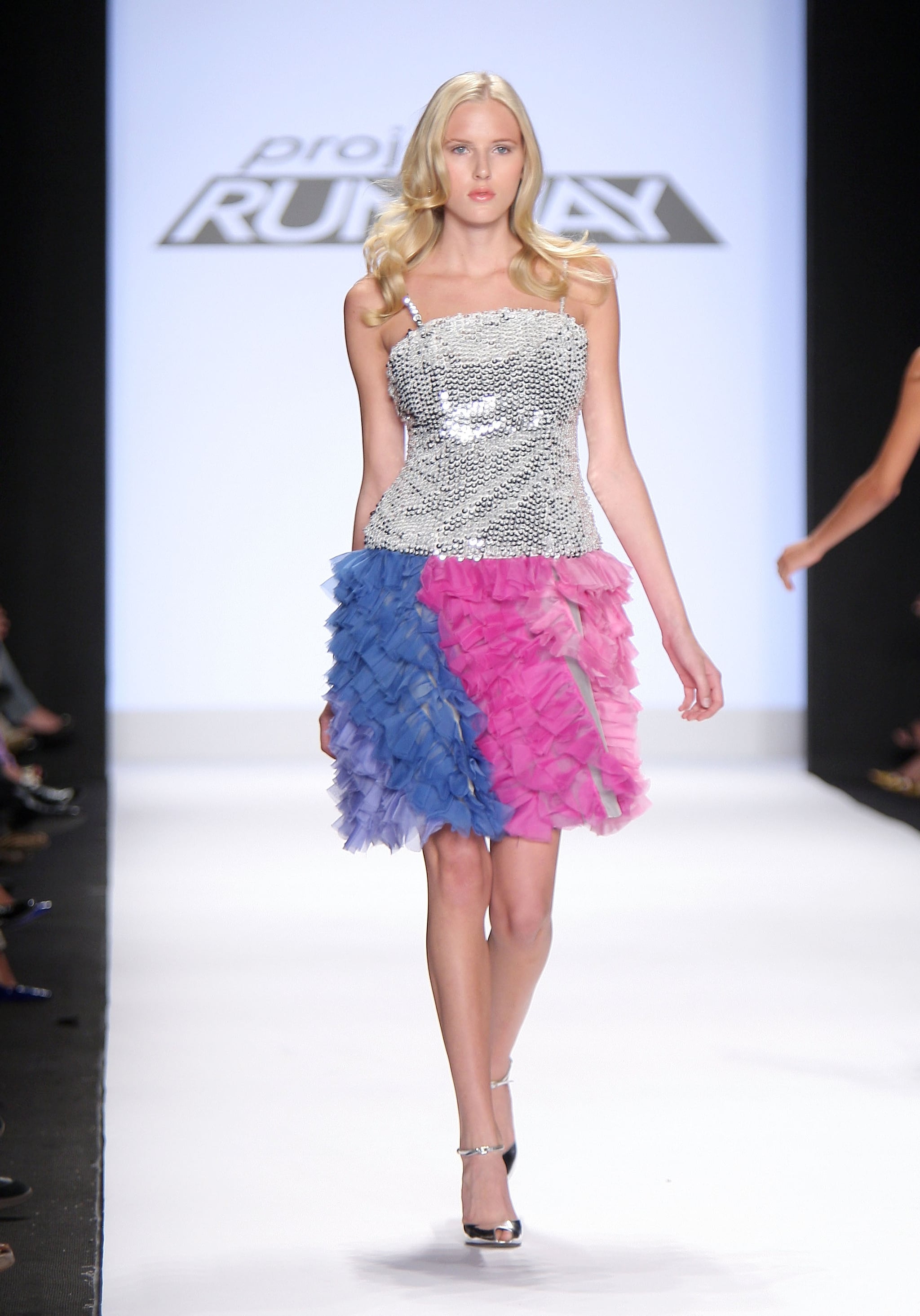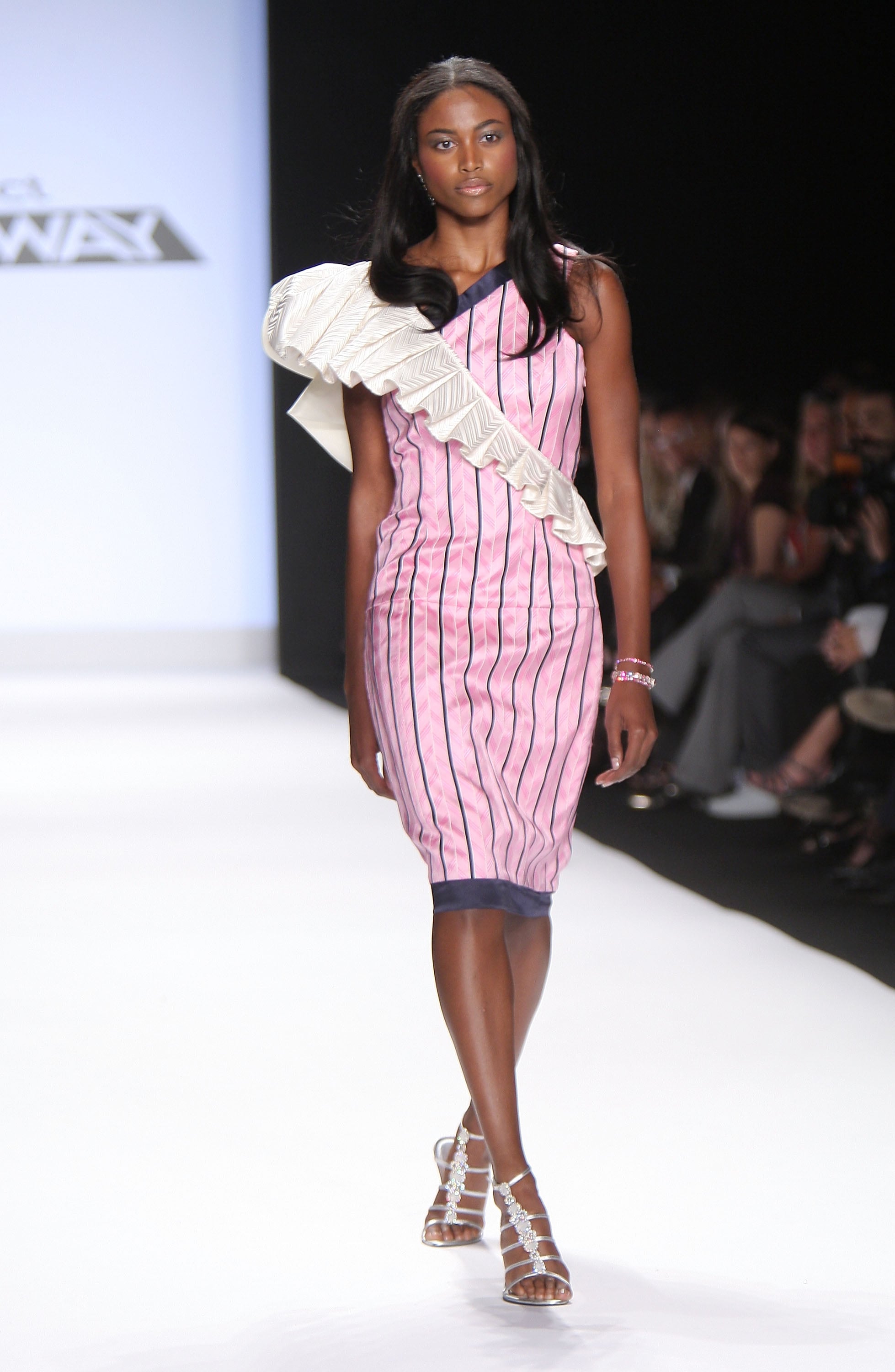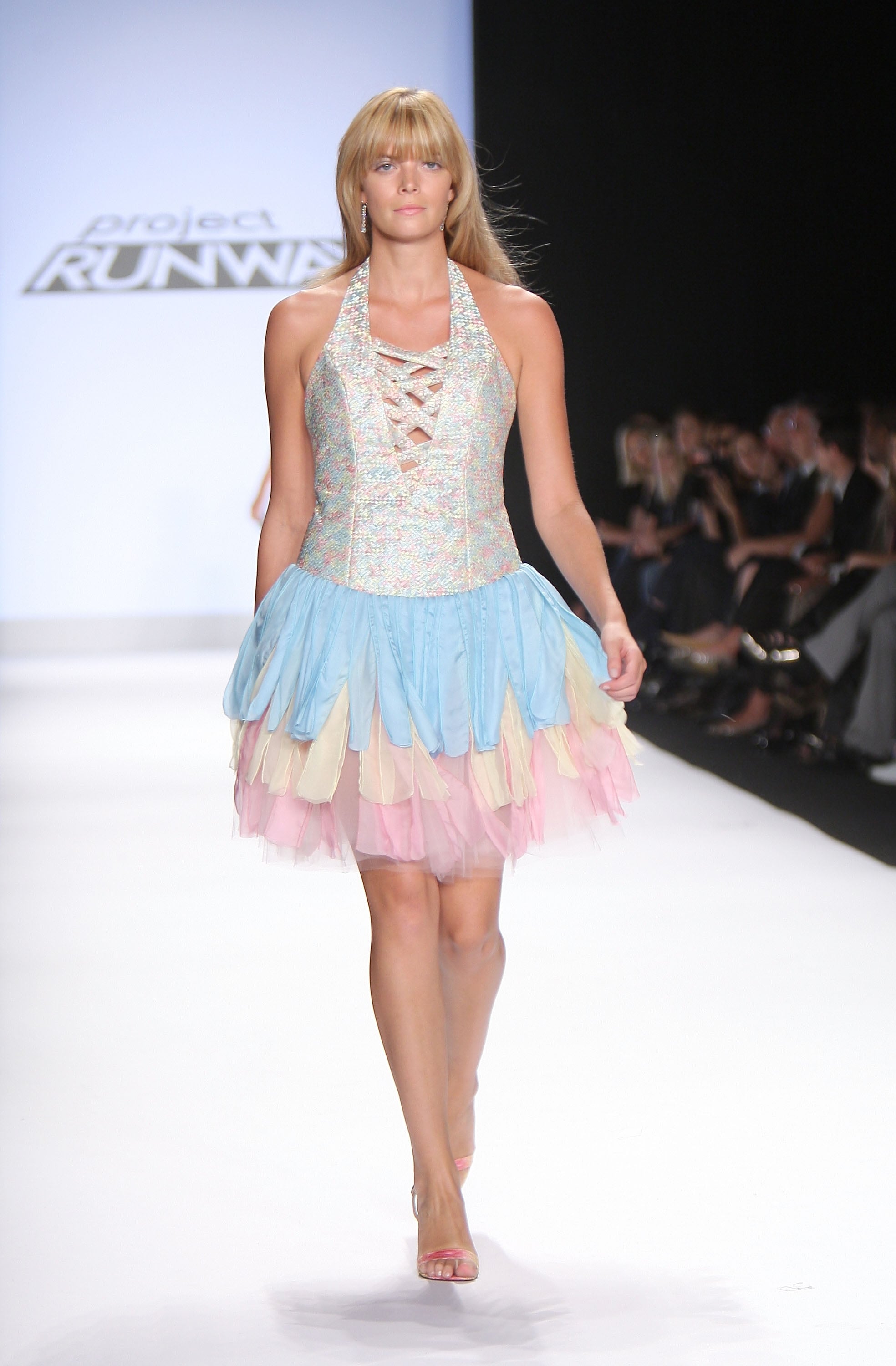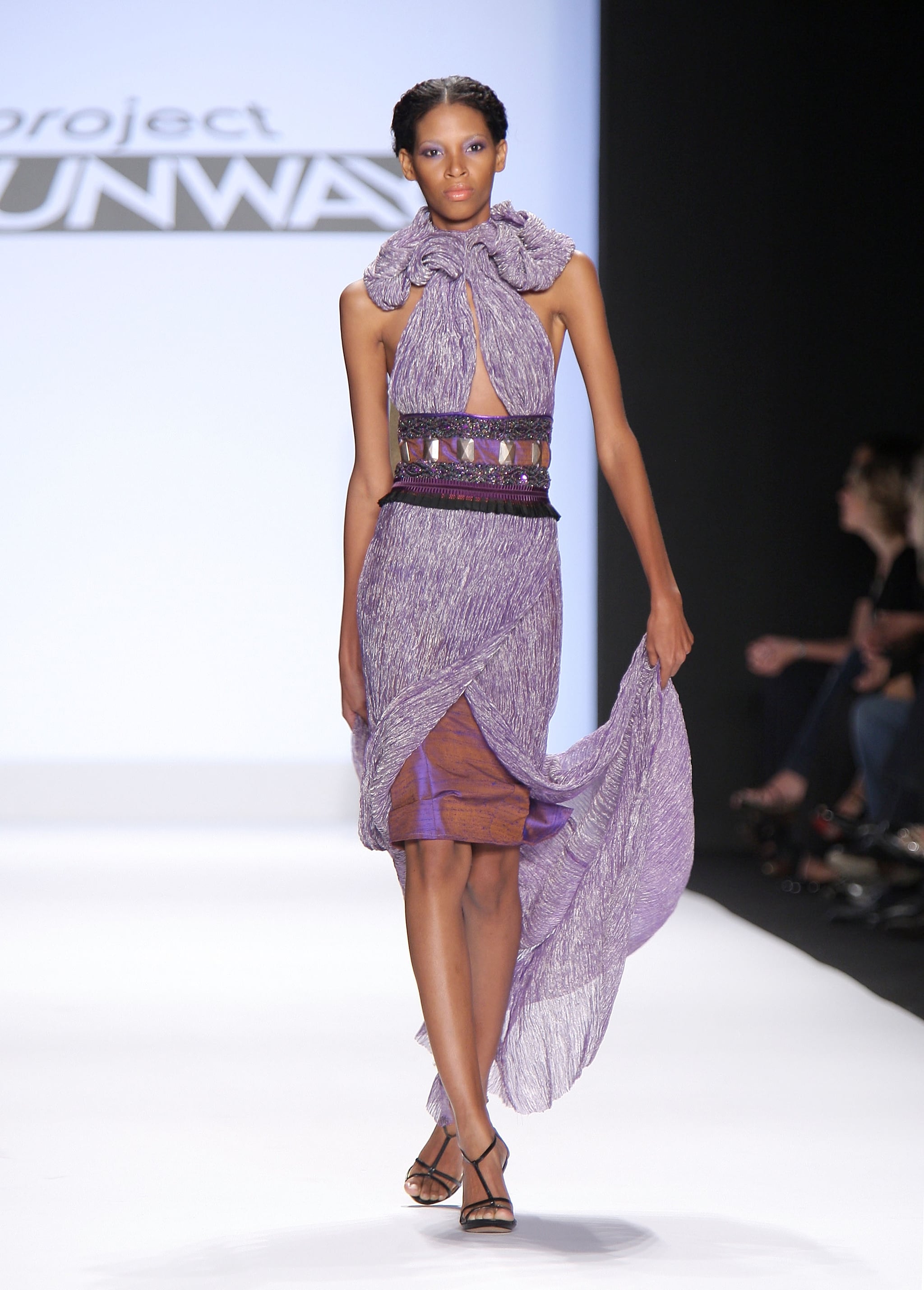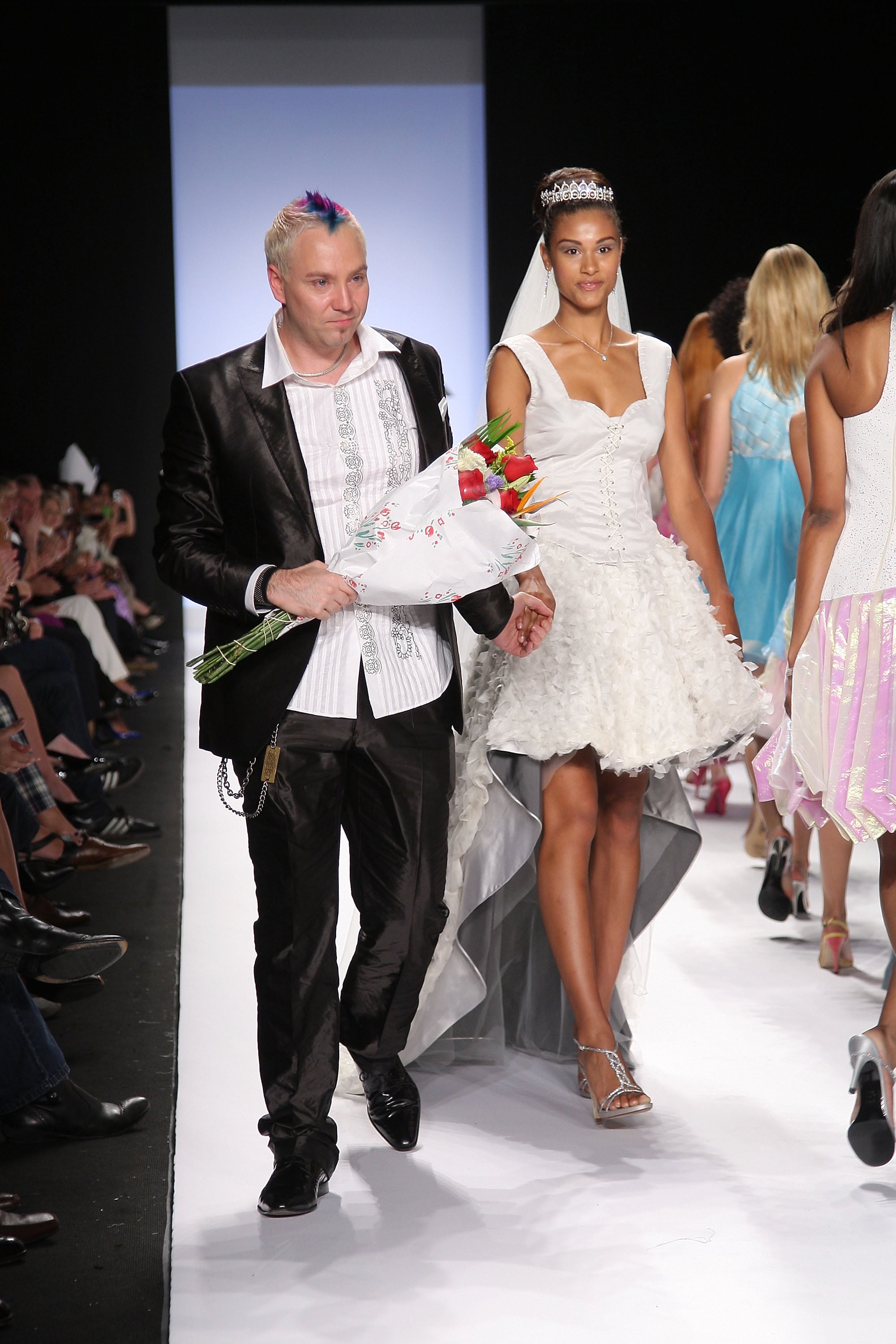 Joe
Joe is vanilla. His heart is in the right place, but his talent is hit or miss. Throughout the season, he's had some winners and losers, but his final works, which he claimed were Americana-inspired, were disappointing. He should have taken a more Ralph Lauren elegance take on the theme, and less Harley Davidson rough and tough. Brown leather corsets, patterned jeans, leather pants, and a navy dress with white stars were misses; a super cute paisley print dress, turquoise ornamentation, and a textured red ball gown skirt were hits. But this collection was not consistent enough to win.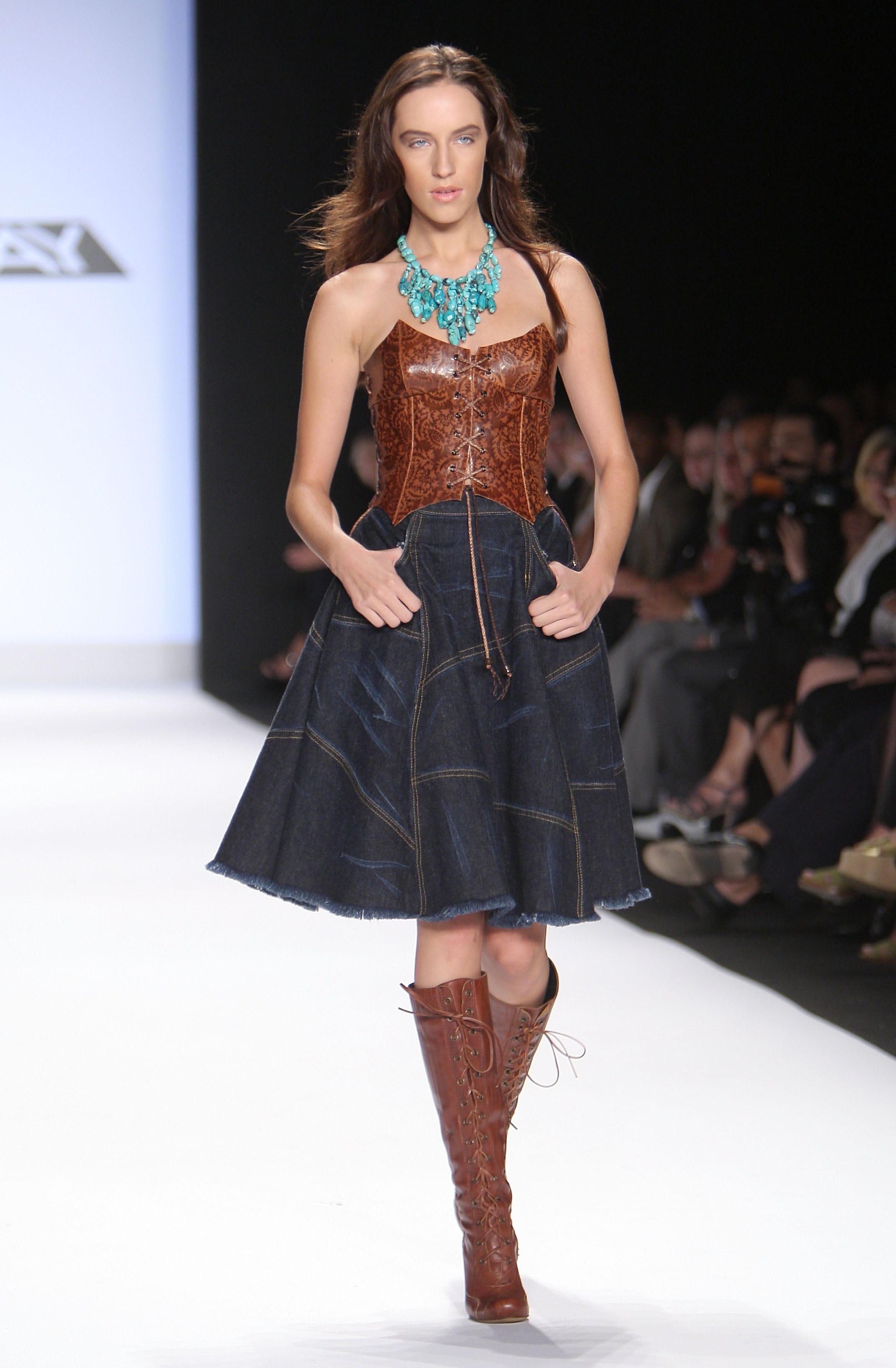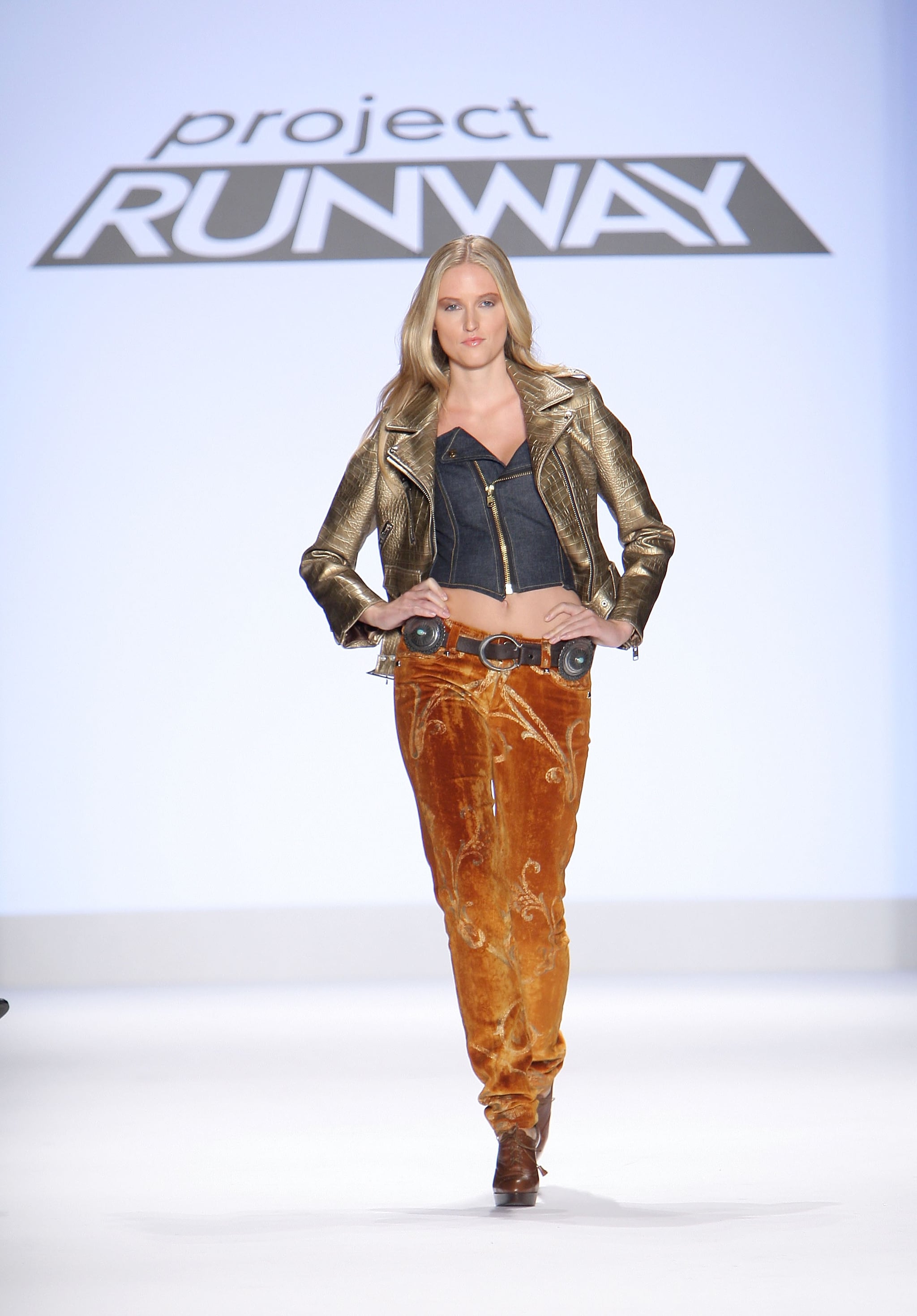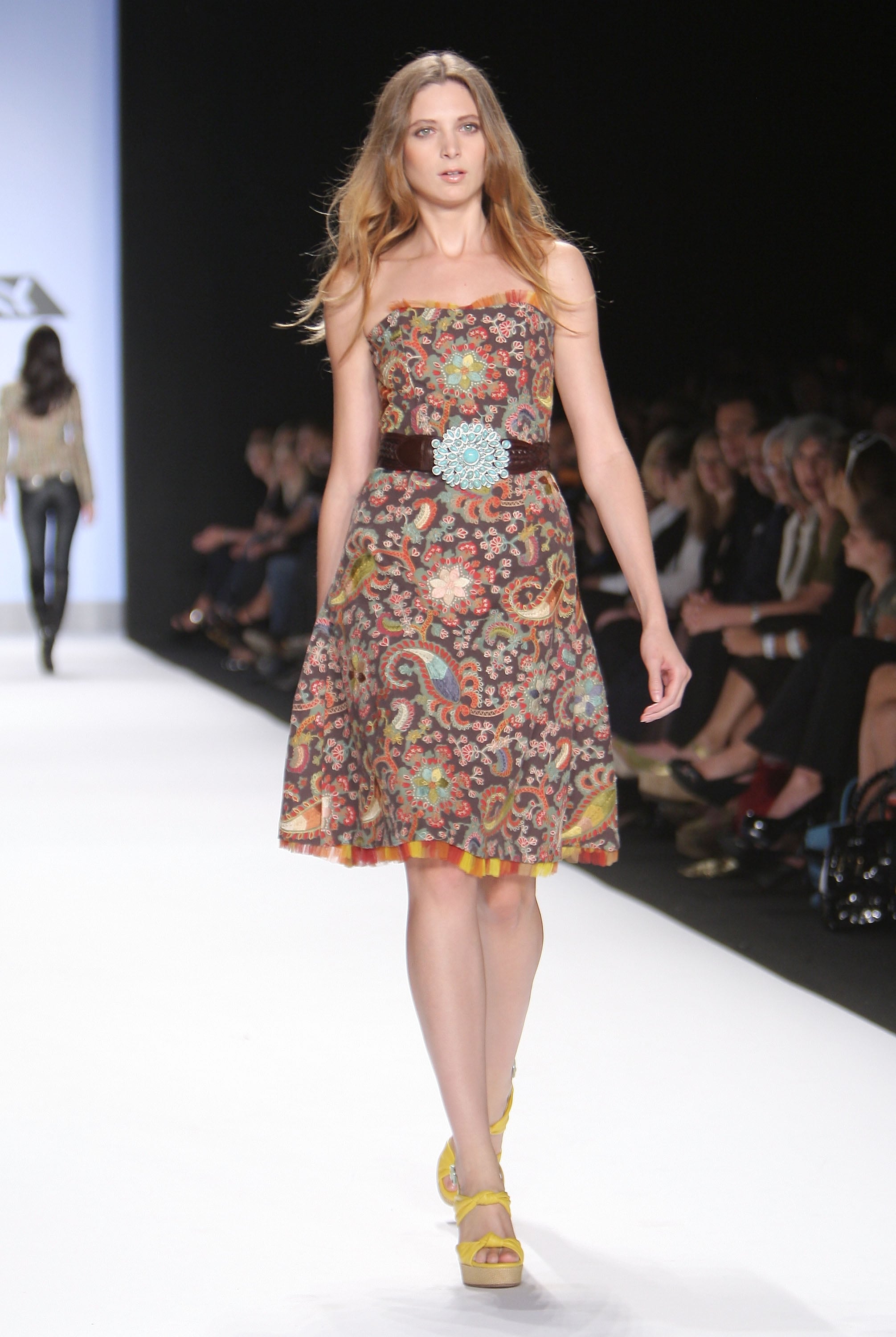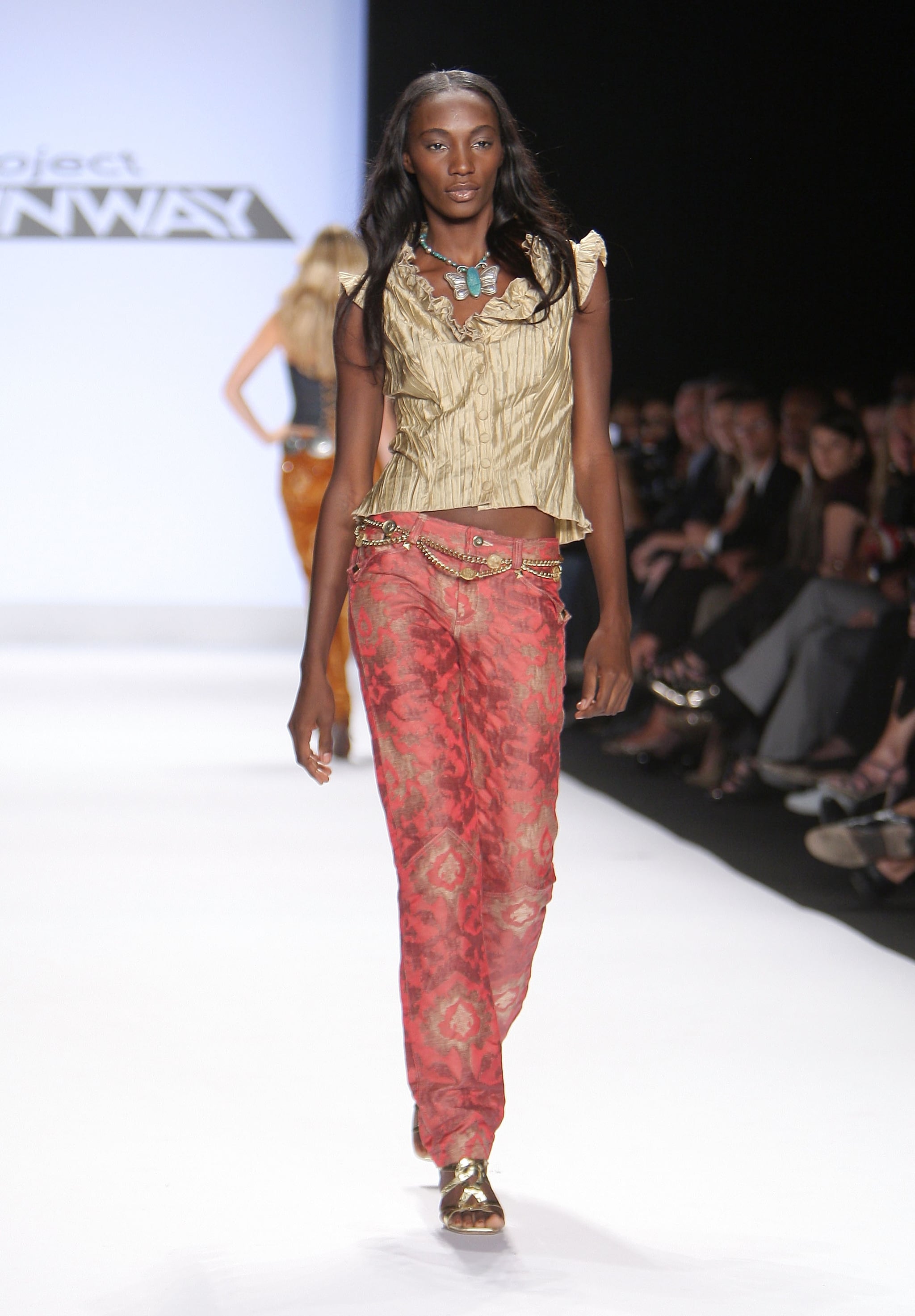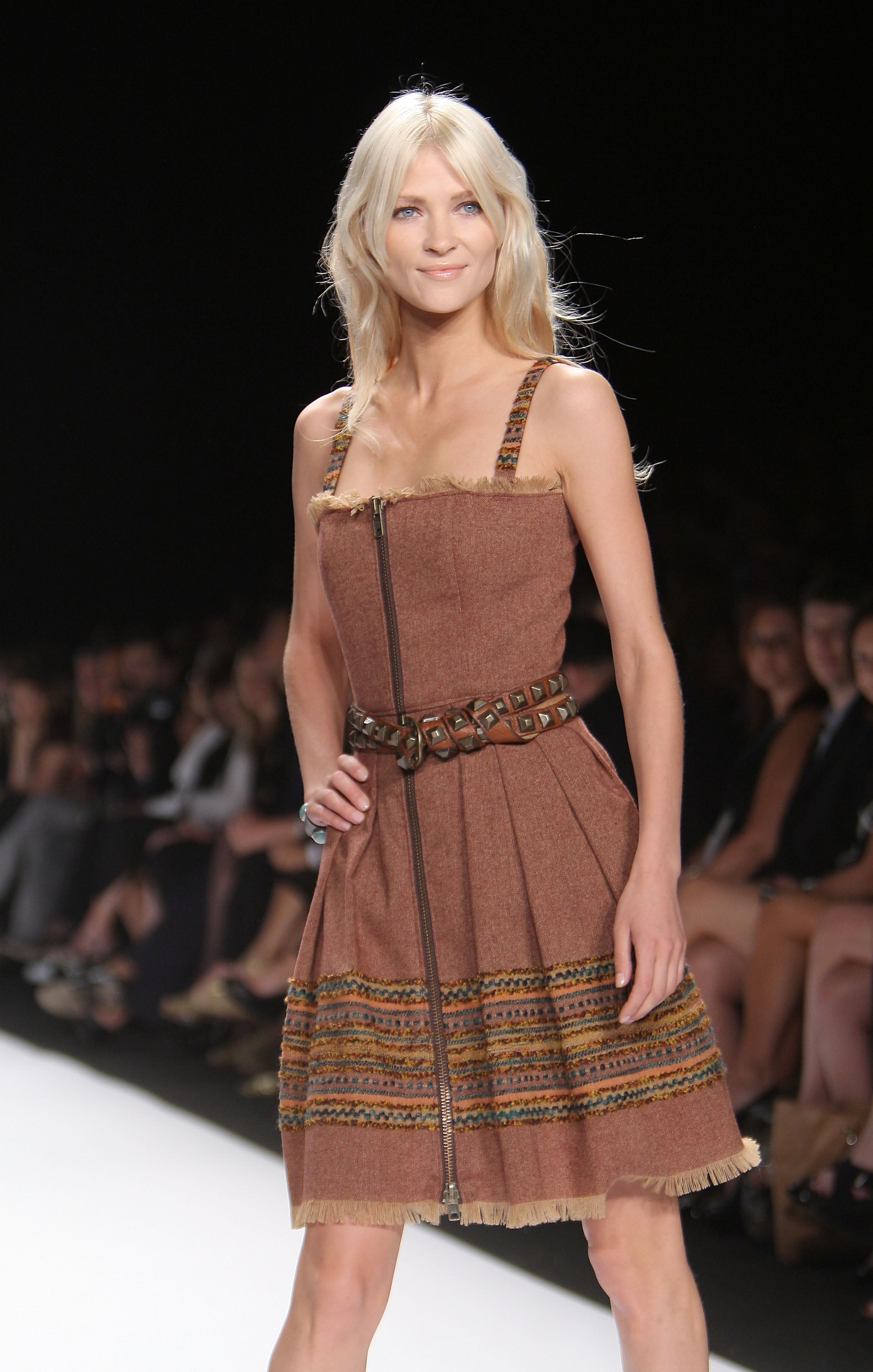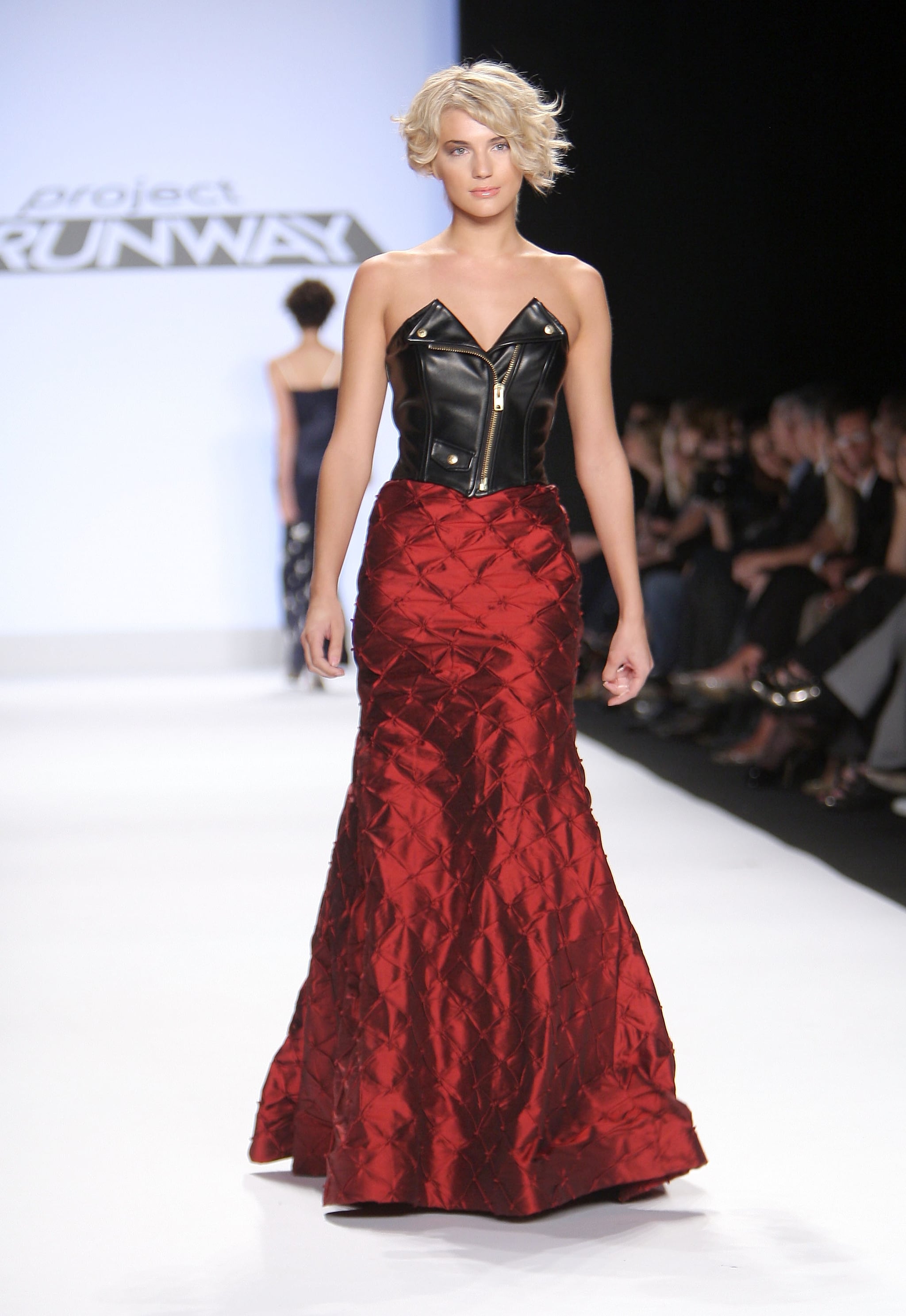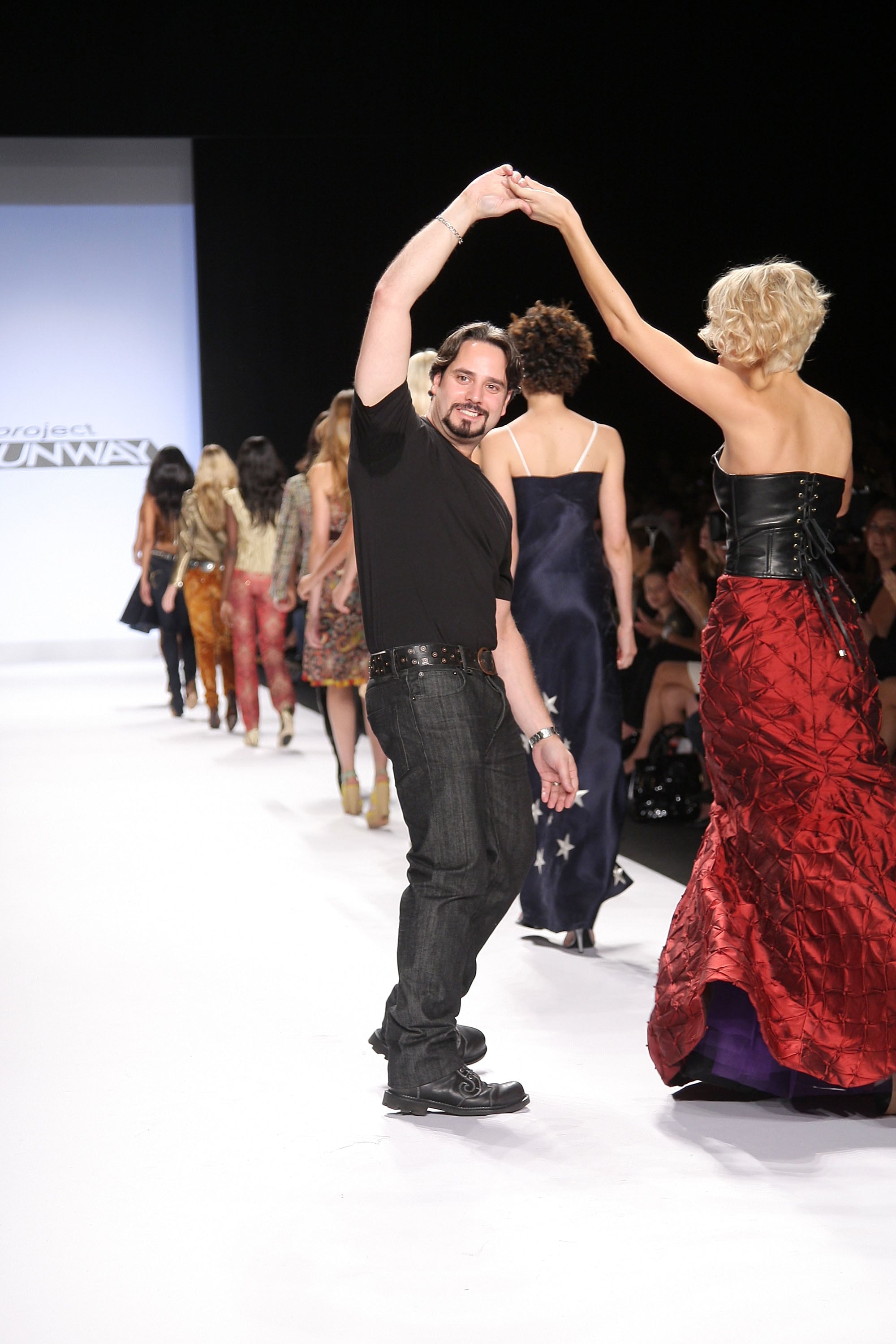 Kenley
Fun, quirky and feminine — just like the girl who made it. I like Kenley, although her distinct laugh annoys some, and her Alice in Wonderland take on "her dream wardrobe" was surprisingly versatile. Each piece was unique, and yet the collection melded together wonderfully. There were a few ooh ahh pieces: the black dress with fuchsia print overskirt (pictured above), the dramatic ruffle teal print blouse and black flounce skirt, and the pink and black colorblock bodice with dramatic tulle skirt dress. Her little feathered hats, which she has a penchant for, were a nice touch. This was possibly my personal favorite — full of eclecticism — but things heated up after she showed . . .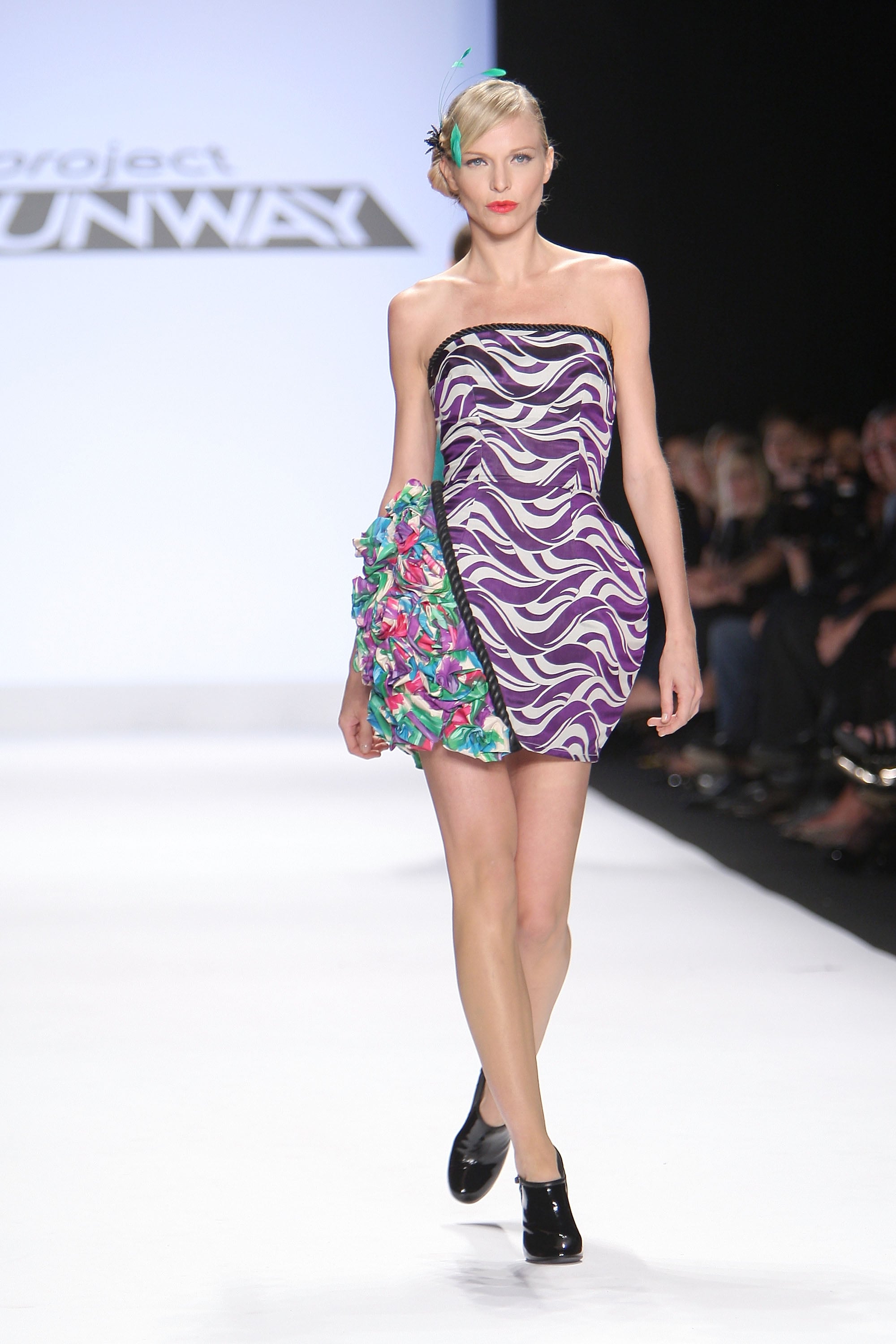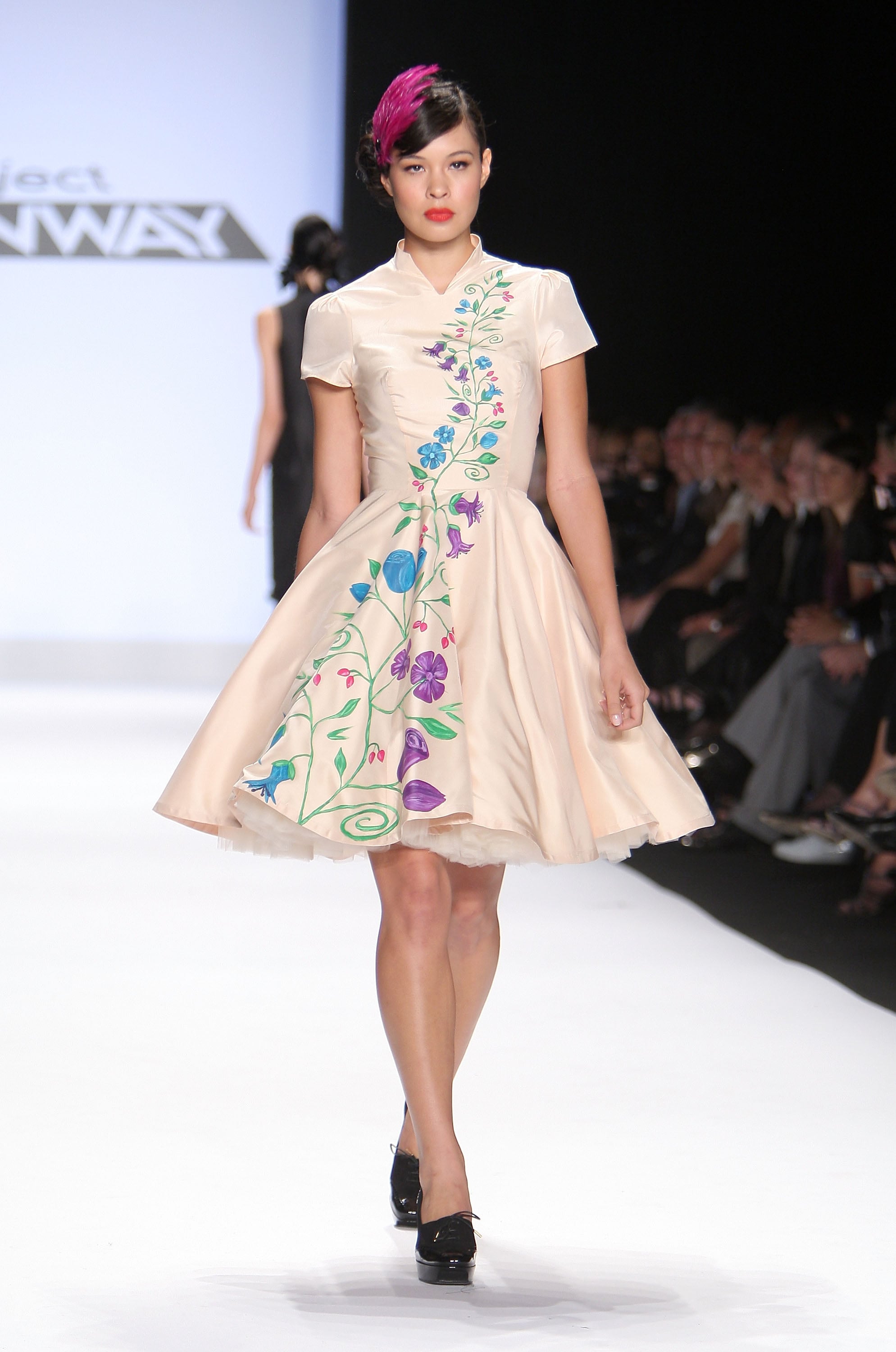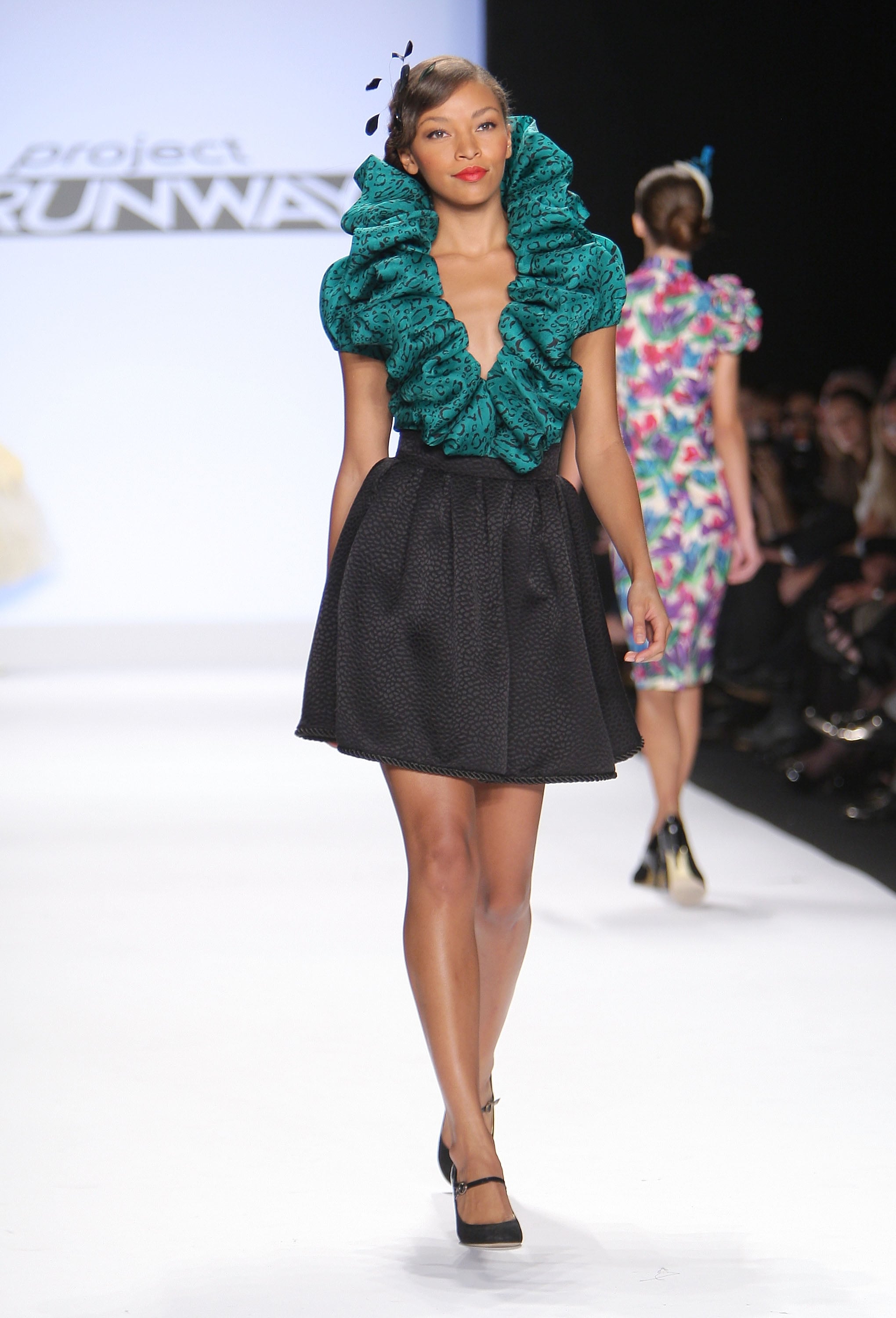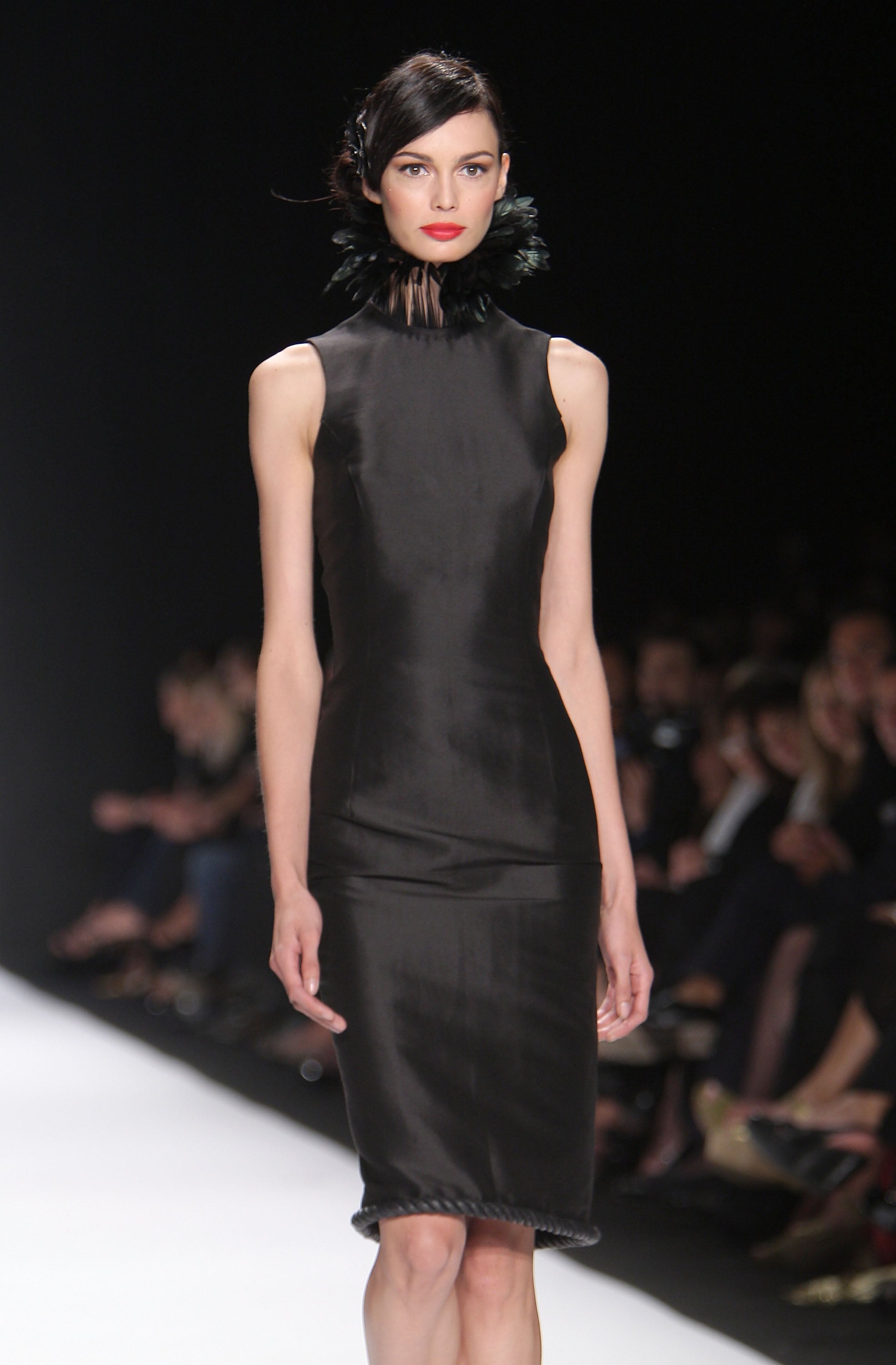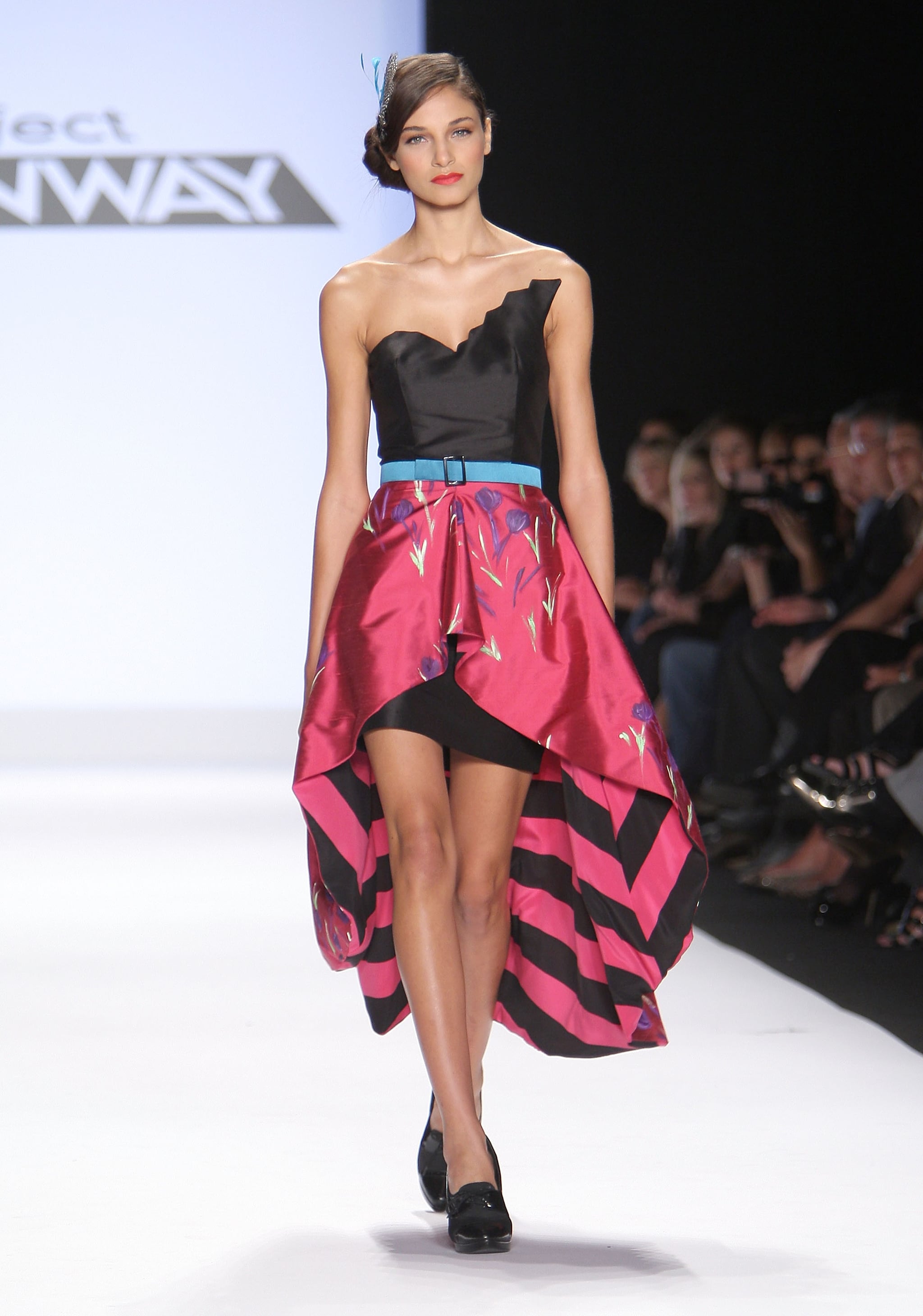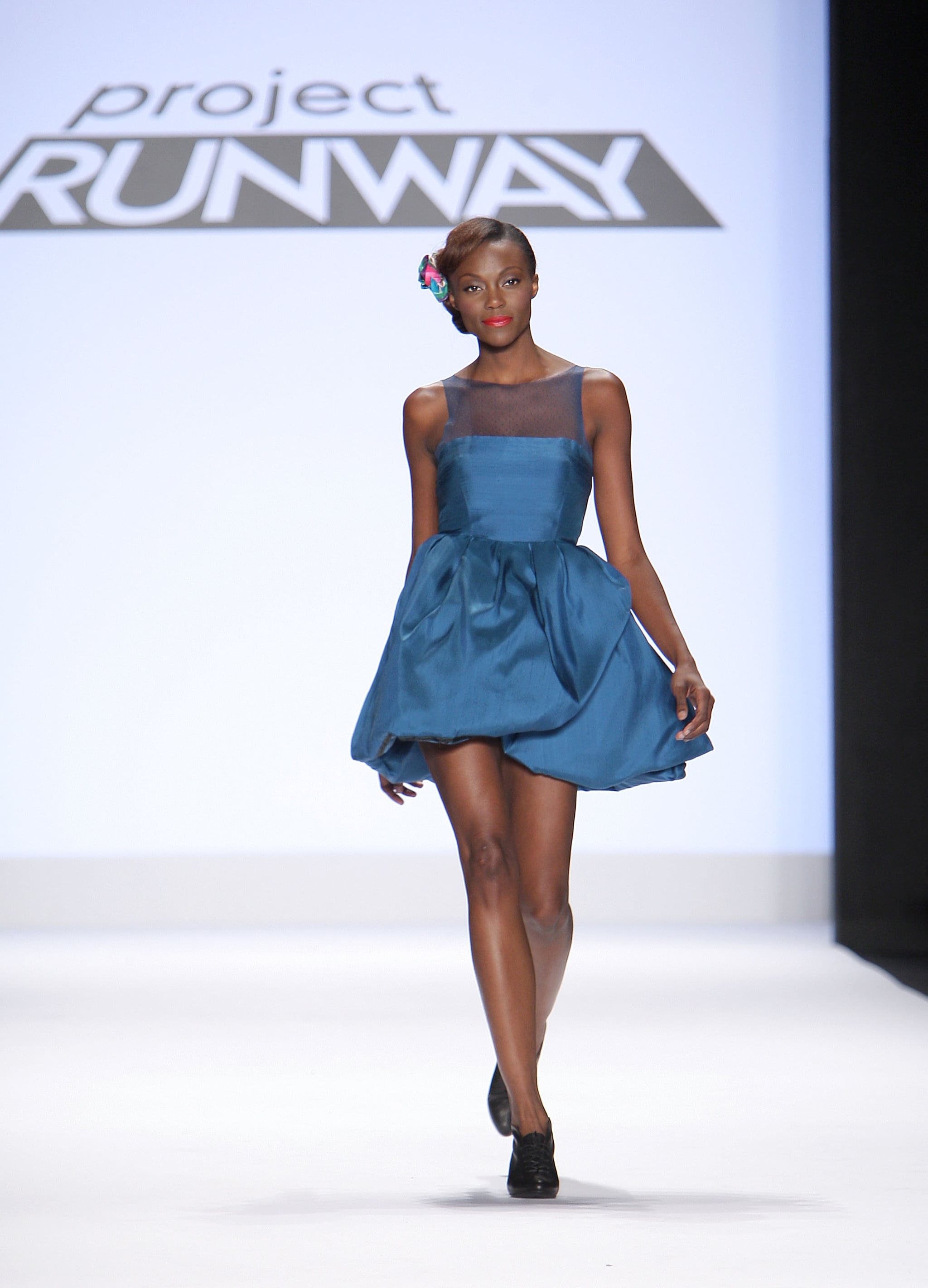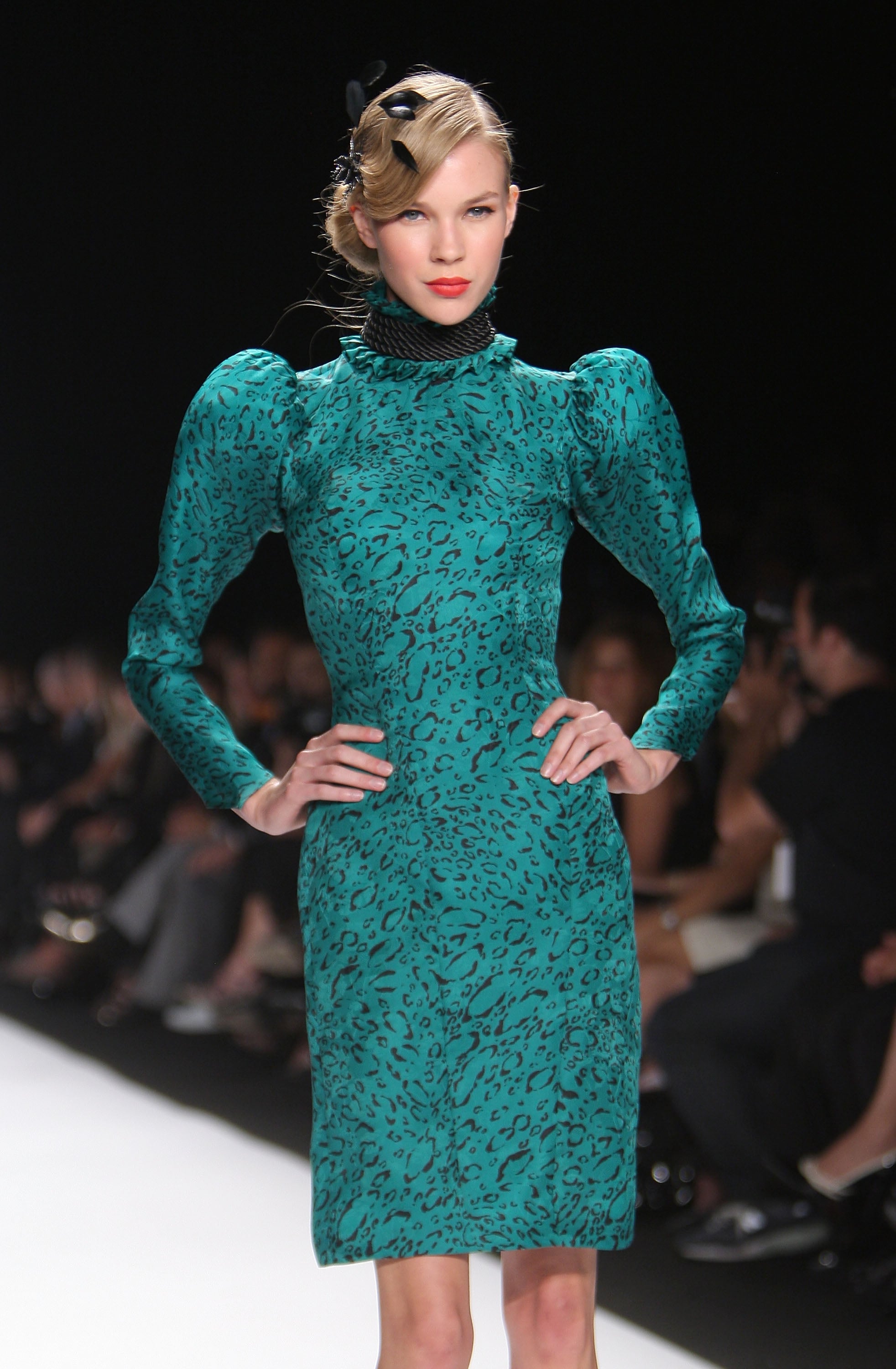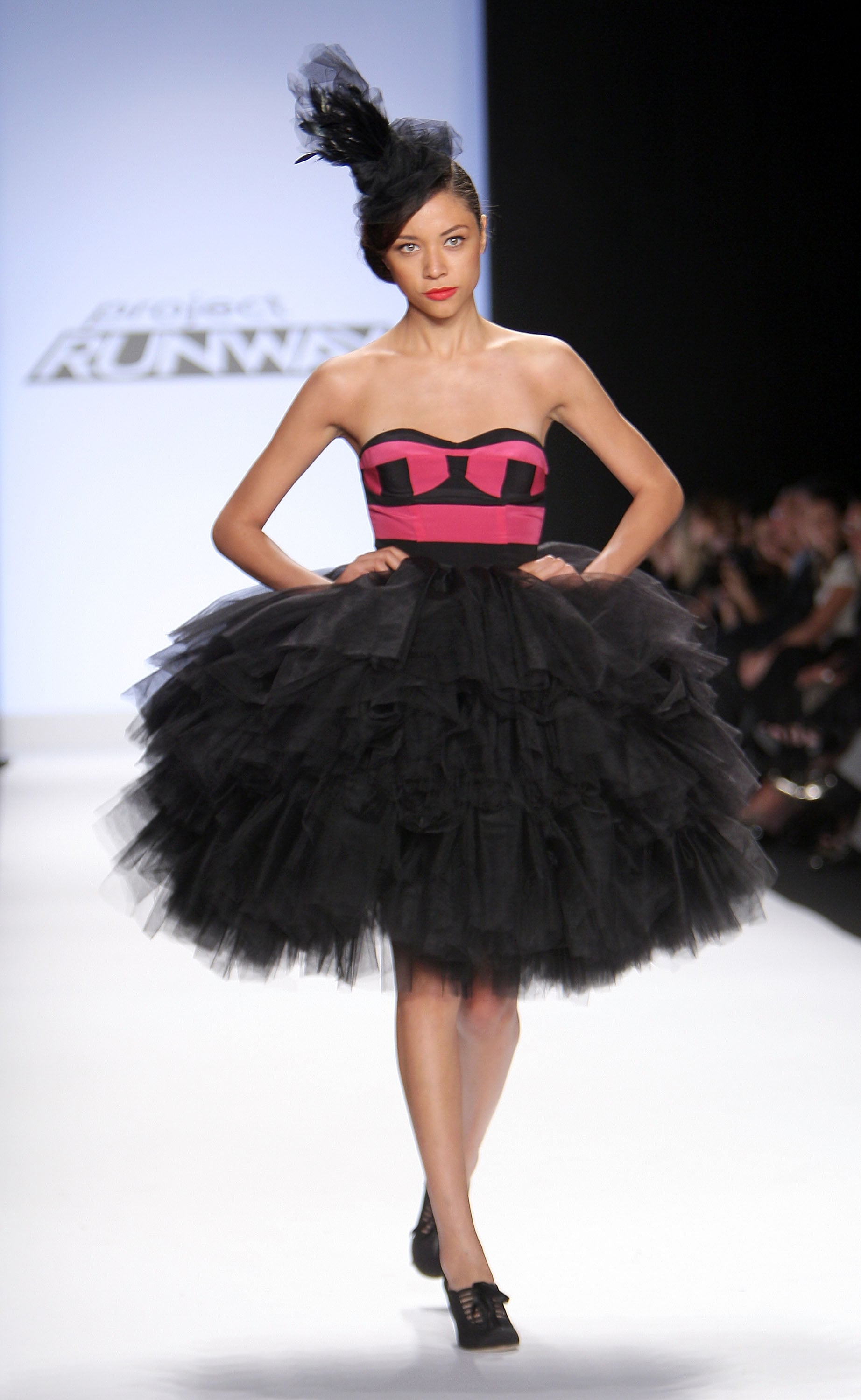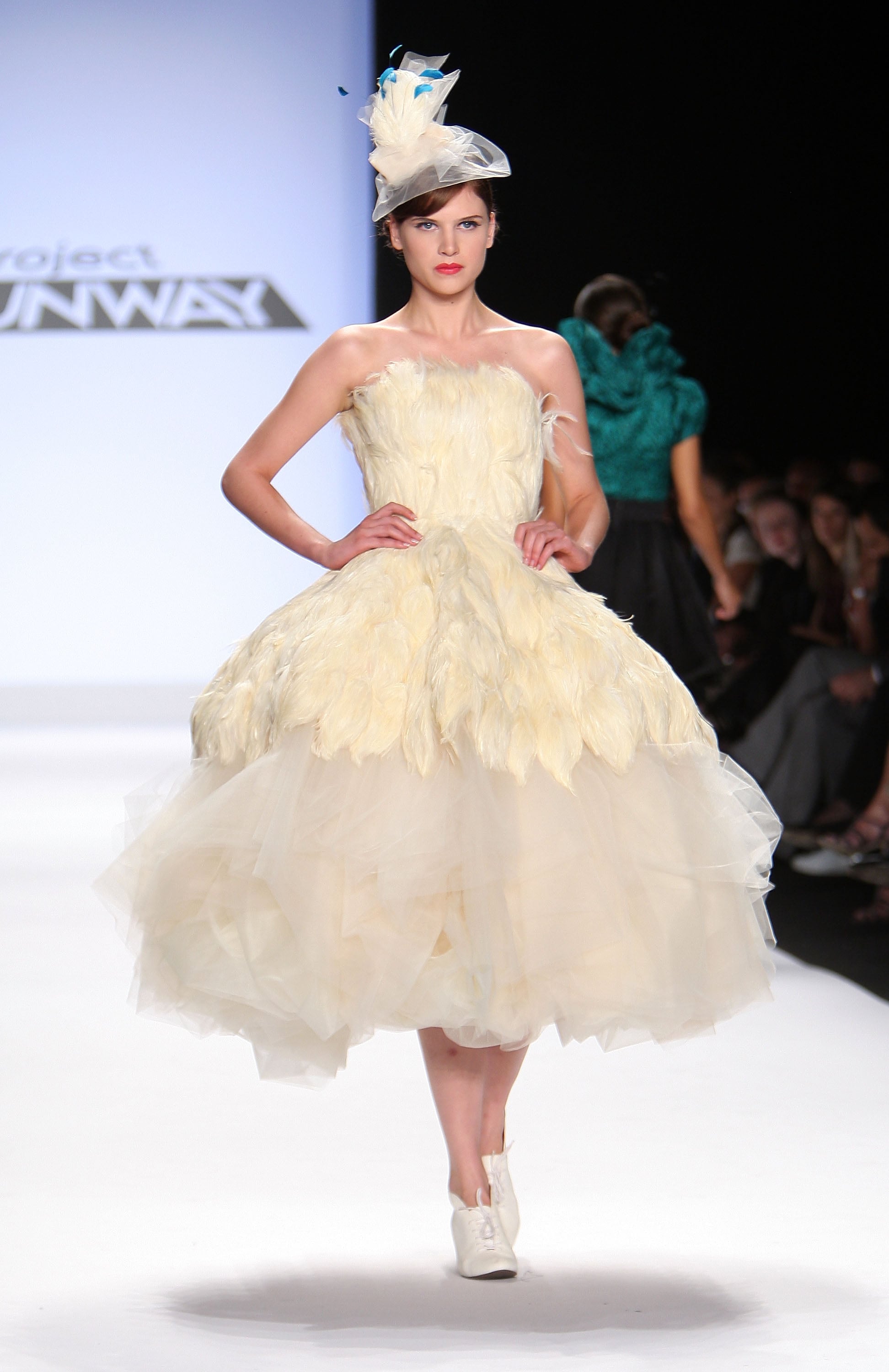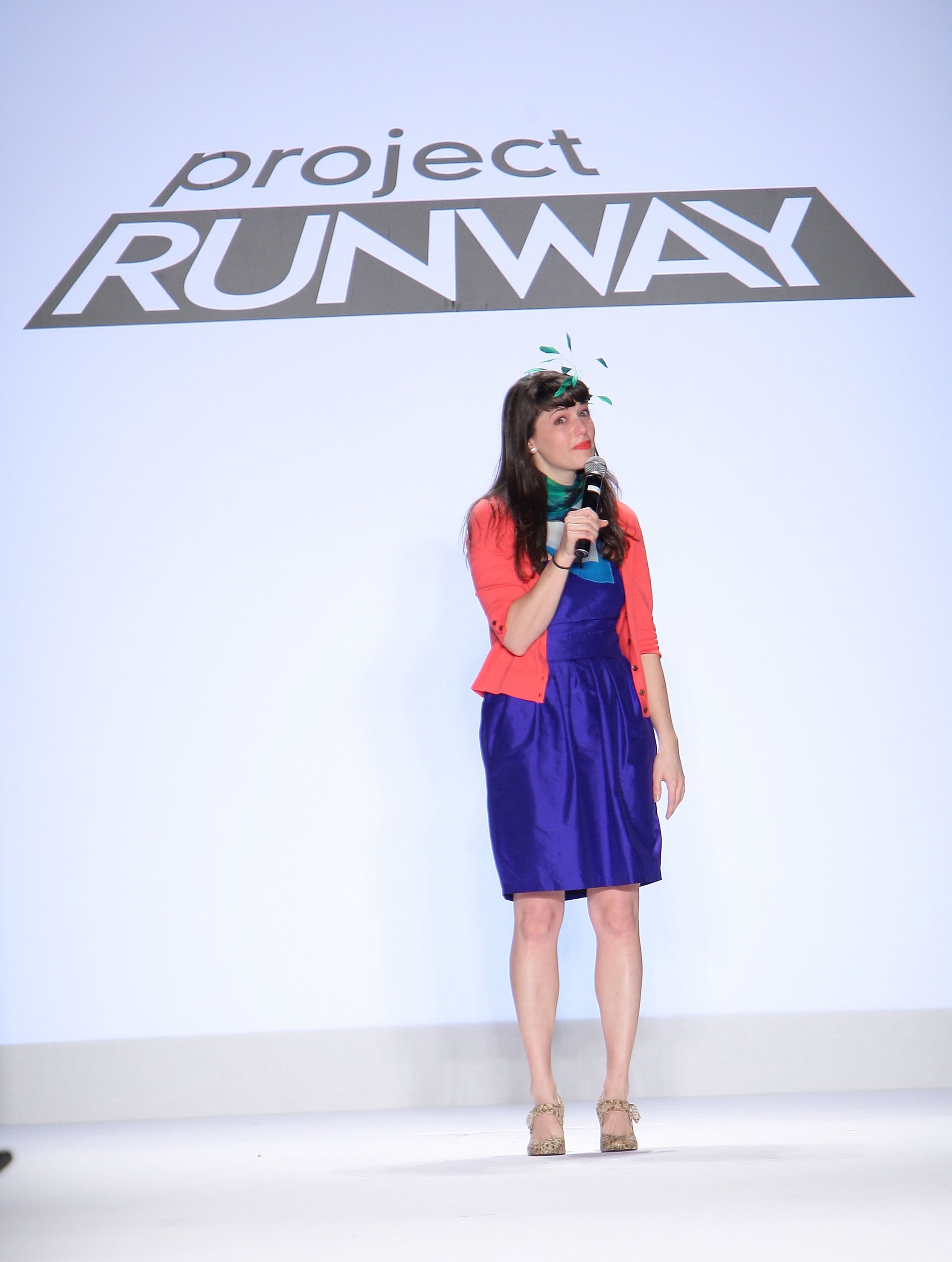 Korto
I think Korto has the most interesting point of view, and her collection was beautifully exotic and elegant. However, there were one too many emerald green dresses, I'm just sayin.' Her collection was "inspired by nature and the landscape and clothes of her native country, Africa." She also designed the beaded and colorful jewelry (which I loved). Her color story was rich: emerald green, turquoise, mustard yellow, white, and ecru. Her silhouettes ranged from a slim halter gown and pouf sleeves to flirty cocktail dresses and asymmetrical cuts. The jungle printed banded belt frock was covetable, but a white frilly long dress was confusing. I loved the sometime Oscar de la Renta exoticism, though.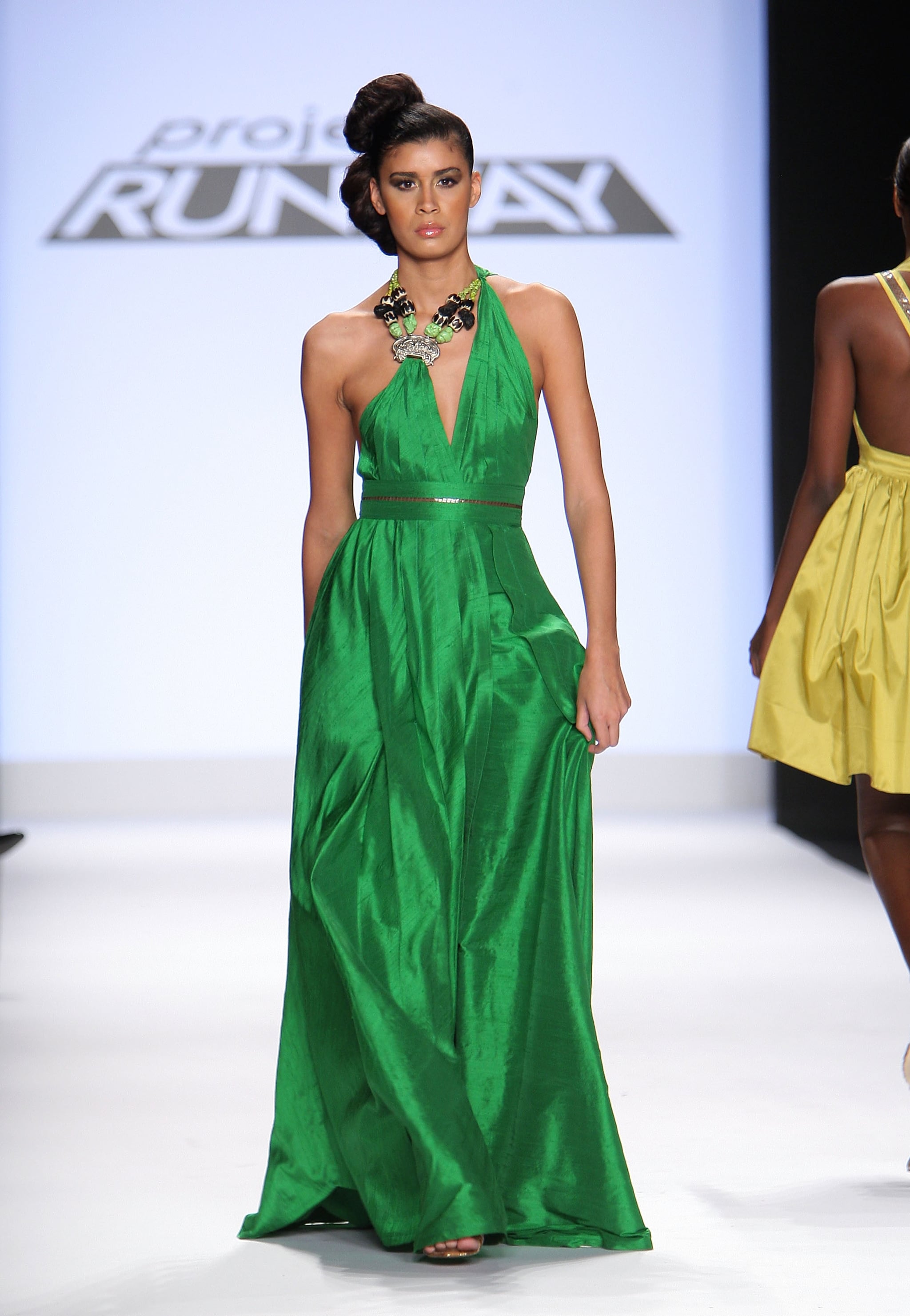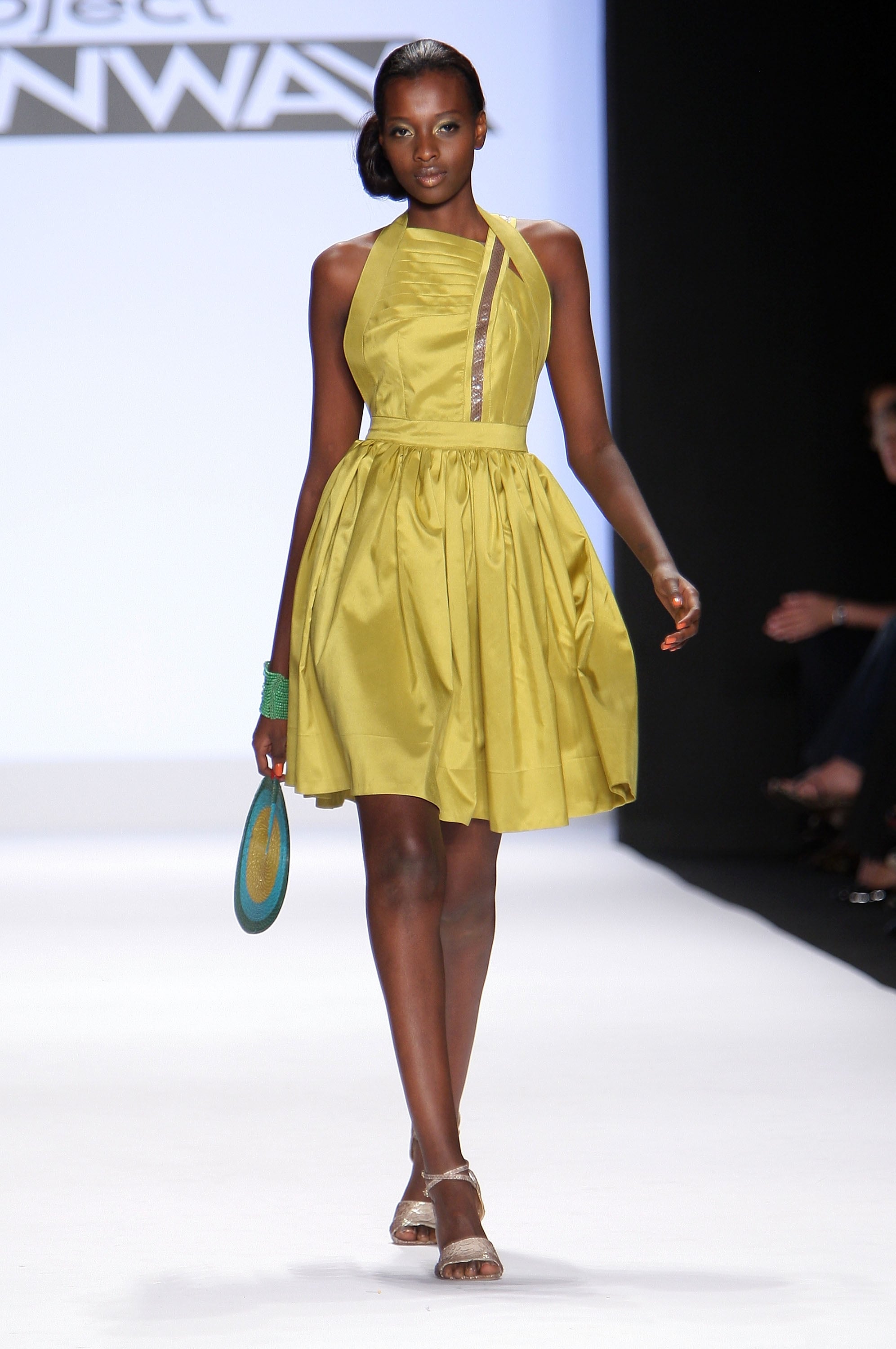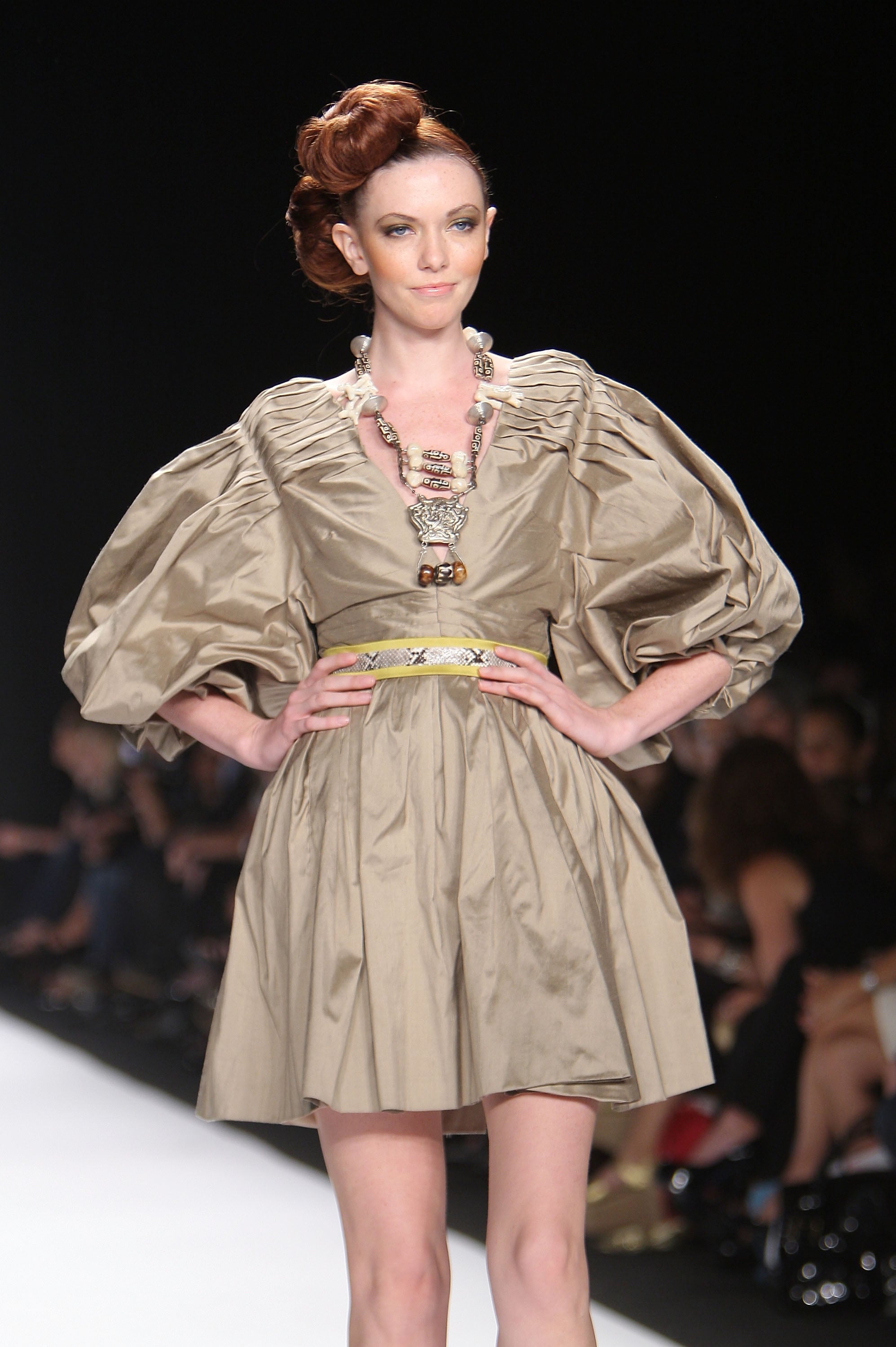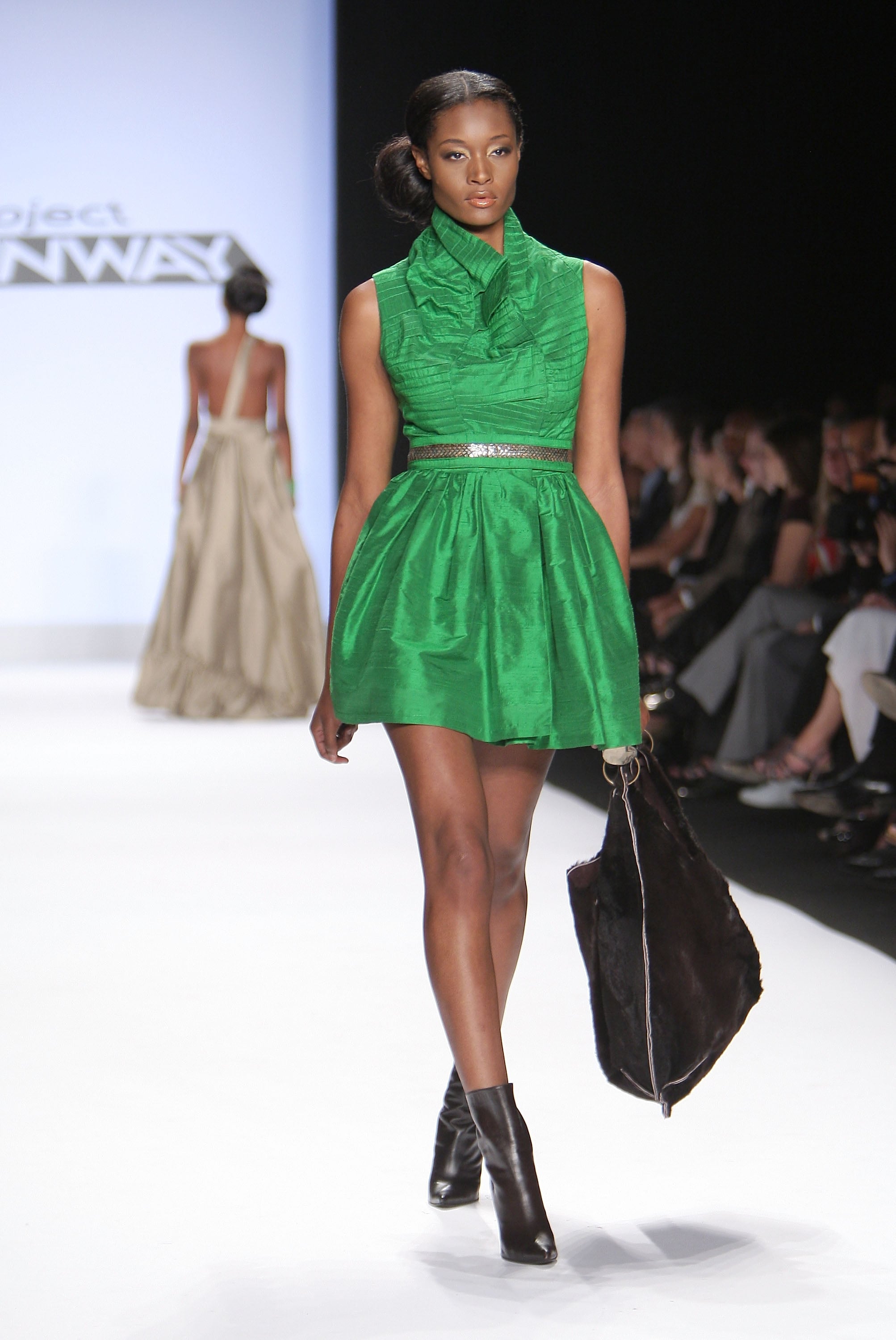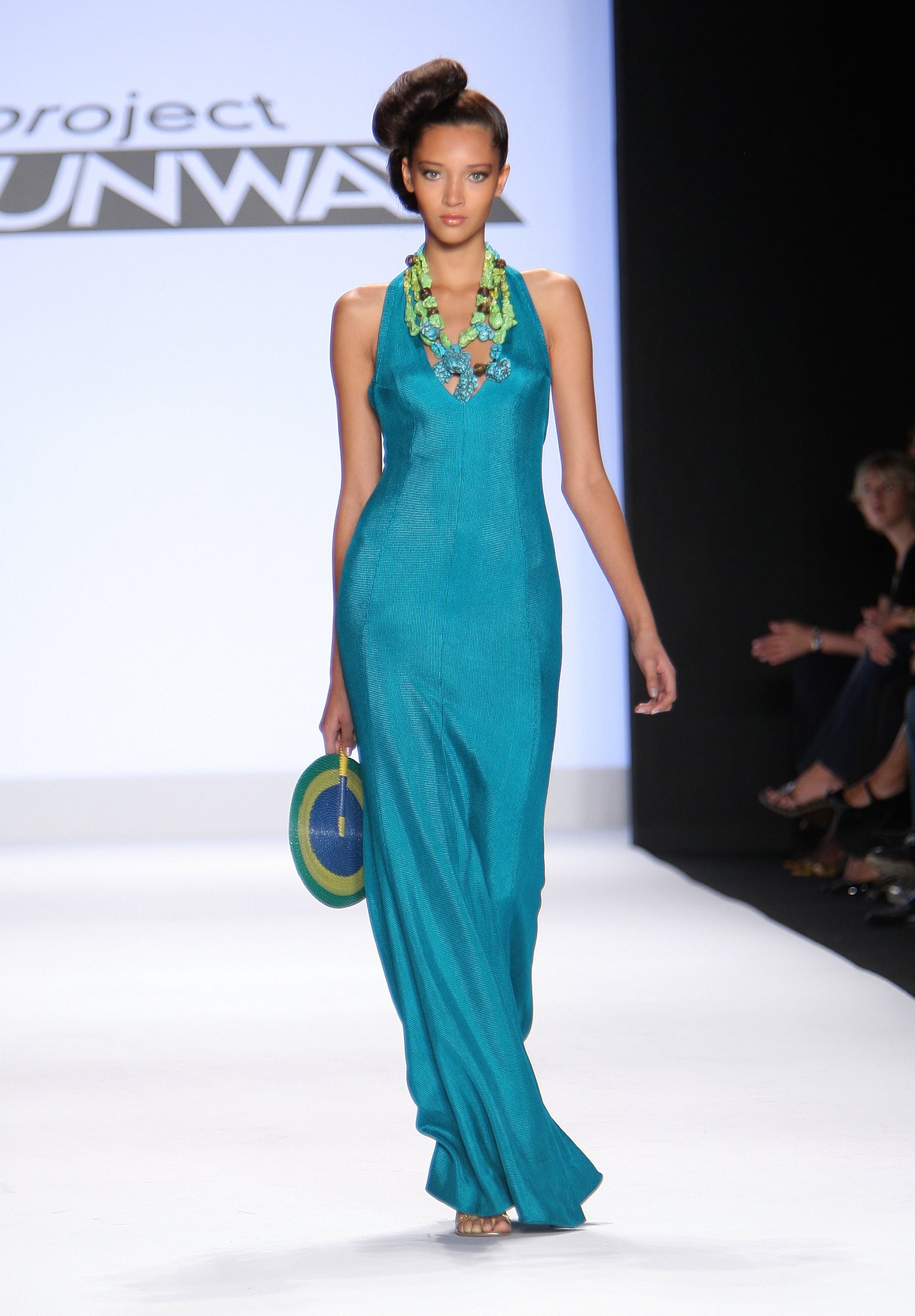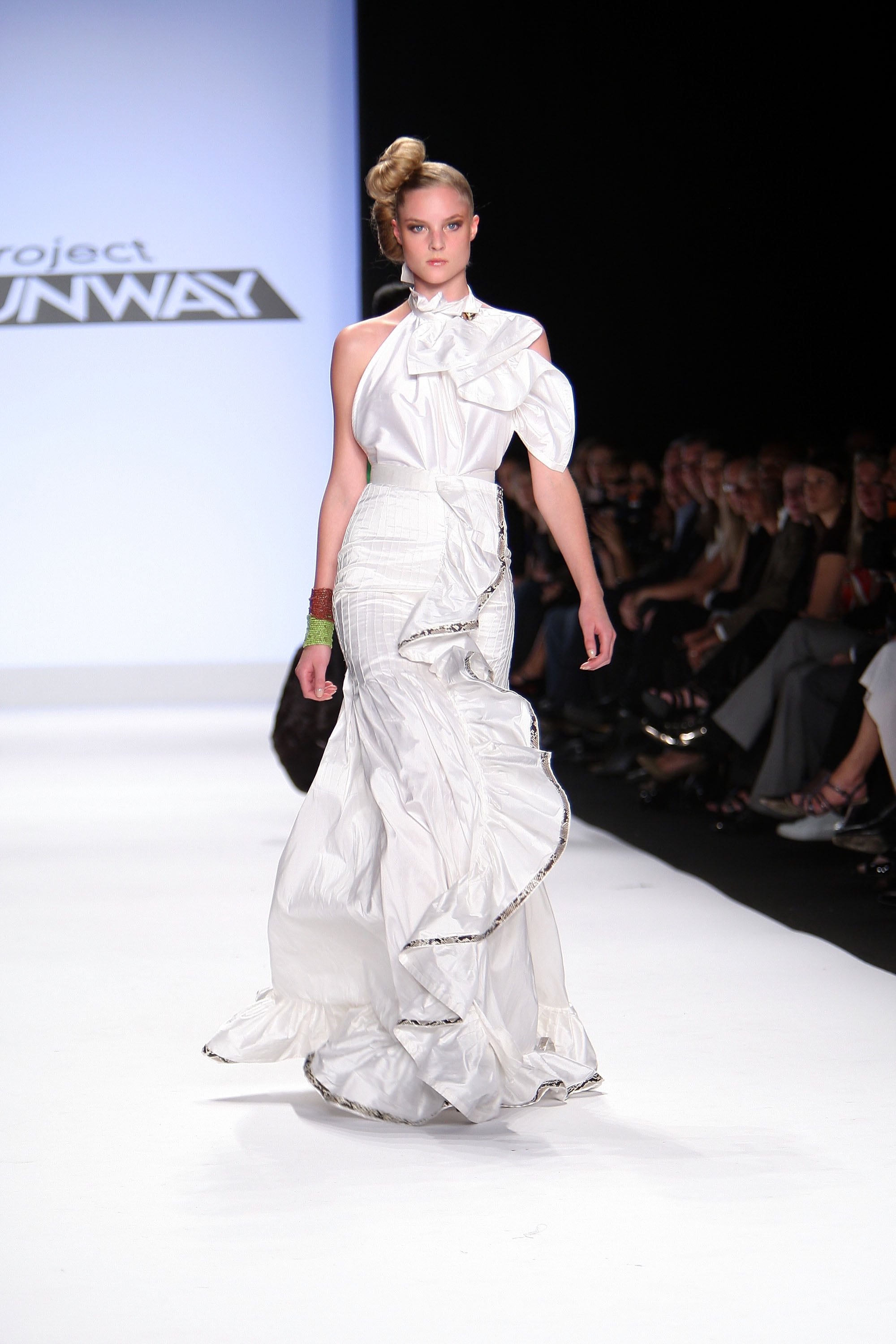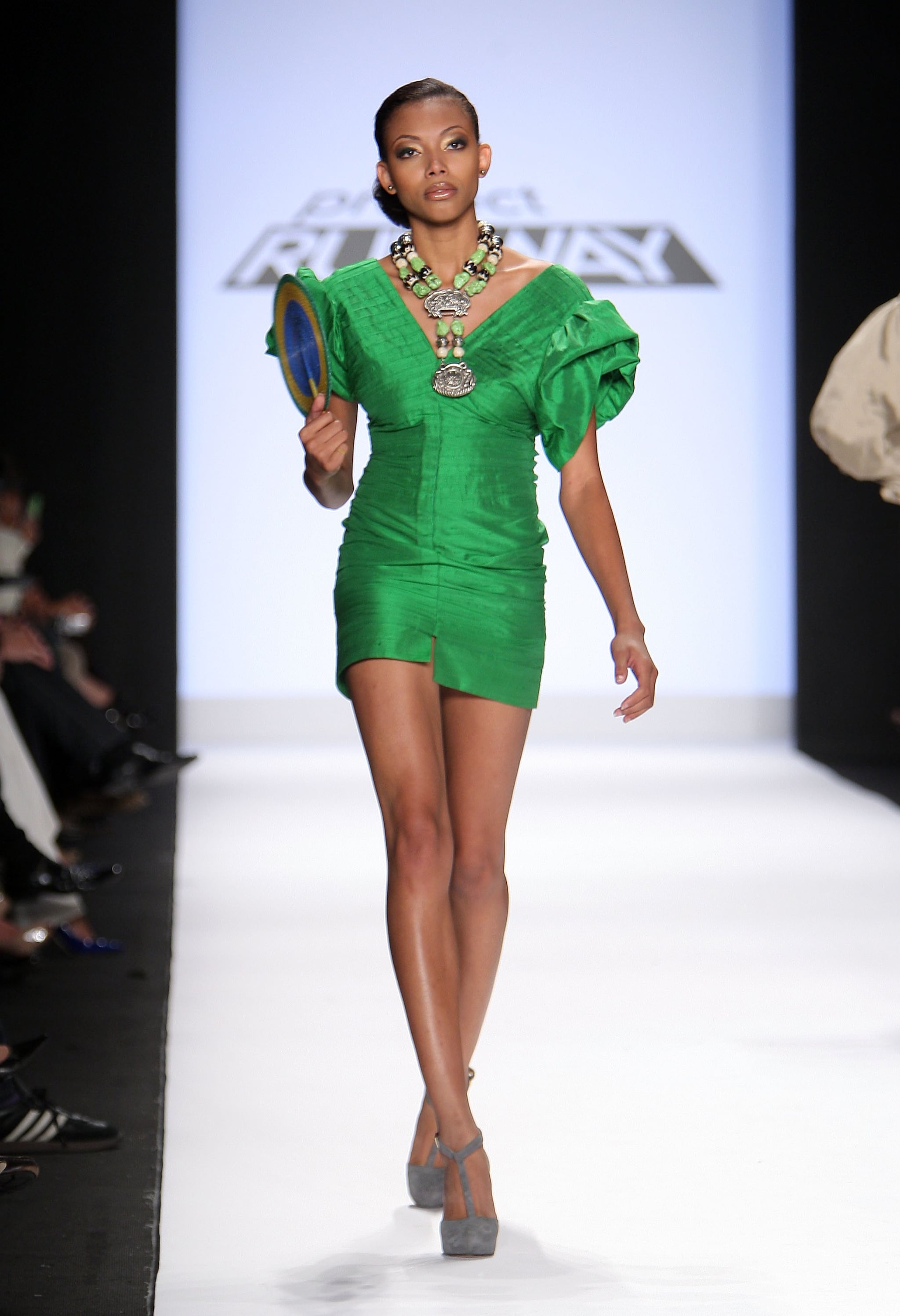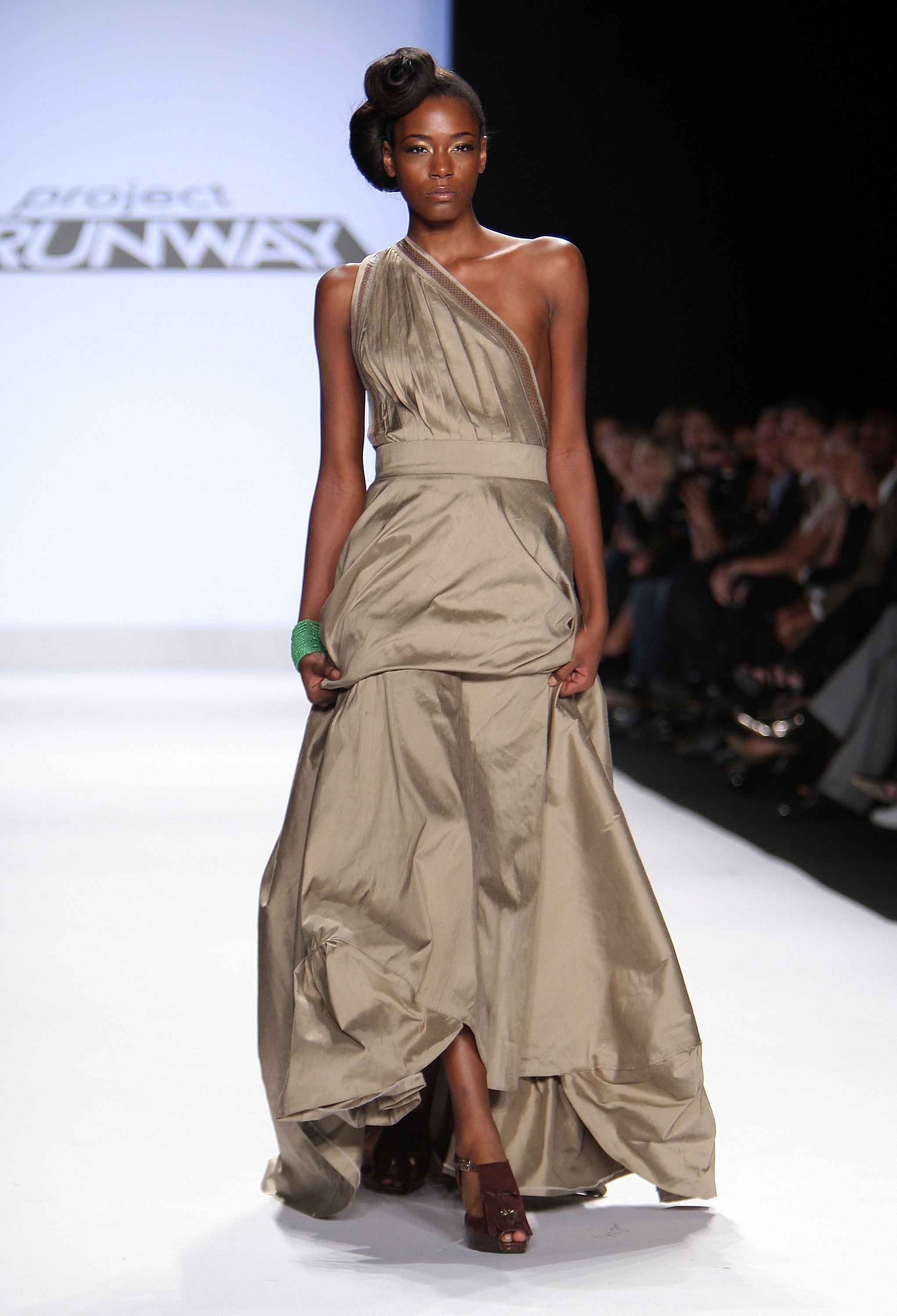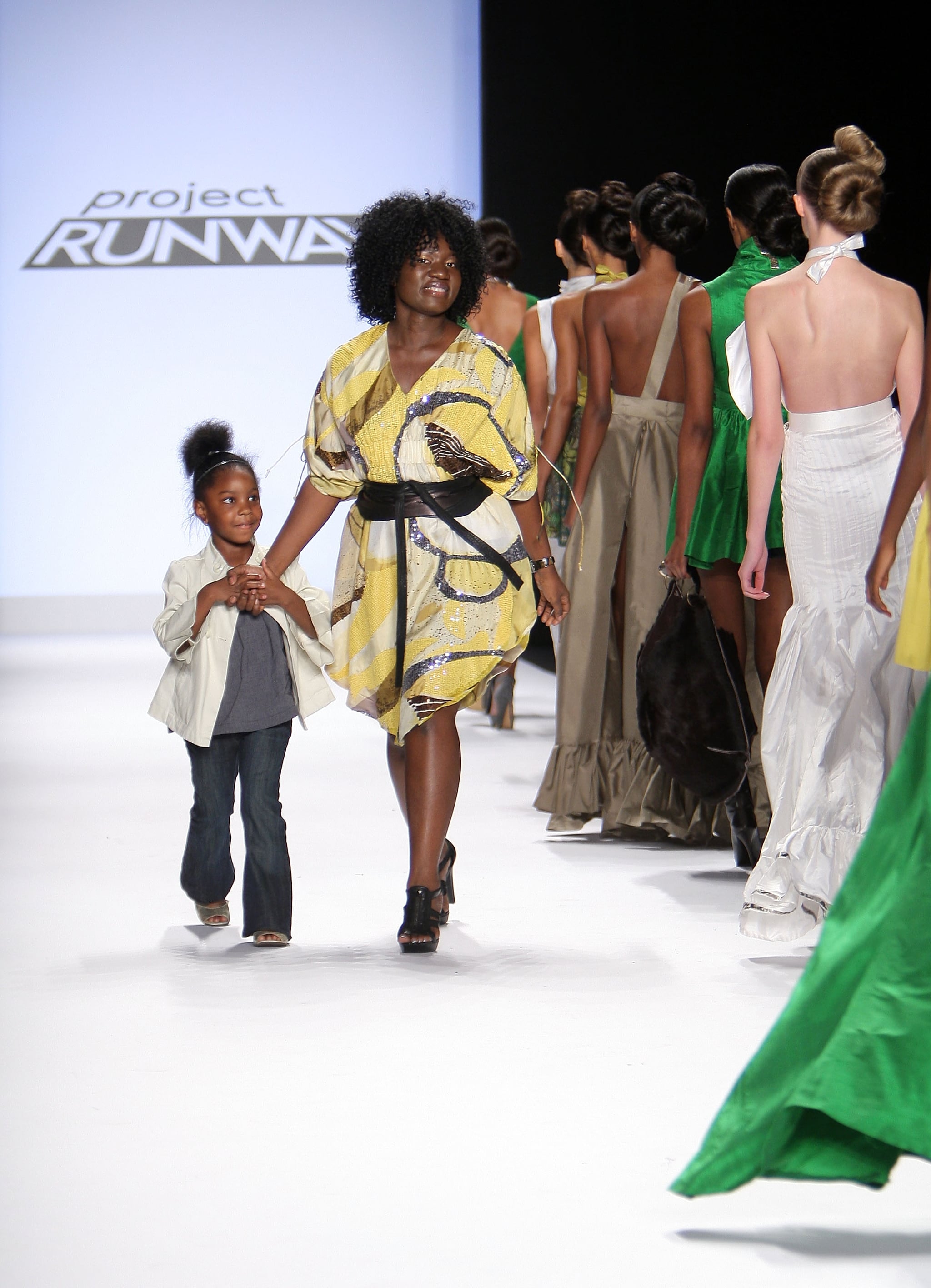 Leanne
Funny how the six collections gradually got better. I think Leanne is going to win. Her collection was as stellar as any of the professional collections from the week. It was conceptual, beautiful, and theatrical. Leanne claimed she "lost a million hours of sleep" over it, and it showed. Sculptural skirts, dresses, and gowns floated down the runway to the beat of a neutral, cool palette. The craftsmanship was expert and you could just feel the adoration in the air. I would wear the ivory off-shoulder top and turquoise petal skirt and the ivory and beige corset mini dress (pictured above) in a heartbeat. And her modern wedding dress blew Suede's off the (project) runway.