Rachel Bilson's Stylist | Interview
Rachel Bilson's Stylist Talks Spring: Fresh Color Duos, Essentials, and More
If you haven't heard of Nicole Chavez before, you definitely know her list of famous clients: Rachel Bilson, Kristen Bell, Jessica Simpson, Nikki Reed, and Catherine Zeta-Jones. And she "just started working with Reese Witherspoon a little bit." Last night at the LOFT Summer collection preview in LA, we got a chance to catch up with the superstar stylist — clad in this fabulous floral henley blouse ($60). Aside from inspiring this affordable Spring purchase, Nicole doled out her expert seasonal styling tips, the answer to what every girl needs in her closet this season, and what she would wear with a few of our favorite pieces (like a floral miniskirt and white pumps).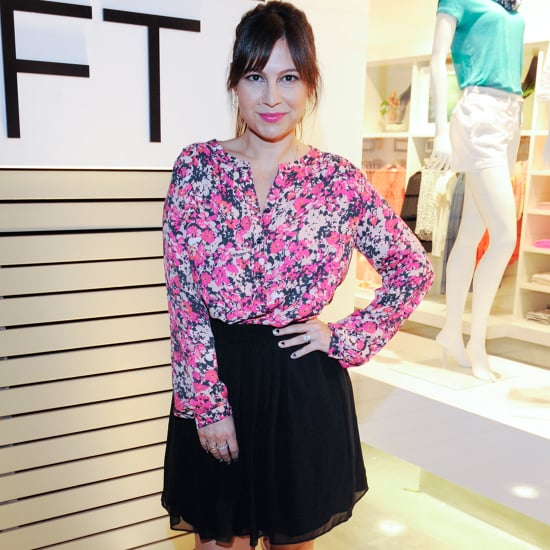 POPSUGAR: What are some essential pieces that every girl needs in her closet for Spring?
Nicole Chavez: For Spring, I'm all about the bold palette. I just think that bright, punchy colors are the way to go this Spring. You can do it head-to-toe brights or you can mix it up and do something like what I'm wearing, which is just a punch of color and something neutral. Another one of my favorite trends for Spring was that black and white, really graphic — we saw polka dots, we saw stripes, we saw the checks. That's a really easy trend that you can incorporate day to night.
PS: Any Spring color combinations that you really love?
NC: I'm a really big fan of hot pink and nude. There's another combination that was a LOFT combo that I really loved, which is their really punchy yellow blazer paired with black and white stripes. People would normally think bumblebee, but they have this really great neon yellow.
More from Nicole, including Rachel Bilson's favorite brands.
PS: We're big fans of Rachel Bilson; what are some of her go-to brands?
NC: We are huge fans of Isabel Marant, Vanessa Bruno, Maje, Chanel. She's really versatile; she wears a lot of different brands. She's really open to a lot of things, but those are our go-tos. The ones we actually leave the house to go to shop at. We've become such spoiled online shoppers. Last weekend we got out and went and saw the Isabel Marant store and did a little damage.
PS: I'm going to name you a few clothing items and tell me what you would pair them with:
PS: Floral miniskirt.
NC: I would do a really simple white, light tee. Your skirt is your bold statement. One piece is your standout and everything else is an easy neutral. It's very casual.
PS: Leather pants.
NC: I'm really obsessed with this lace poncho that I've been wearing with my leather pants. Leather is so structured and hard, so I like to mix it with something flowy and softer like lace or, like, a really pretty feminine top.
PS: White pumps.
NC: Boyfriend jeans rolled up. Love it.