Rachel Comey Silk Petal Shorts
The Look For Less: Rachel Comey Silk Petal Shorts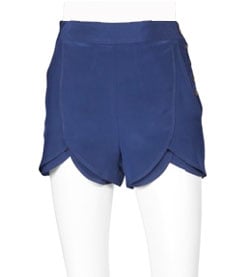 Comfortable, live-in shorts are a seasonal must. I wanted something easy, but still sexy — something that could be dressed up or down to suit my mood. So, when I spied these pretty Rachel Comey Silk Petal Shorts ($298), I was near ready to make the purchase — until I caught wind of the price. A little too much for my taste . . .


To see the look for less, just read more.
While shopping for a worthy replacement, I found these Eryn Brinie Sailor Shorts ($88) — victory! They've got the same breezy feel, super short hemline, and even the same curved cutouts. Perfect with a blazer and slinky sandals. Sold.