Rachel Zoe Previews New Signature Collection, Confirms She's Having a Boy
Rachel Zoe Previews New Signature Collection, Confirms She's Having a Boy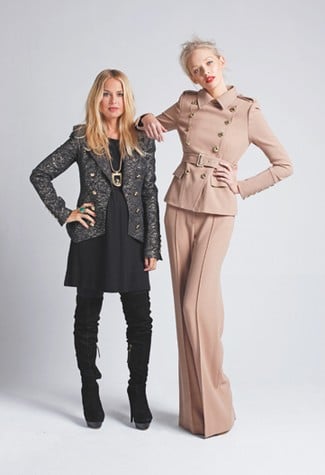 0
Rachel Zoe Previews New Signature Collection, Confirms She's Having a Boy
>> Rachel Zoe is in New York one last time (before grounding herself in Los Angeles for the birth of her baby) to preview her new Rachel Zoe collection, her first real design effort.
The collection, done in a deal with Li & Fung, will be aimed at a contemporary level ($250 for a day dress going up to $700 for a full tuxedo look), and encompasses everything from shoes (suede boots and matte croc pumps with super-high heels and platforms, riding boots, flats) to handbags, suiting galore, and Zoe's current "obsession," outerwear. "I'd imagine everybody is expecting something from me that's kind of a Seventies, uberboho-glam kind of thing, and, you know, very accessorized," Zoe noted of the collection. "And it's not."
Although no retailers have been confirmed yet, Li & Fung is targeting specialty stores and better department stores; Zoe ideally sees her collection sitting alongside Diane von Furstenberg, Marc by Marc Jacobs and Alexander Wang.
Zoe, never one to have a single project on her plate, had a Bravo camera crew filming for season four of The Rachel Zoe Project during the preview. "I've been asked to slow down," she told WWD. "But to be totally honest, it's kind of next to impossible when you're planning your show and launching your collection, and in the middle of award season." However, it sounds like the upcoming RZP season won't have any Fashion Week coverage — Zoe, at seven months pregnant, is sitting out the Fall 2011 shows.
Her client Anne Hathaway is hosting the Oscars this year, though, and Zoe says she fully expects, at eight months pregnant, to be supervising every outfit change. "It all depends on his arrival," she adds, patting her stomach. Her husband, Rodger Berman, confirms: "It's a little boy."
Berman tells Harper's Bazaar in the magazine's February 2011 issue: "While I don't know how things are going to change when the baby comes, I know that they will change. But I think it's entirely possible to have a career in fashion and raise a child. Stella McCartney is on her fourth child and remains both a fashion icon and a great mom. All I know is, Rachel and I will figure it out. And if she wants to take the baby to Fashion Week, I say, why not? But we'll probably need an extra hotel room for all of the baby clothes."